This post contains affiliate links. As a partner with Amazon and various brands, I am compensated when qualifying purchases are made through my referral links.
The Best Marketing Tools for bloggers
Grammarly
Make sure everything you publish is delivered as intended. Create clear and engaging content.  Improve text, writing style, and grammar with Grammarly.
https://youtu.be/Pu1DdLxyEqM
Grammarly Features
Grammarly analyzes your writing for grammatical, spelling, and punctuation errors. It's a Sentence Structure Checker. 
Grammar editing software and plugins have made writing clear, quality work significantly more accessible. This free proofreading tool also offers premium options.
Several different browser extensions are available for Chrome, Safari, Edge, and Firefox. There is a WordPress Plugin, Desktop version, and an app.
If you're writing a research proposal, for instance, you probably don't want it to sound informal and Grammarly will catch that by evaluating your tone based on your chosen genre or niche.
Grammarly makes suggestions to enhance your word usage. If you're using simplistic language, it will help punch up your copy, but if you're being overly verbose, it will help you tone it down.
Grammarly Pricing Plans
Grammarly Premium is designed for content creators to improve their writing through Grammarly's writing feedback.
Free
$ FREE
Per Month
Grammar Check
Punctuation Check
Single Users
Premium
$ 11
66 +
Per Month
Grammar, Spelling, Punctuation
Fluency
Sentence Rewrites
Formatting
Vocabulary
Tone Detection
Plagiarism Detection
Single Users
Get Started
Popular
Business
$ 12
50 +
Per Month
All Features
3+ Users
Style Guide
Admin Panel
Team Stats
Priority Support (Email)
Set Goals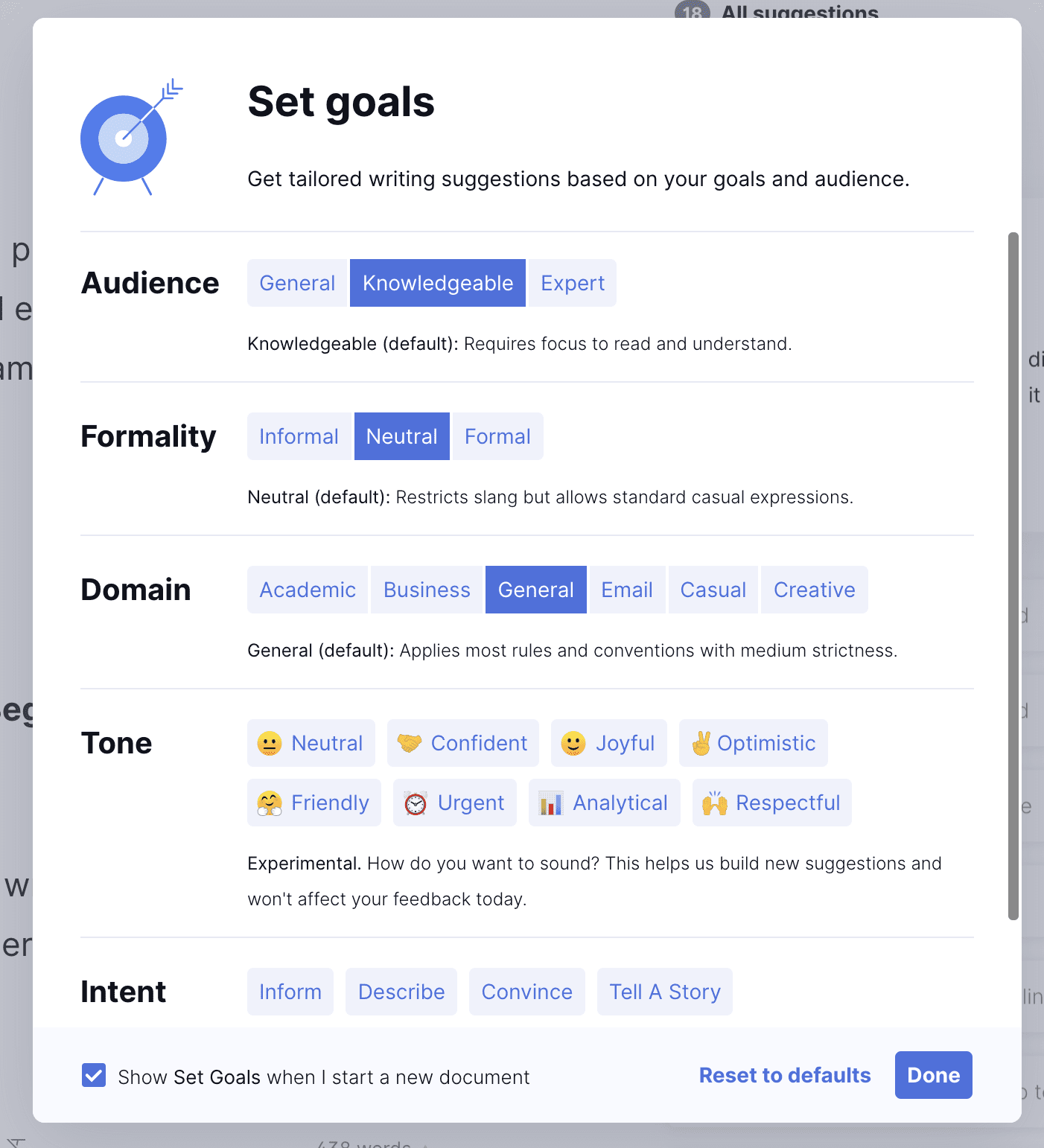 Create the right content for your reader by measuring the audience: General, Knowledgeable, or Expert.
Set your formality goal and Grammarly will measure your content to determine if it's informal, neutral, or formal.
Grammarly will help you achieve domain goals by measuring if they are academic, business, general, email, casual, or Creative.
Grammarly can measure tone to help you reach your goal. It will describe your content as: Neutral, confident, joyful, optimistic, friendly, urgent, analytical, and respectful.
Need a Website?
Frequently Asked Questions
Courtesy of Ballen Blogger
Grammarly is a legitimate software. I've been using it for years as an app, and Chrome extensions.
You can download the Grammarly Chrome Extension for free here: https://bit.ly/3p67ZfR. It truly is free for the basic spelling, grammar, and punctuation checker. You'll need to upgrade for advanced features, and team use.
Grammarly clearly states in the privacy policy that they will not use, nor sell your data.
Grammarly can't see the passwords you use. It is not a keylogger.
If you are a regular blogger, or publisher, Grammarly Premium is probably worth the upgrade.
The sentence rewriter is a game-changer.
Grammarly is very easy to use. Simply import your document into the app, and follow the suggestions. You can accept or decline any suggestion. It's a quick spellcheck, grammar checker, and plagiarism checker all in one. It' great for checking sentence structure online.
Grammarly Alternatives
Related