We may benefit from purchases made through our links at no extra charge to you. Lori Ballen is a member of the Amazon Associates Program and earns money from qualifying purchases.
This article will show you exactly how to write a post in WordPress using the current Gutenberg editor with Content Blocks. This method works the same way for pages on your WordPress Website. The only variation will be in the sidebar options.
If you are just getting started with WordPress, you may enjoy the How To Start a Blog guide as well. Furthermore, if you need your WordPress Platform, check out the easy install at WP Engine or call Ballen Brands at 702-917-0755 to discuss having a WordPress Website built out for you.
Video Tutorial
WordPress Theme
If you are just getting started with WordPress, you may enjoy the How To Start a Blog guide as well. Furthermore, if you need your WordPress Platform, check out the easy install at WP Engine or call Ballen Brands at 702-917-0755 to discuss having a WordPress Website built out for you.
This blog was created using the Refined Pro Theme for WordPress. It's available from Studiopress on the Genesis Framework.
Refined Pro Theme
If you are an entrepreneur and ready to build a timeless, classic brand, Refined Pro is the perfect foundation for your business. Refined Pro allows you to beautifully showcase your photography, your content, and your productsÑwhile maintaining a simple, yet elegant, look. Includes the Genesis Framework.
23 Steps To A Successful Blog Post
Click NEW (or add a post)
Title your Blog
Create a short intro
Copy this intro over to your excerpt (side column) and Meta description
Embed a Video or featured image
Include a button or call to action
Include your Table of Contents
Create your Paragraphs using Headings (H2)
Put a space between multiple sentences
Use images, sound bites, embed, a video where appropriate
Use a separator or Shortcode divider with back to top
Use the styling options to use lists, quotes, verses, and change the color background and sizes of fonts
Use transition words (see Blog SEO Article)
Use the WordPress Gutenberg related Posts Blog to suggest posts in the same category
Use the Structured Data blocks from Yoast SEO to create FAQs or How-To
Use Link Whisper for guided internal linking
Using the Right Column, choose an SEO Friendly Slug
Choose your blog category
Add in any tags that may be appropriate (these would be something that would describe your blog post and not the same as any category. A tag would be something worth a mention.
Add a Featured Image and optimize your image for SEO.
If you want to, pick up Social Snap to repeat the steps I showed you in the video and enhance your social share structure.
Suggestion: Use Canva to design your featured image, Pinterest template, and brand kit. Take a look at Creative Market and Lady Boss Studio for templates that work in Canva like I use on this website.
Start A New Post
To start a new post in WordPress, you can find the +New at the top of your WordPress dashboard navigation or on the left column by clicking posts and then Add New.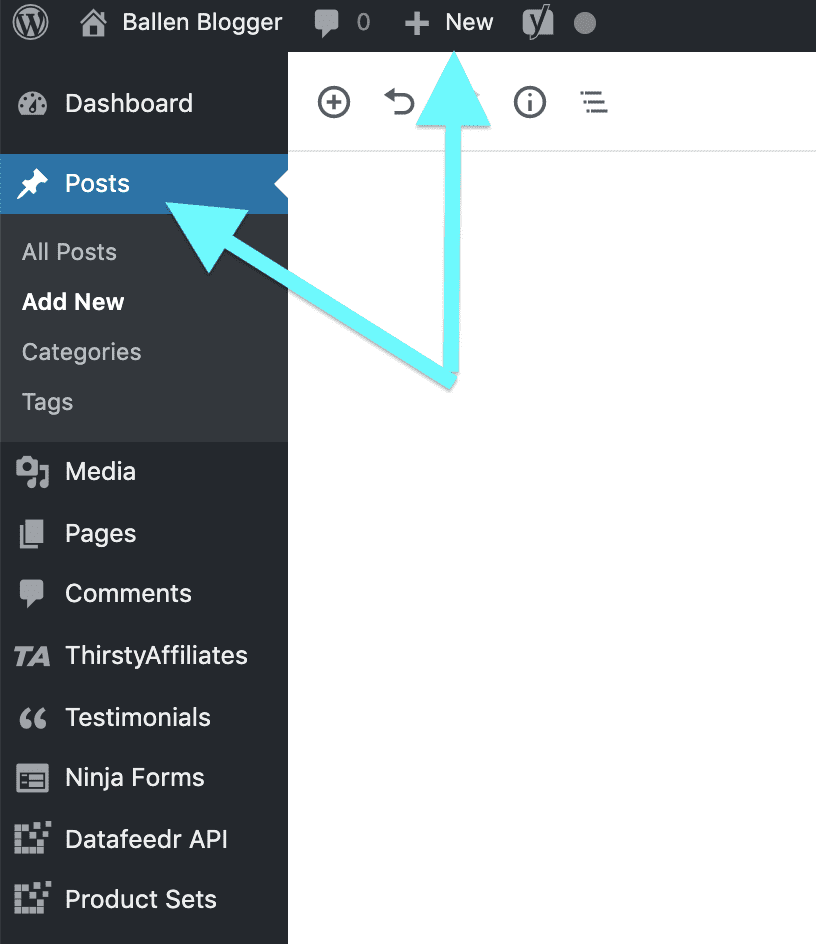 ---
Add a Title
You'll see an obvious field for your Title. This is the title of your blog. If you are focused at all on Blog SEO, you'll want to consider your focus Keyword and if natural, place toward the front of the title in the first half. A good title would be around 60 characters.
In addition, if you are using an SEO plugin like YOAST, you can actually create an SEO title in addition to your blog title if you want to keep your blog title more "catchy" and your SEO title more search engine friendly.
---
Gutenberg Content Blocks
WordPress has always offered a WYSIWYG (this stands for what you see is what you get) editor that is favored among bloggers. This means, without knowing any HTML code, you can write a blog.
WordPress Gutenberg introduced Content blocks. These blocks allow us to drop in a new element for our blog in just 1 click of a button.
These elements include lists, headings, images, embed codes, HTML blocks, columns, quotes, and so much more.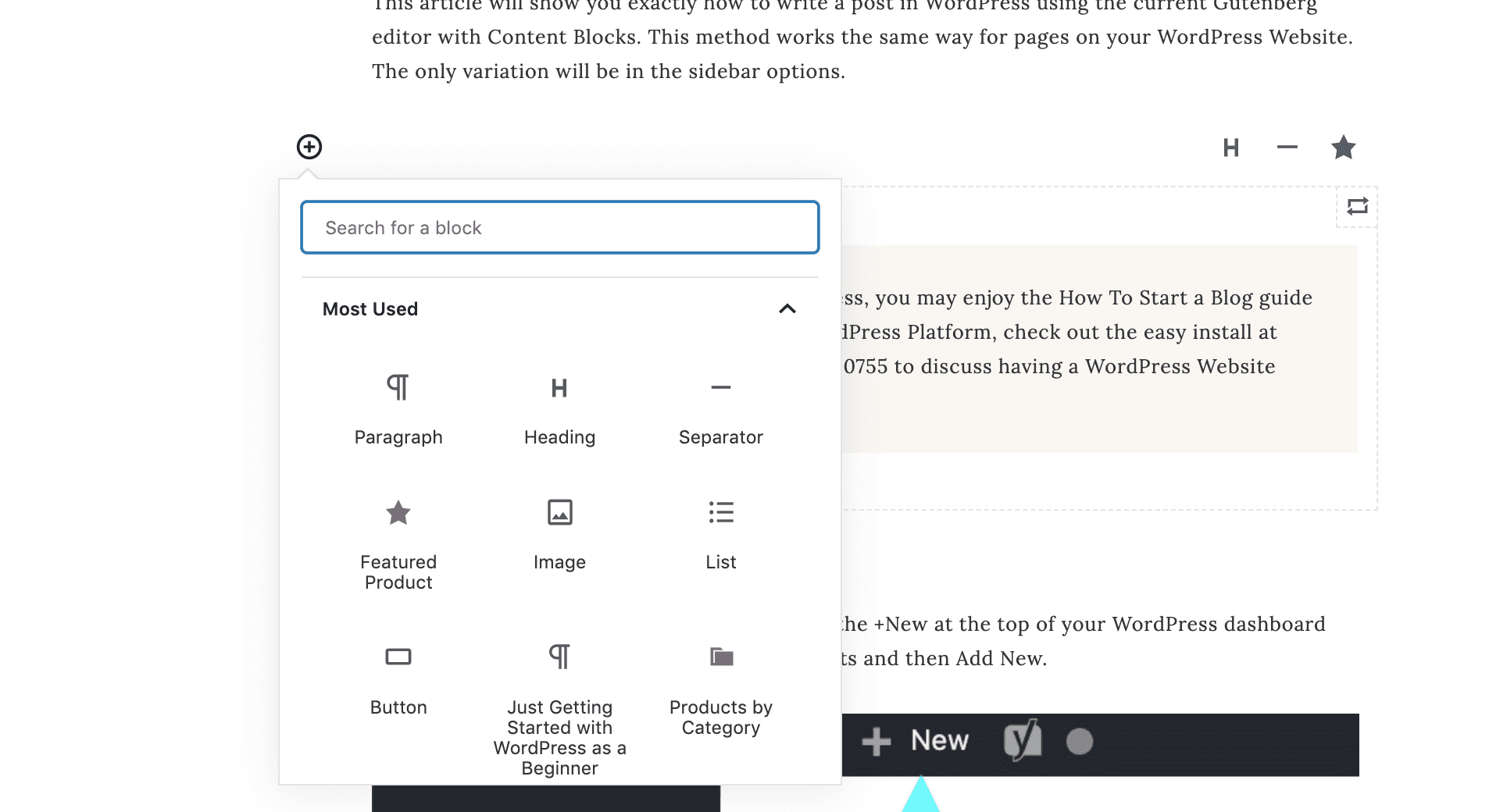 What's more, is that you can save a block as reusable to use in the future. This is one of my favorite features as an avid blogger.
If you don't see the small + sign appearing on your blog post, you may need to activate WordPress Gutenberg which is generally in your settings, reading, and then toggle to content blocks. You may also need to update your WordPress to the newest version.
Learn more about how to use WordPress Gutenberg Content Blocks here.
If you are just getting started with WordPress, you may enjoy the How To Start a Blog guide as well. Furthermore, if you need your WordPress Platform, check out the easy install at WP Engine or call Ballen Brands at 702-917-0755 to discuss having a WordPress Website built out for you.
---
Creating a Paragraph
Your blog will essentially be a collection of sequential paragraphs. It's a best practice to use plenty of spacing between sentences rather than putting one long paragraph in a single block of text.
Adding a space after a sentence or between 3 or 4 sentences will offer white space creating a more natural flow for your reader.
while paragraphs might be easy to read on a laptop or desktop computer, on a smartphone, the visitor may become frustrated and bounce off your page and back to the search engines to perform a new search.
Your paragraph can be formatted using the menu that appears above your paragraph. Let's take a look at what these items can do for your paragraph styling.

---
[Read more about search engine optimization on this blog about Blog SEO]
Headings
Headings are similar to an outline when taking notes. Your first heading, the largest and most important, also referred to as H1 is your page title. You won't use any other H1 headings on your blog post.
While Heading 2 (H2) is the most popular and the most frequently used, it's typically the heading used when starting a new thought.
Therefore, You'll see these headings above paragraphs introducing a new section or idea. Headings can also be used to create lists or a table of contents.
For example, this blog post has a table of contents at the top of the post. The TOC was created automatically, actually, using a table of contents plugin (such as 'table of contents plus' or 'easy table of contents').
The Plugin settings require it to post the Headings as a table of contents.
Generally, I will use Heading 2 and Heading 3 and rarely heading 4 when blogging.
Heading 2
Heading 3
Heading 4
Blog Summary
Using the i that is circled in the top navigation of your WordPress Dashboard, you can get the details on your blog that include word count, total paragraphs, headings, and blocks.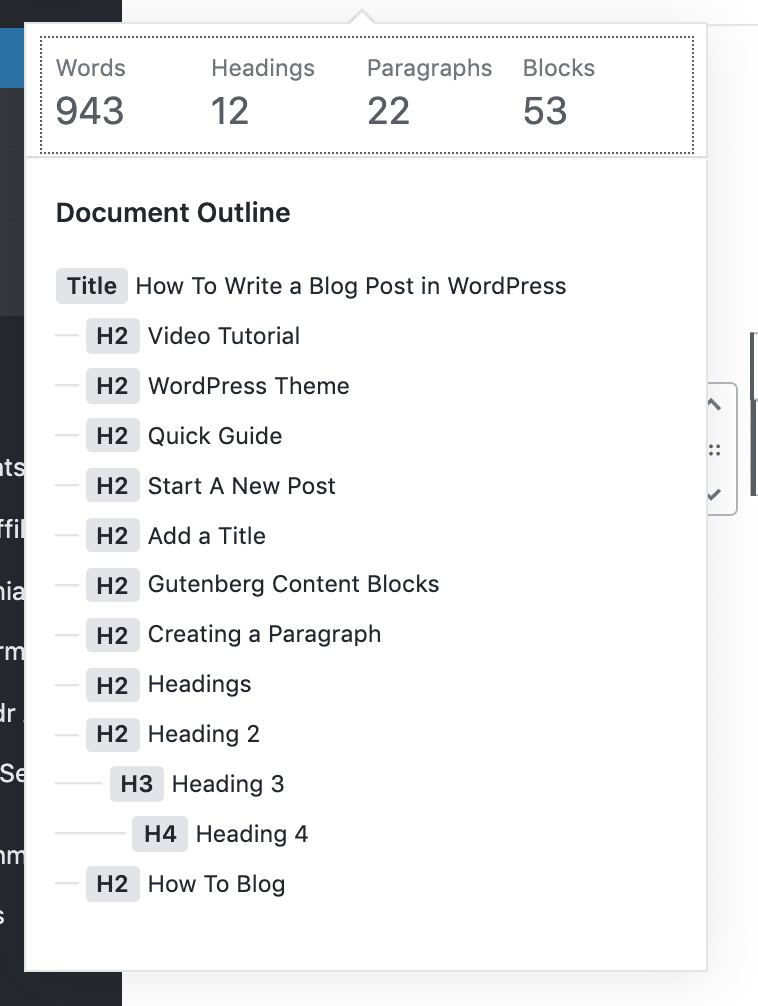 FAQS
Is WordPress Free?
You can get the WordPress platform for free with most hosting plans. You will need to have it hosted which runs anywhere from a few dollars per month to a few hundred per year depending on your traffic, file sizes, database size, host, etc.
How do I Upload My Blog To WordPress
When you log into your WordPress Dashboard, you will create your blog post in draft form. Once you hit publish, it is uploaded and available now for your web host to show to the public through your website.
Can I Make Money With My Blog?
Absolutely. You can monetize your blog in many ways including driving leads to your services, selling products, selling ad space (easy once you have traffic), linking to affiliate products (I'm a 6-figure affiliate myself and wrote this blog), through Amazon links, selling coaching, courses, speaking engagements and so forth!
Is it Worth Starting a Blog in 2020?
Absolutely. Choose a specific niche, learn the process for creating content, optimize for seo, Share on social media and Pinterest, drive traffic through paid ads and earned in positions on the search engines, through video channels and more. You must be willing to work for it! It's a very competitive landscape and only those with the right commitment will succeed.
What Do I Write in a Blog?
Most blog posts today inform, educate, or entertain. You'll want to select a very specific niche and focus on that niche. Rather than starting a general "food blog", creating a gluten-free desserts blog might be more on point. Instead of just starting a blog about pets, creating a niche blog about breeding and raising poodles might be more effective. Furthermore, creating a beauty or fashion blog might be too vague, but creating a beauty and fashion blog all-around Halloween costumes, makeup, etc. might bring stronger results. Bottom line, Niche down!
What Kinds of Blogs are the Most Popular?
Most Popular also means Most Competitive so find the niches inside the niches! Food, Health and Fitness, Travel, Beauty, Fashion, Finance, Dating. Most of these also fall within the most profitable.
Blog Guides