This post contains affiliate links. As a partner with Amazon and various brands, I am compensated when qualifying purchases are made through my referral links.
If you have been thinking about adding a membership site to your online business, you may have hesitated because you thought it would be too complicated to set up and run.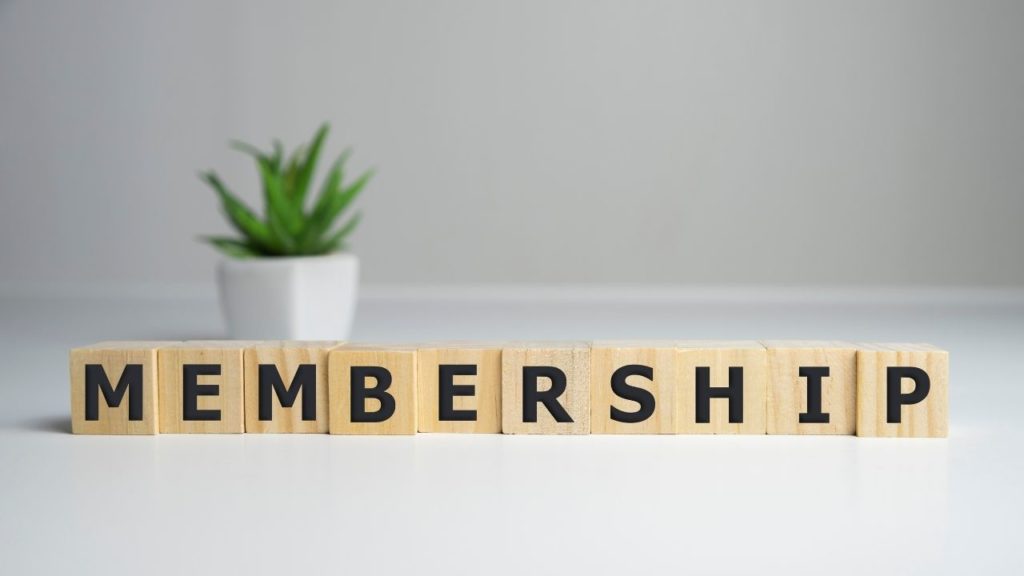 But by not having a membership site, you are leaving money on the table. This is money that rightfully could be yours if you take the plunge and get started.
This article will give you the best reasons why you should start a membership site, and the steps to take to build one.
When setting up your membership site, you have many options and will be able to choose the one that best fits your personality and your business.
Membership Platforms and Plugins
Purchase a Domain Name
Almost everything in internet marketing seems to start with getting a domain name, and a membership site is no exception.
Briefly, find the keywords used most often in your niche and add "Club," "Group," "Team," or something similar to it. For example, you might call it mysterywritersclub.com.
I use Godaddy for my domain names.
Find Your Perfect Domain
Add an idea and Check out the Suggested Domains.
Set Up a WordPress Site
Without a doubt, WordPress is the best platform for a new site owner to use to create a membership site.
You can get your WordPress Website and hosting at WP Engine or call a developer like my brothers at BallenBrands.com 702-917-0755.
It is easy to use once you learn the basics, and many forums will help answer any questions you might have. There are also plenty of tutorials available free on the internet.
When you build your site, you will need a welcome page, a blog, a downloads page, and maybe a forum, depending on how you want to run your membership site.
Membership Site Plugins
After you've set up the basic structure for your site, there are several helpful membership plugins available.
However, a membership site relies on a solid infrastructure, making it vital to have quality, robust software. So what are the main membership site software products you should be considering?
aMember Pro
aMember Pro is a PHP script that you host on your server. The product is customizable, with hundreds of options for integration, including the major payment processors and content management systems.
Among the many features, you can create unlimited levels of membership and subscription periods.
Wishlist Member
Wishlist Member is a plugin that turns your WordPress site into a membership platform.
The installation is as simple as uploading any other plugin.
The functionality allows you to create a membership service with unlimited and flexible levels, scheduled content delivery, and hidden content.
Anyone with an active WordPress site will enjoy the integration's simplicity but can still benefit from advanced features.
Wild Apricot
Wild Apricot is a platform that aims to cater to all the needs of a membership site.
You can use the same tool to take payments, build a website, organize events, manage contacts, and email members.
Wild Apricot focuses on clubs, societies, charities, and organizations, so it offers something different from the usual digital productivity tools.
Memberful
Memberful provides a way to integrate a paid subscription service with your existing website, whether with WordPress or another platform.
You can add content to your site, block it from non-subscribers, sell digital or physical products, and remain in contact through email and your membership platform.
MemberGate
MemberGate is an all-in-one solution, so you run your content management, subscription business, and affiliates from the same place.
If you already have an existing website, MemberGate might not be your preferred option, but new site developers can benefit from controlling everything from the same location.
You can use the popular payment processors, manage affiliates, add discussion groups, and analyze stats while benefiting from stringent security.
Memberium
Memberium is a great way to integrate InfusionSoft and WordPress with a simple plugin.
Many KEAP (formally Infusionsoft) customers are also comfortable with the WordPress platform, so the ability to easily connect the two while meeting a specific need is greatly beneficial.
Built to make use of the quality payment, sales, and communication aspects of InfusionSoft, Memberium makes running a membership site a quick, efficient, and safe process.
After running a membership site for an extended period of time, you should have a good idea of the churn rate.
Knowing how much each customer will generate in average revenue makes it easy to budget for advertising and marketing costs while also clarifying how much you can spend on updating content.
The right software can help you work out costs and revenue, schedule content, promote premium options, and deliver to customers, whether you do this with the leading software or integrate third-party tools.
Ultimately, the right software can remove any technical hitches, so you can focus on the factors that convince customers to join and remain with your membership program.
Benefits of a Membership Site
Monthly Recurring Income
This is a huge benefit because your profits grow exponentially as you add more and more members. Best of all, you get these additional profits without doing any extra work.
Imagine if you wrote your content once and then added it to your membership site where 100, 200, or more members pay you every month for your information.
And your membership fee doesn't have to be high. Even if you are only charging $15.00 a month, with 200 members, you will take in $3,000 a month.
That's a nice piece of change.
If you charge more for the membership or get more members, your site could soon earn well over six figures per year. Just think of the possibilities.
Affiliates Will Promote for You
Affiliates love to promote membership sites because they can develop a solid recurring income from their sales.
Compared to the one-time sale of a product, it is always better for an affiliate to sell a membership site.
This means that your offer will attract affiliates who are better motivated and often more experienced. That means more sales for you.
It's simple to set up your affiliate offer on Clickbank, JVZoo, and WarriorPlus. These are all great places to promote to affiliates and super-affiliates to increase sales.
Dominate Your Niche
Membership marketing is one of the best ways to provide readers a wide variety of content in your niche.
In addition to short reports and articles, you can include Facebook Live presentations, podcasts, videos, interviews, and more.
The more content you add to your site, the more respected you will be within your niche.
So, this is a great way to raise your stature and profits within your niche.
Backend Sales Opportunities
In addition to the income from monthly memberships, there are other great opportunities to boost your income.
Depending on your niche, you can sell enhanced memberships, premium products, and private tutoring.
You can also sell advertising on your site to increase profits.
Setting up and running a membership site today is easier than you think, especially if your technical skills are limited.
In the past, you needed to either have the technical skills or hire a programmer to get a site set up in the past.
But now, there are reasonably priced membership site scripts that can be added to WordPress and set up within a few hours.
So, if you've been trying to decide whether or not you want to add a membership site to your income, now is the time you can make that happen. You won't regret it.
Once you've decided to add a membership site to your online business, there are several steps you will need to take.
Here is a helpful checklist that you can use.
Creating a membership site is not as hard as you think. Once you complete this checklist, you will be ready to go.
You will have done everything you need to do to launch your site and start earning regular monthly income.
Create a Sales Letter
The sales letter is essential and can make or break your membership site. It is the door through which you will entice people to come in and see what you have to offer.
The sales letter should emphasize the benefits of joining your site and the features they will enjoy as a member. It should be written to build interest in your reader until he or she can't resist your offer.
When they reach that point, it will be an easy decision for them.
Set Up Your Payment Processor
Once you have visitors clicking on your sales page, you will need a way for them to pay you. Quite a few membership site owners use PayPal to collect their monthly subscription payments, and that works well.
You can also try Stripe or Square.
If your membership site is a course, you can use Teachable or Thinkific to run your sales through like I do at BallenAcademy.com.
I post my paid webinar programs there as well, so I can collect all payments in one dashboard.
The Autoresponder Program
To keep in touch with your members and let them know when you've added new content to the membership, you will need to include an autoresponder system on your site.
This is also a great way to stay in touch in-between uploads with a regular newsletter.
To encourage subscriptions to your newsletter, place an opt-in box on the welcome page that your customers will see after they've successfully subscribed to your membership.
Some of the best email providers with useful autoresponders are AWeber, Constant Contact, and Keap. I use KEAP, but it's expensive. If I were starting a new membership site as a startup, I'd look at Constant Contact.
If you are using teachable or thinkific, there are built-in email autoresponders.
Pre-Launch Quality Content
Before you launch your membership site, you must have several reports, articles, and other content ready for your early members.
It is good to figure out how much content you plan to upload every month and then have double that amount already on the site when you launch.
This will reassure members that you offer high-quality content and prevent immediate cancellations.
Set Up an Editorial Schedule
From the beginning, it is vital to set up an editorial schedule and follow it. Just like magazines set up their editorial schedule months or sometimes years in advance, you need to be just as business-like.
Plan ahead and have your content ready to publish a month or so ahead of time.
That way, if there is an unforeseen emergency, your content will go up as planned, and your business will not suffer.
Summary
One of the ultimate goals for a business is the development of recurring income. Chasing individual sales can build a business, but the addition of a recurring element will help sustain it for the long term.
One of the best ways to create this income, particularly for those in the digital information sphere, is to build a membership program.
As long as you can consistently provide value, customers will remain paid subscribers, allowing you to invest in marketing, sales, and product development.
If you follow these steps, your membership will come together, and you will be earning recurring monthly income before you know it.