This post contains affiliate links. As a partner with Amazon and various brands, I am compensated when qualifying purchases are made through my referral links.
There is no shortage of WordPress booking plugins, but how do you know which plugin is best for your needs? We researched for you and compiled a list of the best booking plugins and the pros and cons of each!
The Best
Features
to look for in a WordPress Plugin

A top-quality WordPress booking plugin should include the following characteristics:
Allow you to customize your time zone based on your location.
Allow you to create a booking schedule based on your availability.
Allow for simple embedding of your calendar on a WordPress page or post.
Allow for the integration of popular calendar applications.
Allow clients to book appointments according to your calendar availability.
Generate automatic notifications.
Allow for the integration of payment options.
Include lead generation tools.
Support multiple currencies and languages.
Bookly Pro
Bookly Pro is best for companies or agencies with multiple employees and private practices.
Cost

$89 one-time purchase
Yes

Download in the Plugins Dashboard.
Rating

4.55
Bookly Pro is one of the best booking plugins available. While Bookly does have a free plugin version that includes the most important basic features, the customization options of Bookly Pro make a huge difference in terms of professional appearance.
Bookly Pro also lets you add unlimited services, and it undergoes frequent updates, which is ideal when using the WordPress content management system.
Pros
WooCommerce and Google Calendar integration.

High resolution.

Compatible with Firefox, Internet Explorer, Safari, Opera, Chrome, and Edge browsers.

Compatible with WPML and WooCommerce 4.9x

Gutenburg optimized.

Analytics and statistics built-in.

12 language support.

The ability to request the addition of new features.

Top-quality customer support.
Cons
No Paypal integration.

For peak functionality, additional paid plugins are required (Reading the plugin documentation will give you the information you need before purchasing.)
StartBooking
 4.5/5
Best For:

StartBooking is Best For: Individuals and small companies with a limited startup budget who want to max out their plugin features.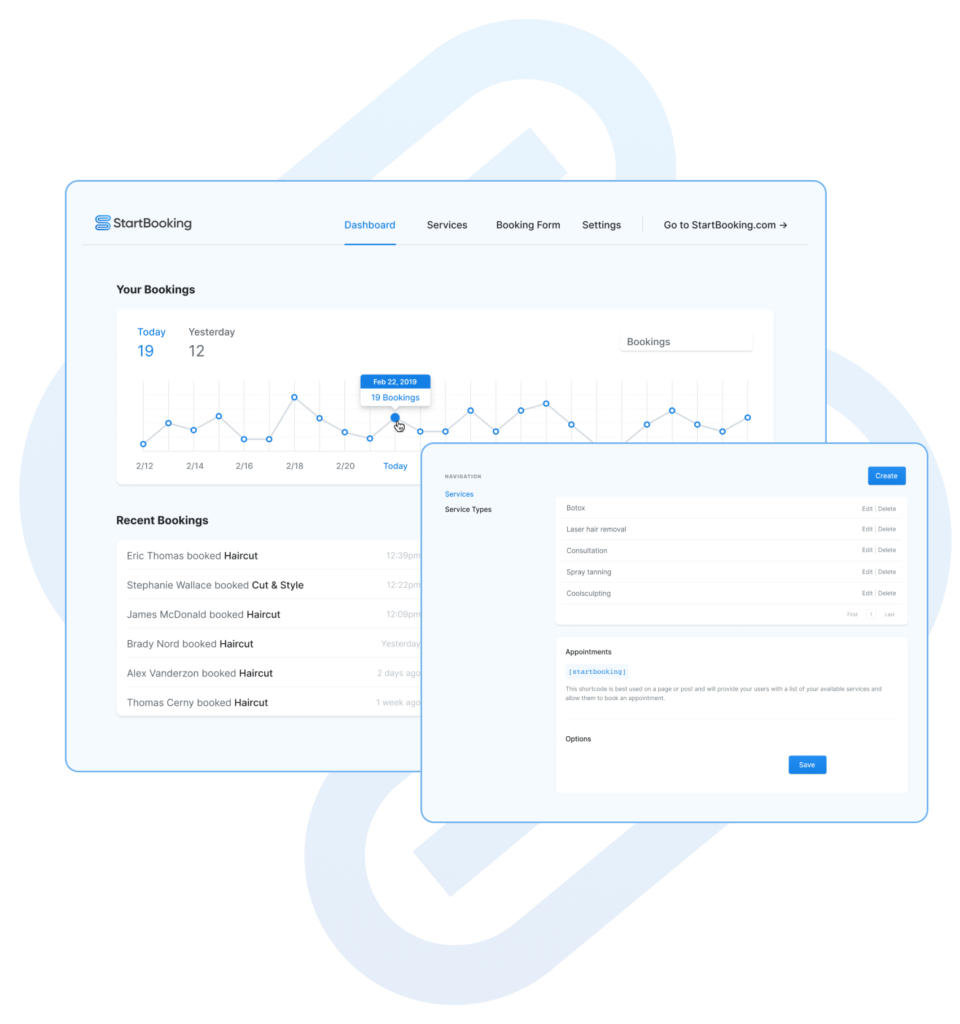 Cost: $144/Year Individual Plan $336/Year Business Plan (includes ongoing support and updates.)
Free Trial: 14-Day Free Trial
Pros:
Zoom Meetings and Google Calendar integration.
Multi-user and individual accounts.
Smart booking technology.
Fully managed scheduling software.
Gutenburg optimized.
In-depth reporting and analytics.
White label service.
Location-based booking.
Great customer service.
Cons:
The user interface can be frustrating.
Plug-in can be generally difficult to use.
Requires you to set up an account with them to use the plugin.
Start Booking is a responsive booking plugin that is cloud-hosted, and that integrates well with Google, Mailchimp, Stripe, WordPress, and Zoom. Their system is a little more complex to use, but it does allow for more advanced booking situations such as booking by open rooms and by multiple locations.
Start Booking is one of the most customer-centric booking apps available, and their customer support team is always quick to resolve questions. Their app is clean rather than cluttered, and theme integration is simple.
Start Booking (also listed as Booking Calendar in the WordPress Plugin repository) offers a free trial period for their booking plugin, but to use the plugin long term, you do have to commit to a monthly payment plan.
Birchpress
 4.5/5
Best For:

Birchpress is Best For: Individuals or companies that want all of the "bells and whistles" on their booking plugin.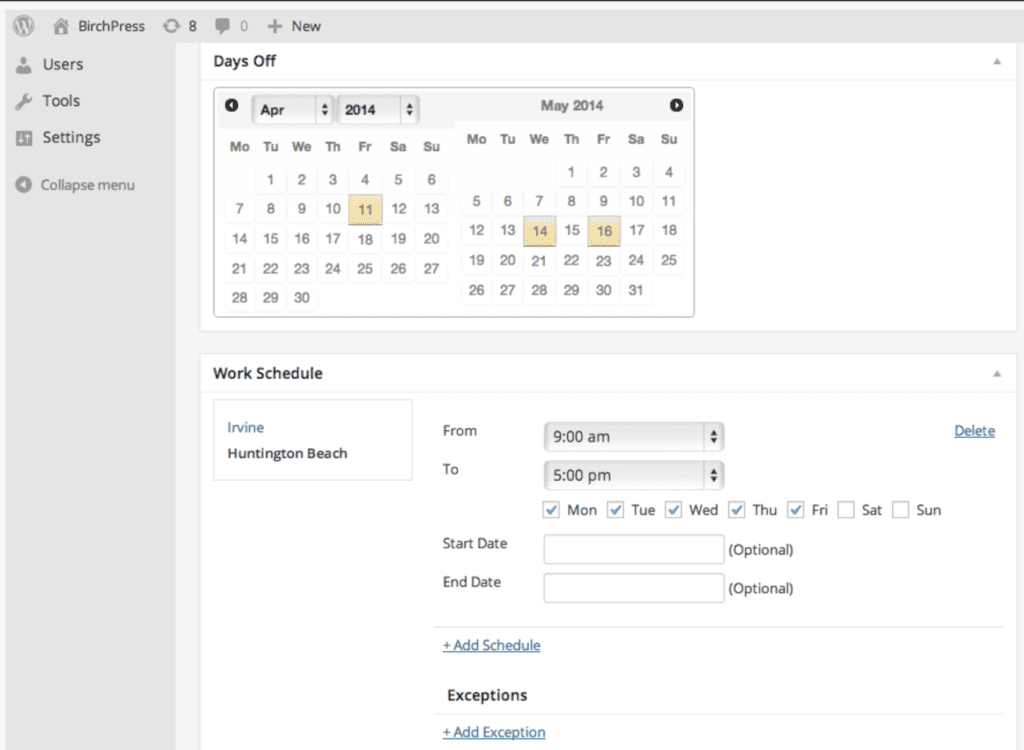 Cost: $99 for the Personal Plan, $199 for the Business Plan, and $249 for the Business Plus Plan (includes 1 year of support and updates.) Their site also mentions a free version of the plugin, but there was no link for download.
Free Trial: Online Demo Only.
Pros:
Custom-built booking forms.
Very developer-friendly.
Shortcode form implementation.
Compatible with Google Calendar, iCal, iPhone, Android, and Outlook calendars.
WooCommerce Compatible.
Reminder emails function.
Color-coded appointments.
Set minimum time requirement before an appointment booking.
Group booking feature.
Cons:
WP User and PayPal integration are only available on the two top-tier plans.
Customer service response time can be slow.
Birchpress is one of the most detailed appointment plugins available, and it includes just about every feature you could hope for. 
Unfortunately, some of those features aren't available to you unless you pay for one of the two top-tier licenses.
Birchpress has a clean, user-friendly interface and is very easy to navigate. Although it can take a little while to set up initially, once in place, this booking plugin is one of our top picks because it offers features that many other plugins overlook.
It also has the added benefit of plenty of resources for tutorials and online troubleshooting compatibility and setup issues.
Booked
 4.2/5
Best For:

Booked is Best For: Companies or individuals looking to offer guest and registered user appointments.
Cost: $49 (includes future updates, 6 months support, and an additional 6 months support is $16.50.)
Free Trial: No
Pros:
WooCommerce and Google Calendar integration.
Fully translatable.
Includes shortcode and widget functionality.
Responsive front and backend.
Customizable color.
Assignable calendars.
Compatible with IE11, Safari, Firefox, Edge, Chrome, and Opera
Lifetime updates
Top-quality customer support.
Cons:
Not as comprehensive as other booking plugins.
Not compatible with all WordPress themes.
Booked is a booking plugin that offers all of the baseline features you could need in a simple, easy-to-navigate plugin interface.
What sets this booking plugin apart from the competition, though, is the ability for customers to book appointments as registered users on your website or as guests without having to register. 
This feature makes for fewer account setup problems for new users.
It is worth noting that the Booked plugin can be a little temperamental with some WordPress themes.
Amelia
Amelia is Best For: Companies or individuals looking to offer coupons and discounts on services.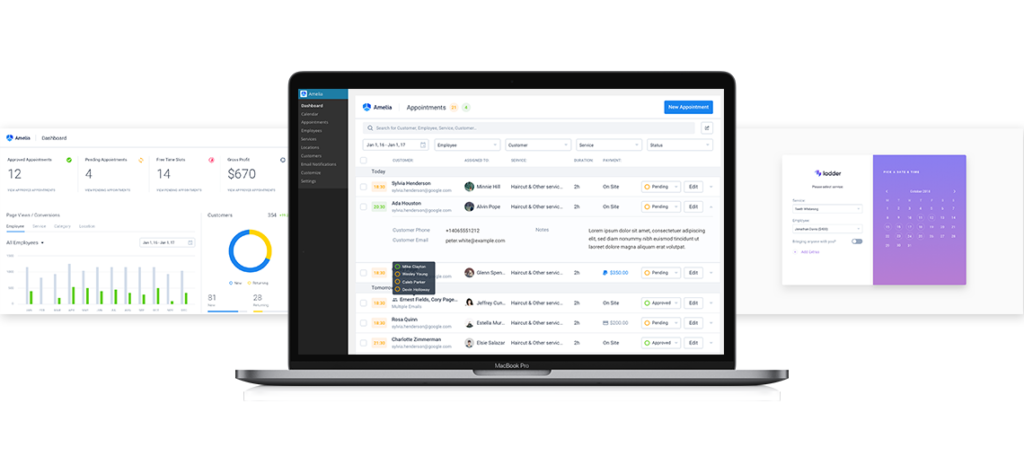 Cost: $59/Year or $189/ One-time Fee (Annual upgrades and support are free as long as your subscription is active. A One-time fee includes lifetime support and upgrades.)
Free Trial: Free Lite Version of the Plugin
Average User Rating: 4.2 / Lite Version and 4.9/ Paid Version
Pros:
WooCommerce, Outlook, Zoom, and Google Calendar integration.
Services Catalog View.
Multiple location management.
Group appointment booking.
Minimum time before booking/canceling feature.
Analytics and statistics built-in.
Multi-currency support.
Option to upsell additional services.
Coupon creation
Cons:
It can be difficult to configure.
The user interface could be more organized.
Amelia is a preferred booking plugin among experienced WordPress professionals. More affordable than comparable plugins, Amelia is flexible, highly customizable, and comes with excellent documentation.
Amelia is easily tweaked to suit businesses in any niche and includes advanced features like recurring appointment scheduling, the addition of one-time events, and employee access panels.
Amelia is a dependable and stable booking plugin with easily accessible support and frequent updates. Plus, when purchased using the one-payment option, it's incredible value for your money.
Latepoint
Latepoint is best for everyone!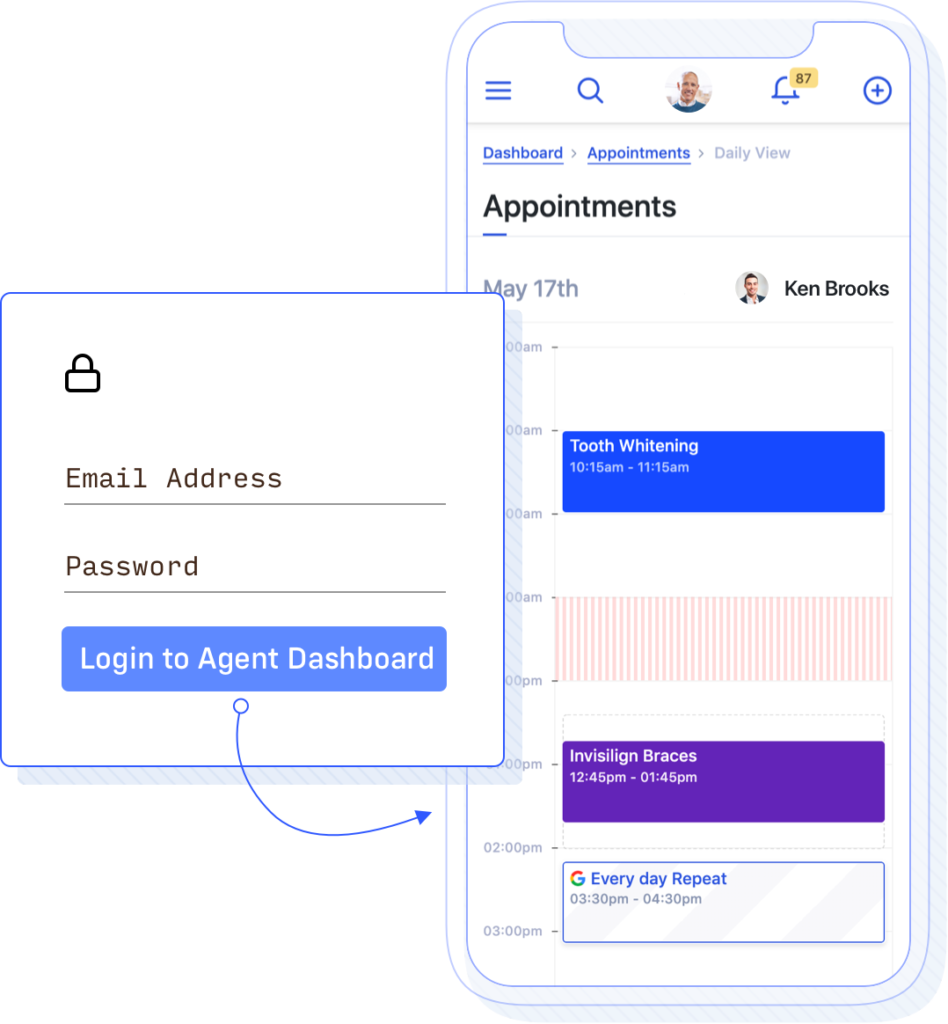 Cost: $79 (includes future updates, 6 months support, and an additional 6 months support is $27.75.)
Free Trial: No
Pros:
Compatible with Safari, IE11, Firefox, Opera, Edge, and Chrome.
Gutenberg optimized.
Automatic Zoom meeting creation for appointments.
Support for Stripe, Paypal, Razorpay, Paystack, Braintree, and Square.
Employee dashboards.
Customer chat feature.
SMS notifications.
Customer dashboards.
Coupons and discount codes.
Categorization of services.
Cons:
Latepoint appointment booking software comes at a one-time fee and has some great unique booking features including multilevel categories for services, employee profile pages, and coupons and discount codes.
Latepoint is easy to set up using the setup wizard and supports multiple integration methods for booking forms to offer seamless booking forms within your existing site design. Latepoint also incorporates multiple customer support features that give you a direct line of contact with clients through online chat, email, document sharing, and SMS notifications.
With over 2,000 downloads and an average rating score of 4.9, Latepoint is continually growing with regular updates, and their support is topnotch.
Easy Appointments
 4.55/5
Best For:

Easy Appointments is Best For: Companies and individuals looking for flexible booking plugins with multilingual support.
Cost: FREE (Listed in the WordPress repository, no update or support information is available.)
Free Trial: N/A
Pros:
Multiple locations, service, and worker support.
Custom admin email.
Confirm booking feature.
Custom email creation for appointment stages.
Drag and drop custom forms.
Multilingual support.
Easy setup
Easy to use.
Top-quality customer support.
Cons:
Many key features require a paid extension.
The paid extension only includes updates for a select period.
Although Easy Appointments is listed as a free app, it's technically a paid app since most businesses will require the additional paid extension to integrate with Google Calendar, Paypal, Woocommerce, ICalendar, and SMS support.
Easy Appointments is one of the most flexible apps when it comes to set up, and it is one of the best options for users looking for multilingual support. With that said, we don't recommend this plugin if you can't afford the add-on extension.
With over 400,000 downloads and a 4.55-star rating, the Easy Appointments plugin is a simple to use and easily customizable plugin that can cater to any business niche.
WP Booking System
 4.8/5
Best For:

WP Booking System is Best For: Rental businesses.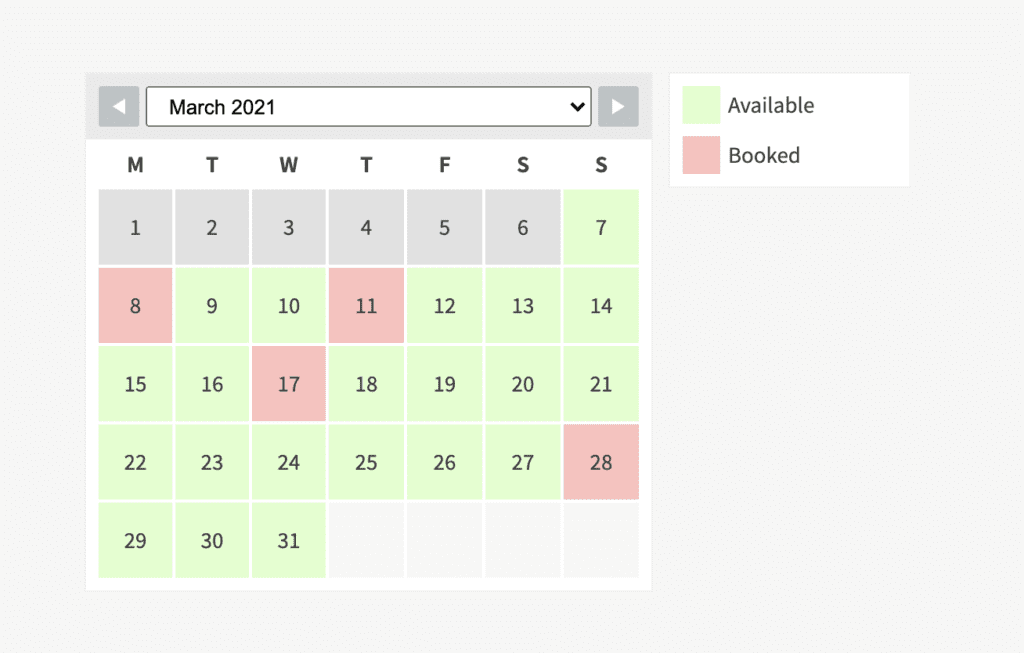 Cost: $49 / 1 Site, $79 / 5 Sites / $159 Unlimited Sites (includes automatic updates and premium customer support.)
Free Trial: Yes
Pros:
Responsive design.
Unlimited calendar support.
Lightweight plugin.
Click and drag date selection for customers.
Google Analytics incorporation.
Ability to approve or decline bookings.
Multiple payment platform support.
Offer discount codes.
Upsell services
Cons:
Customer support can be slow.
WP Booking System is another booking plugin that offers a free version and a paid version, but like most, the free version is of little use to the average business. 
That said, the paid version is rich with features and ideal for rental businesses in any niche, particularly those that require unique payment situations.
WP Booking System is compatible with more payment systems than most other booking plugins. 
The paid version of this plugin integrates with Authorize.net, GoPay, PayPal, Stripe, bank transfers, and it allows for offline payment as well.
Other unique payment features worth noting are payment reminder emails, invoicing, setting discount rules, tax and fee assessment, season-based prices, deposits, and partial payments. (This latter feature is unusual for most booking plugins.)
With more than 9,000 active installs, WP Booking System is not the most popular booking plugin, but those who do use it rave about its flexibility and multitude of features. 
The one concern that has been mentioned by a couple of users of this plugin is the slow response time of support.
Calendarista is Best For: Companies or individuals hosting events.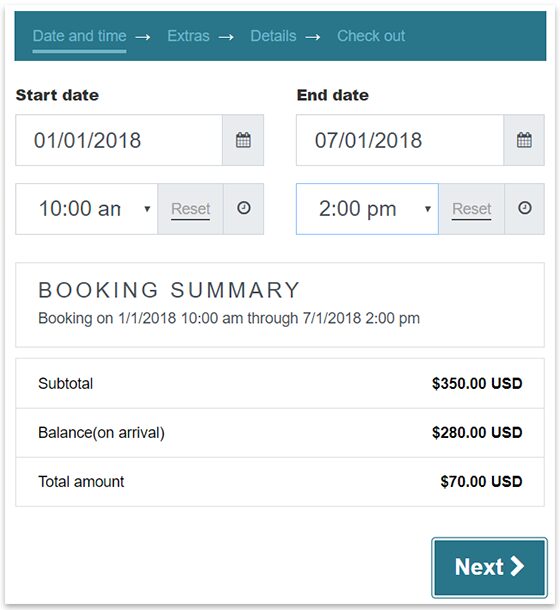 Cost: $79 (includes future updates, 6 months support, and an additional 6 months support is $27.75.)
Free Trial: No
Pros:
WooCommerce, Outlook, and Google Calendar integration.
High resolution.
Compatible with Firefox, Internet Explorer 10 and 11, Safari, Opera, Chrome, and Edge browsers.
Compatible with WPBakery Page Builder.
Mobile optimized.
Ability to sync with third-party systems to keep availability updated.
Optimized for travel, events, and time-period booking.
No third-party interjection during booking.
Top-quality customer support.
Cons:
Calendarista is a robust plugin that can handle most online booking situations from vacations to purchasing seats for events (it comes with ten booking modes already set up.) 
This plugin's flexibility is by far the most appealing draw, but it is also one of the few plugins that is set up to accommodate selling seats for events.
Another somewhat unique characteristic of Calendarista is that the plugin creators regularly monitor their customers' feedback and suggestions. 
This means that if there is a feature you want to see that isn't yet incorporated, there's a good chance that you can get it included in the next plugin update!
Although created in 2018, Calendarista is still regularly updated – the most recent update being just over a week ago!