This post contains affiliate links. As a partner with Amazon and various brands, I am compensated when qualifying purchases are made through my referral links.
If you're looking to makeover or build your website, consider these free magazine-style WordPress themes to give you, your business, and your website a sharp and competitive edge. 
Delightful Managed WordPress Hosting
Thoughtfully built for busy creatives
Many themes come with customizations for colors, fonts, headers, footers, sidebars, menus, widgets, logo images, favicons, and more in WordPress's Customization plugin.
You can often find this under "Appearance" in the admin panel or on the lower right-hand corner of each installed theme.
Test each of these themes before committing them in stone to your site. You may find some of these more flexible and feature-rich than others.
Make sure to view the ones that are SEO friendly if you're looking to beat the competition on search results through search engines like Google, Bing, and Yahoo.
AccessPress Mag by AccessPress Theme
This theme features a news ticker, author block, two-post layout, sticky menu, and large images for pages/posts, along with social media integration.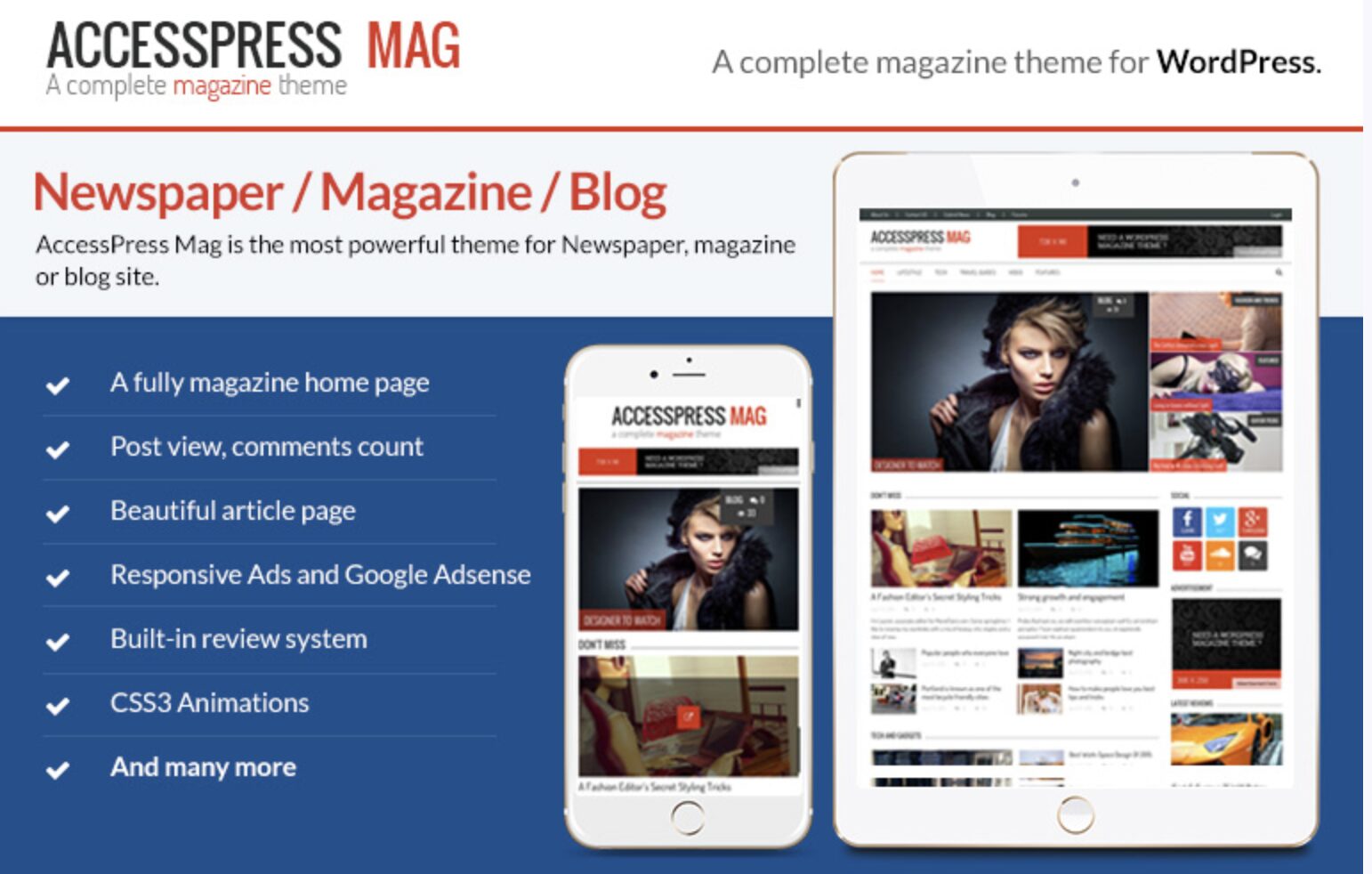 Upload your logo and choose colors or images for the header and background.
You can display menus in four locations and have header ads. This makes it optimal for magazines, news, personal websites, newspapers, and editorials.
BirdMAGAZINE by Sysbird
Its flexible grid layout with two columns is comparable to what you see with Pinterest.
Customize colors for links, headers, background, and text. Adjust the scheme with front-page layout, opting for a standard or masonry option.
You can customize images for the header and background too.
I use Canva Pro for featured images with copyright-free photos.
Clean Magazine by Catch Themes
Clean Magazine is a responsive theme developed and created for magazines and blogs. It's a child of the Catch Base theme and uses CSS3, HTML5 along with a responsive design.
Care in the theme's creation makes it is easy to see on any platform or device. Modification and customization options are available for about anything you want to change.
Using the Customizer, you can alter the slider, header highlight content, layout, featured content, pagination, breadcrumbs, widgets, promotion headline, styling, icons, menus, and more.
For international sites, the theme is ready for translation. It currently has Danish, German, Swedish, Brazilian, and Portugese.
Daily Magazine by AF Themes
This feature-rich theme is a child of Elegant Magazine. You display a sidebar or be full-width and header layout on the homepage and a grid layout for post archives.
Intended for magazines and news, customize widgets for modern fashion, trending news, travel blog, or another journalistic site.
It's clean, minimal, and SEO friendly. In the Customizer, you can adjust the theme through a tab for "Theme Options." You can enable a preloader, breadcrumbs, archive pages, related posts, a slider/carousel of latest posts, and the footer.
There are also "Frontpage Options" for ads, a news ticker, banner news, and extra layouts. You can also upload a logo and site icon.
Recommended Plugins:
Blockspare – Beautiful Page Building Blocks for WordPress,
One-Click Demo
WP Post Author.
Docile by TemplateSell
This theme is easy to use with an elegant interface. You can adjust most settings and widgets with the WordPress Customizer.
Particular tabs feature a configuration for the theme's options and front page by enabling a preloader, breadcrumbs, sticky sidebar, footers, and blog settings.
You can enable the search engine, slider, and promo box with various places for widgets, even under the slider. If you choose the sidebar, there are many choices available. You can also adjust the theme's color.
Recommended Plugins: One Click Demo Import
Editorial Plus by Mystery Themes
Editorial Plus is a child from Editorial.
It's best for publishing personal blogs, newspapers, and magazines. Most settings are available in the Customizer.
You can manage widgets and a tab under the "Appearance" menu option specific to settings for the parent theme, Editorial.
The layout is very configurable, with options to show related articles and the names of authors. You can choose to set a full-width layout or a boxed layout to the whole website.
This also extends to pages, footers and the archive. You can also input your social media pages, set category colors and header ads.
Recommended Plugins:
Contact Form
Everest Forms
WP Blog Post Layouts
Demo here: http://demo.mysterythemes.com/child-theme/editorial-plus/
Elegant Magazine by AF Themes
You can customize many options, including widgets for a clean, elegant, and minimal appearance for news journals, fashion magazines, online newspapers, travel blogs, and other types.
It's also SEO friendly. They have a special tab under the "Appearance" menu, and you can adjust the site's features in the Customizer.
There is a preloader, header specifications, breadcrumbs, specify layout and archives, related posts with a blog carousel and footer.
Add a news ticker, ads, banner news, and more.
Recommended Plugins: Blockspare – Beautiful Page Building Blocks for WordPress, One Click Demo Import and WP Post Author.
Envo Magazine by EnvoThemes
This widgetized theme is excellent for newspapers, publishing companies, editorials, blogs, magazines, news portals, or any other journalistic website.
SEO friendly, RTL ready, and WPML capable, Envo is a modern, fast, and clean, responsive WordPress theme.
Use the theme settings tab in the "Appearance" menu in the admin panel of the Customizer. They offer a video and demo right in the Customizer.
You can adjust most standards like colors, headers, backgrounds, menus in three locations, several areas for widgets, and more.
Experon Magazine by ThinkUpThemes
This is the free version of Experon Pro. The responsive layout of this theme allows you to make fantastic adjustments without knowing any code. It's HD retina ready with a full-width slider and option to upload your business logo.
It's made to complement a host of plugins like Polylang, WPML, WooCommerce, Photo Gallery, Travel Map, Page Builder, Beaver Builder, Elementor, Flat Parallax Slider, Visual Composer, Divi, SiteOrigin, and so many others.
Focus Magazine by Gumtheme
Focus Magazine makes it easy to write posts and articles in a modern and responsive theme.
This makes it optimal for magazines, publishing, editorial, newspaper, and news. Using the WordPress Customizer, you can configure the theme's look and feel.
Choose from various features, including social media buttons, colors, menus in four locations, four widget areas with a logo and site icon.
Glamour Magazine by PostMagThemes
This theme gives the option to customize everything so even a newcomer to WordPress can take advantage of all this theme offers with a "Documentation" tab in the Customizer. It's comfortable to use and suited for any magazine-type website.
It has built-in security features and SEO capabilities, which will help your site appear at the top of search results. It's responsive and will appear as beautiful on a computer as it will a mobile device.
HoneyWaves by SpiceThemes
HoneyWaves is a child of HoneyPress and contains a slider banner, services, blogs, and testimonials features. Because it's responsive, it's compatible with any device, making it easy to implement and use.
It's also designed for WooCommerce and SpiceBox to import dummy data.
It has a feature-rich, lightweight, and elegant design for newspapers, magazines, bloggers, shopping, businesses, wedding planners, gyms, restaurants, and others.
JournalistBlogily by Superb Themes
This theme gives near unlimited customization options for any online editorial magazine, personal blog, affiliate review, or something for classic news. It combines the professional with visual appeal.
It's compatible with Google DFP Ads, Adsense and others. It's SEO friendly and set for search engines to spider your site with ease.
You can decide to have the site white, dark, clean, boxed, minimal, advanced or flat. You can also use full-width sidebar widgets.
Recommended Plugins: Superb Helper
Kontrast by Alexander Agnarson
Kontrast has a long list of features. Change unlimited accent colors, zero to two sidebars on the left or right, make sidebars specific to each post/page, and specific fixed widths. There is no limit to widget areas with zero to four footer columns, a slider, ten post formats, SEO friendly, and so much more!
It's great for magazines and blogs with its high resolution and responsiveness, making browsing a breeze on mobile phones and tablets. You can display social media links, a slider, special admin panel features, and logo upload.
Recommended Plugins: Alx Extensions, Meta Box, Regenerate Thumbnails and WP-PageNavi
Lucia by LQ Themes
This theme works for one-page sites and is based on Elementor, a drag and drop page builder. Use for corporations, showcases, galleries, magazines, portfolios, restaurants, design agencies, ecommerce and more.
With an elegant homepage template, it offers an easy and quick way to make a website.
There are unique options for the theme, blog, and fonts. You can select options for pages, posts, headers, and footers.
It's ready for WooCommerce, Contact Form 7, WPML and Polylang. You can access all demos and support through the theme's tab under "Appearance."
Recommended Plugins: Elementor and LQThemes Companion.
NeatMag by ThemesDNA
NeatMag is specific for magazines with two columns that's flexible, elegant and fully responsive.
Customize the theme with post summaries, sticky menu, sticky sidebars, full-width custom page/post templates, right sidebar, social media buttons, four-column footer and a scroll-to-top button.
Recommended Plugins: WP-PageNavi and Regenerate Thumbnails
News Box Free by Noor Alam
This theme has a masonry grid with site container for any news, Magazine or blog. You can adjust the colors to your liking that's fully flexible and editable.
With a beautiful and professional appearance in its layout and SEO friendly with html5 and CSS3.
You can also upload a favicon and logo along with configurable colors, images and menu options.
Recommended Plugins: Click To Top, Contact form 7, Magical Blocks and Magical Posts Display
Newsova by ZidiThemes
Newsova is a child of the Newsjolt theme. It's designed for modern blogs, portfolios, travel, photography, newspapers, business, fashion, magazines, fitness, shopping, learning, health and ecommerce.
It's compatible with Divi, Gutenburg Page Builder and Elementor. It's also ready for RTL and translations into other languages. Many featured sections in the Newsjolt Options allow for a look and feel suited to periodical-style sites.
Newsreaders by ThemeInWP
The Newsreaders theme is compatible with SEO, making content management with speed it's gracing feature. It's unique, elegant, and responsive with an organized multi-layout.
This is ideal for online newspapers, editors, magazines, publishers, journalists, information, bloggers, educators, writers, and the like.
Newsreaders will work with any browser, which makes it eye-catching on any device.
There are other features like a like/dislike for readers and settings for the homepage and its sections.
Recommended Plugins: Booster Extension
PostMagazine by Blogging Theme Styles
PostMagazine has innumerable capabilities, including WooCommerce and RTL.
This theme offers unlimited colors, styled layouts, 21 widget positions, a post slider, social media sharing buttons, and many others.
It's compatible with mobile devices, too, making this beauty perfect for health, fashion, food, or lifestyle. Display your site as a boxed, blog, or full post layout.
Preferred Magazine by ThemeTim
This theme is responsive and flexible, founded on Elementor.
It supports the Customizer and WooCommerce along with six widget categories for any post. Customization is smooth.
Some features include advanced typography and unique headers with unlimited color choices.
It's mobile and SEO capable with a stylish page title, footers, drop-down menus, social media icons, layouts, and various browsers.
You can get customer support any time.
Purea Magazine by Spiracle Themes
Purea builds from Bootstrap Framework which makes this SEO friendly and responsive for sites featuring sports, games, travel or news. Almost all options are customizable and it comes with a news slider, an option for preloading, widgets for news.
It also supports across browsers, Elementor, Visual Composer, Beaver Builder and SiteOrigin capabilities and RTL.
Simple Grid by ThemesDNA
This theme has a mobile-friendly and responsive design with many options for customizing the theme. You can have full-width pages and posts with two navigation menus.
There's also a sticky menu, CSS layout with five columns, sticky sidebars and a six-column footer. It has RTL, social media buttons, right sidebar options and a scroll-to-top button.
Vmagazine Lite by AccessPress Themes
Vmagazine Lite has eight built-in widgets and four demo layouts that you can import from the admin panel and ad placement flexibility. This kind of thing is ideal for any magazine, newspaper or blog site.
It's multi layout and simple interface makes it putting up a blog or website quick. It comes capable for use with SiteOrigin Page Builder and WooCommerce.
It's ready for translation and multiple languages. There are settings for archives, single posts, pages and category color. They give options for a fallback image with lazy load and animation with widget templates.
VW Blog Magazine Theme by VW Themes
This theme has a classy and stylish design for personal blogs, fashion sites, lifestyle blogs, general blogging, craft websites, tech, news, editorials, journalism, and so much more.
The clean and modern look makes it secure and easy to customize with pages that quickly and quickly load.
You can adjust anything you want if you don't like the way it comes. It's feature-rich yet minimal and gives you excellent optimization and personalization.
There is a call-to-action button, banners, styling options, and shortcodes.
Upon installation, you will get an interactive tutorial and footer widgets, display options, a slider, and social media icons that are SEO friendly.
X Magazine by Noor Alam
This theme is a free and responsive WordPress theme and is a child of the X Blog theme.
It's useful for magazines, personal blogs, and news with color options for the header, background, and content area.
It's a Super, flexible and editable theme with full functionality.
It has a beautiful and professional layout made for search engines and SEO friendly with Html5 and CSS3.
You can position the logo and menu along with the title, layout, and theme colors.
Recommended Plugins: Click To Top, Gallery Box, Magical Blocks, and Magical Posts Display
Demo: http://xm.wpcolors.net/