Lori Ballen is a member of the Amazon Associates Program and earns money from qualifying purchases. Posts contain affiliate links that benefit Lori as well.
If you're looking for refinement and a polished presentation, your search is over. Elegance is a graceful theme for smart, sophisticated businesses. You'll love the large images and stately typography in Elegance. It's feature-rich and easily customizable as well.
If you need someone to set this up for you, contact my brothers Jeff and Paul Helvin at Ballen Brands 702-917-0755. They develop WordPress Websites.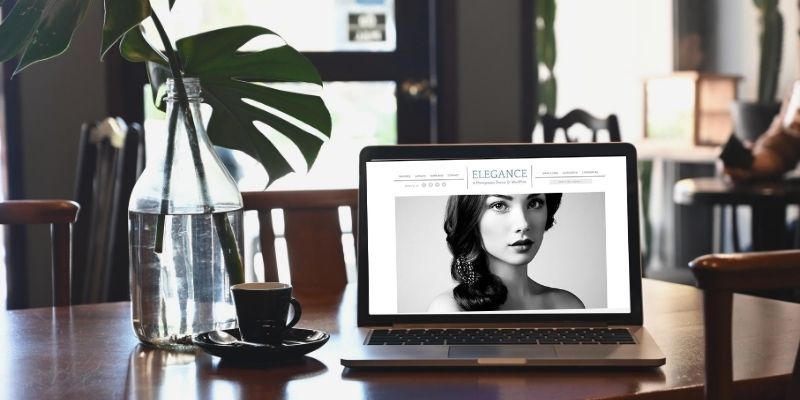 This is a great theme for a beauty blogger, fashion blogger, hair business, skincare business, photographer, and anyone else who wants to display their work. It's a clean, beautiful design that can be a wide theme or flaunt the sidebar. Choose your preferences page by page.
Video Tutorial
---
Get the Theme
If you need the WordPress platform and hosting, start with WP Engine. Follow the steps to choose your hosting plan (monthly or annual) and then you'll receive access to your installed, self-hosted WordPress Website. [Set Up WP Engine Video] If you need to register your domain name, you can do that at a site registrar like Godaddy. [video tutorial]
Next, head over to Studiopress and buy your Elegance Pro Theme. You'll receive two .zip folders containing the Genesis Framework and the Elegance Child Theme.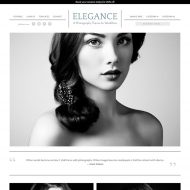 Elegance Pro Theme – $129.95
from:
StudioPress by Copyblogger Media
---
Theme Install
From the dashboard, find 'Appearance' in the left column.
Hover over the appearance link and find 'themes'.
Open 'themes'.
Choose 'Add New'.
Select 'Upload Theme'.
Browse for your unpacked, unzipped Genesis Framework Folder and load.
Click 'Install Now'.
Select 'Activate'.
Repeat this process with the Elegant Pro zipped folder.
---
One Click Install
The One-Click Install is popular with website builders using child themes of Genesis. It's exactly how it sounds, one click and it's all installed.
This works best on a brand new website. Keep in mind that you'll have to edit content, menus, widgets, etc. to fit your food blog once you install it all using the one-click install.
After you install the theme, you should see the button that allows you to choose a one-click install. You might alternatively see "Starter Pack".
This install or starter pack will install all demo content, Plugins, widgets, pages, posts, categories, and menu items.
All of this can be customized after the installation.
If you need someone to set this up for you, contact my brothers Jeff and Paul Helvin at Ballen Brands 702-917-0755. They develop WordPress Websites.
---
Customize the Website
Next, we will customize the website. I start with the major customization elements which can be found by clicking 'Appearance', and then choosing 'Customize'. Once this is completed, we move on to the sidebar and the homepage. Below, you'll find the steps for the customize section.
---
Site Identity
Add your website Title. This can be changed anytime and won't change your domain name. Some themes will display the tagline, others won't. If your theme includes a footer text section, you can add what you want to appear in the footer here.
If your theme does not include the footer option here, you can install the Genesis Simple edits Plugin or follow my instructions on editing the footer here.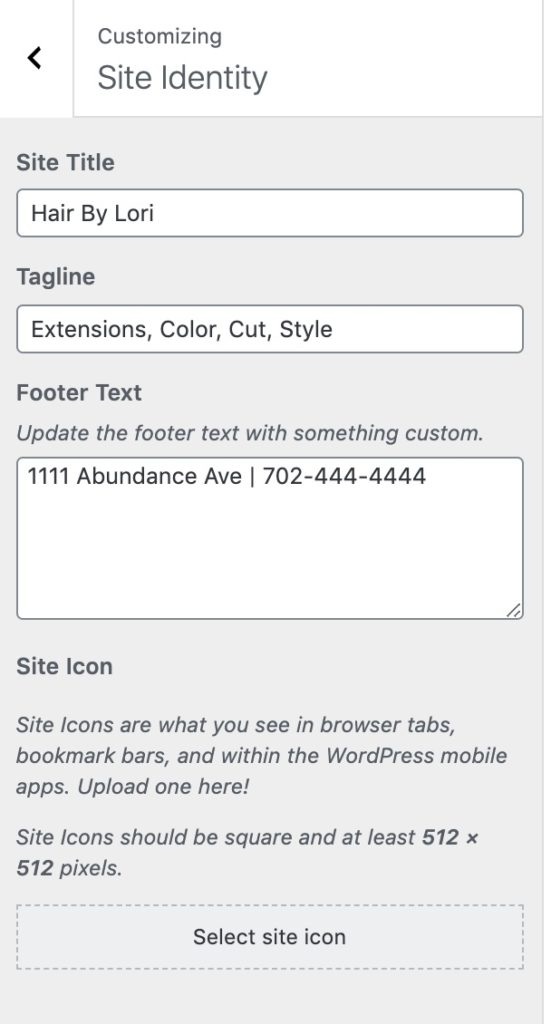 If you like, you can include this code and make appropriate edits to create live links in the footer.
[Copyright © 2020 Your Business Name<br /><br />Website by <a href="your unique link">Your Custom Label for Your Link</a>]
---
Site Icon or Favicon
I like to use Canva to create my site icon. The Favicon is the tiny logo that appears next to the tab in your browser.
To Create a site icon / favicon:
Create New
Custom Dimensions
512 x 512
Upload your logo and adjust to fit in the section or choose a photo from the library
Avoid text. This should be a clearly identifiable symbol.
---
Colors
Your theme will include one or more color choices. You'll noticed that they are marked as to where that color appears. To edit a color, simply click on the color square. You can now choose one of the colors displayed, use the slider to find a new color, or add a color code.
I love the brand kit in Canva Pro. This allows me to store the colors I have chosen for my brand and use them in all of my designs.
You can start with creating your brand kit and add the color codes to your website. If your theme only offers 1 or two color choices, consider adding the Plugin: Genesis Design Palette Pro.
You can purchase a brand kit with colors you like from Lady Boss Studio or Creative Market.
---
Custom Logo
Notice the text appearing in the header of your website. It often will look like a logo. This is simply the theme using your Site Title as a Logo.
You can, however, add your own logo to replace this text. You'll need to check your theme documentation to ensure you use the correct logo size.
Using Canva, you can create new, add custom dimensions, and create or upload your image. Then, you can click to save it with a transparent background if you want the background to be clear.
Otherwise, you can save it with a background.
Elegance Pro suggests custom dimensions of 700 x 270 px. The actual size it will display on the website is 350 x 135.
---
Set Up The Menus
The WordPress Menu is where many of my clients get stuck. Themes often included multiple menu locations such as the header, header left, header right, above the header, below the header, and the footer.
Your Menus can include posts, pages, external links, or a number of items from your widget selections and Plugins.
You can create a drop-down menu by simply clicking and dragging an item under another so that it's indented.
I suggest watching the tutorial video and reading this guide to learn how to best set up your WordPress Menu.
---