This post contains affiliate links. As a partner with Amazon and various brands, I am compensated when qualifying purchases are made through my referral links.
Find the best WordPress Themes, Mobile Responsive, Gutenberg Ready, Themes for bloggers, coaches, entrepreneurs, lifestyle bloggers, and more.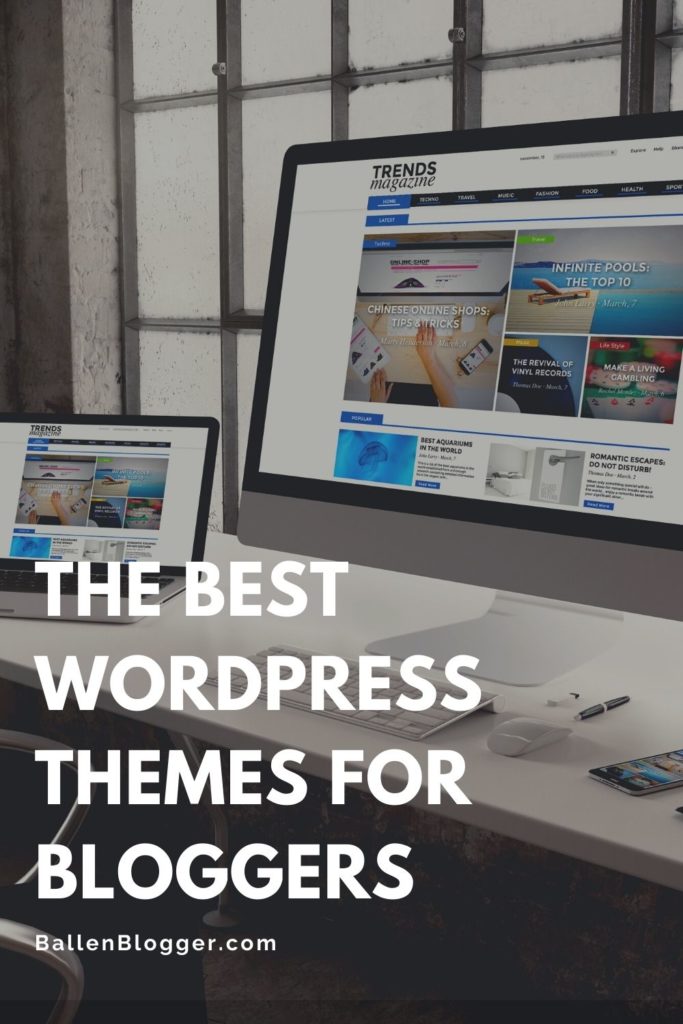 In order to use Studiopress themes, you'll first install Genesis Framework which will be included in your WP engine account under Themes.
The following Studiopress Themes are available with your WP engine account. If you already have a WordPress account, and just need the theme, you can access them using the links below.
Academy pro
Academy Pro is the theme for an online course, membership site, and educational content. With Academy Pro, you can display your authority, receive more email opt-ins, and share why someone should learn with you.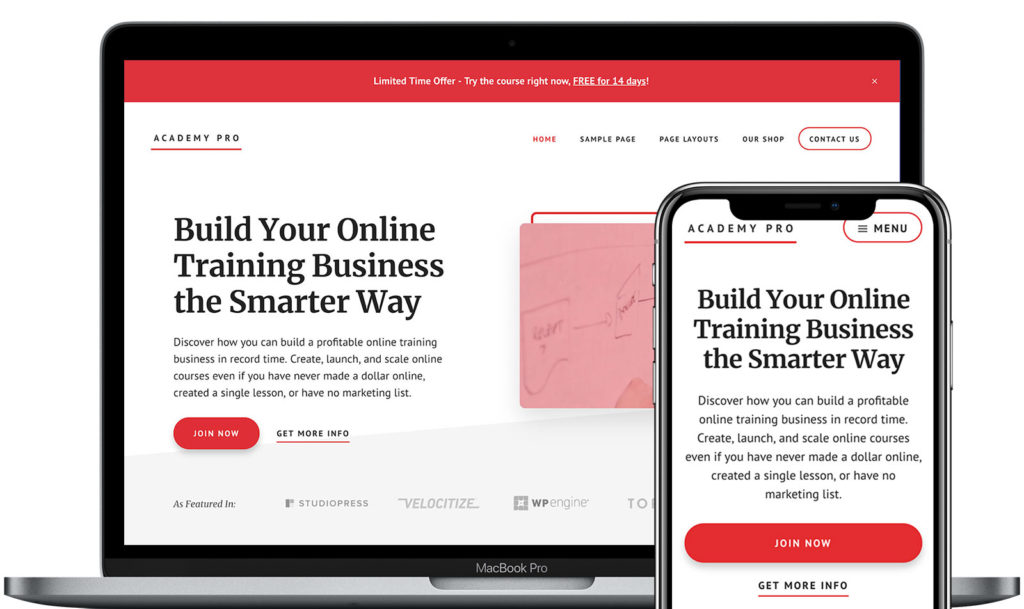 Academy Pro
is the theme for an
online course
, membership site, and educational content. With
Academy Pro
, you can display your authority, receive more email opt-ins, and share why someone should learn with you.
---
---
Agency Pro
Agency Pro is a streamlined professional that presents your services with clarity and confidence. Make a great first impression for your agency with this smart looking and easy to use Studiopress Child Theme.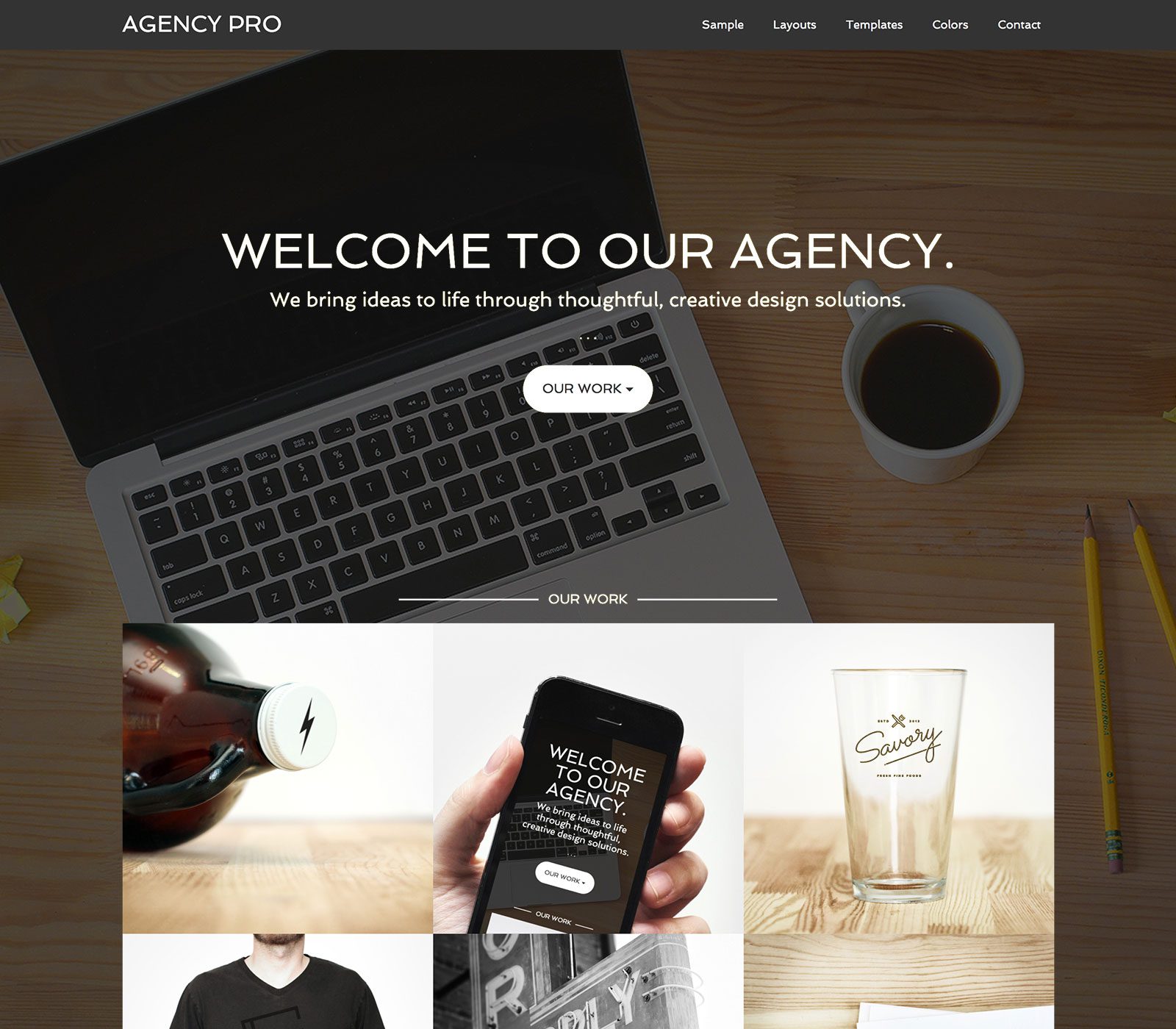 AgentPress Pro
AgentPress helps professional real estate agents like you create a better business with its intuitive design, power-packed functionality, and smart real estate listings. Stand out above the market and gain results by showcasing your real estate services and buyer-friendly layouts of AgentPress.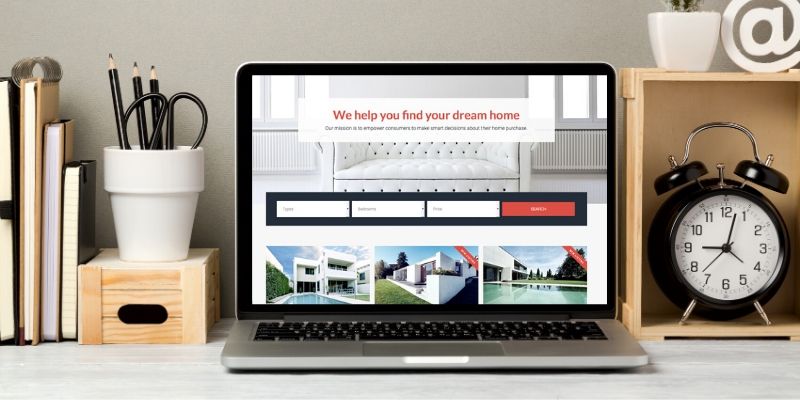 Lori Ballen, a Las Vegas real estate agent who uses WordPress uses IDX Broker on her themes to provide search capabilities. Lori's brothers Jeff and Paul Helvin are IDX Broker developers and build WordPress Real Estate Websites called BREW.
Click here to see the entire Agentpress Pro Set-Up by Lori including a written guide and videos.
---
Altitude Pro
The parallax effects will grab your eye in the Altitude Pro Theme from StudioPress, but it's the features and flexibility of the design that will move your mind. This is a theme with a plan and purpose to take you and your brand higher.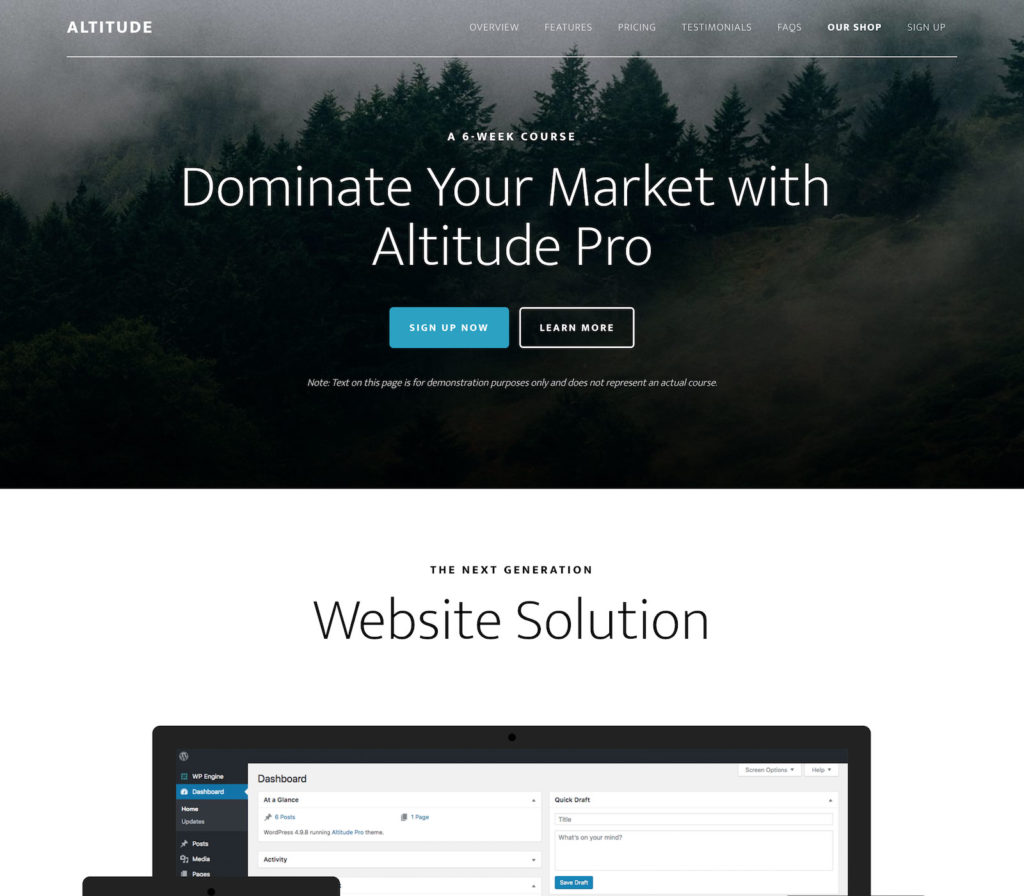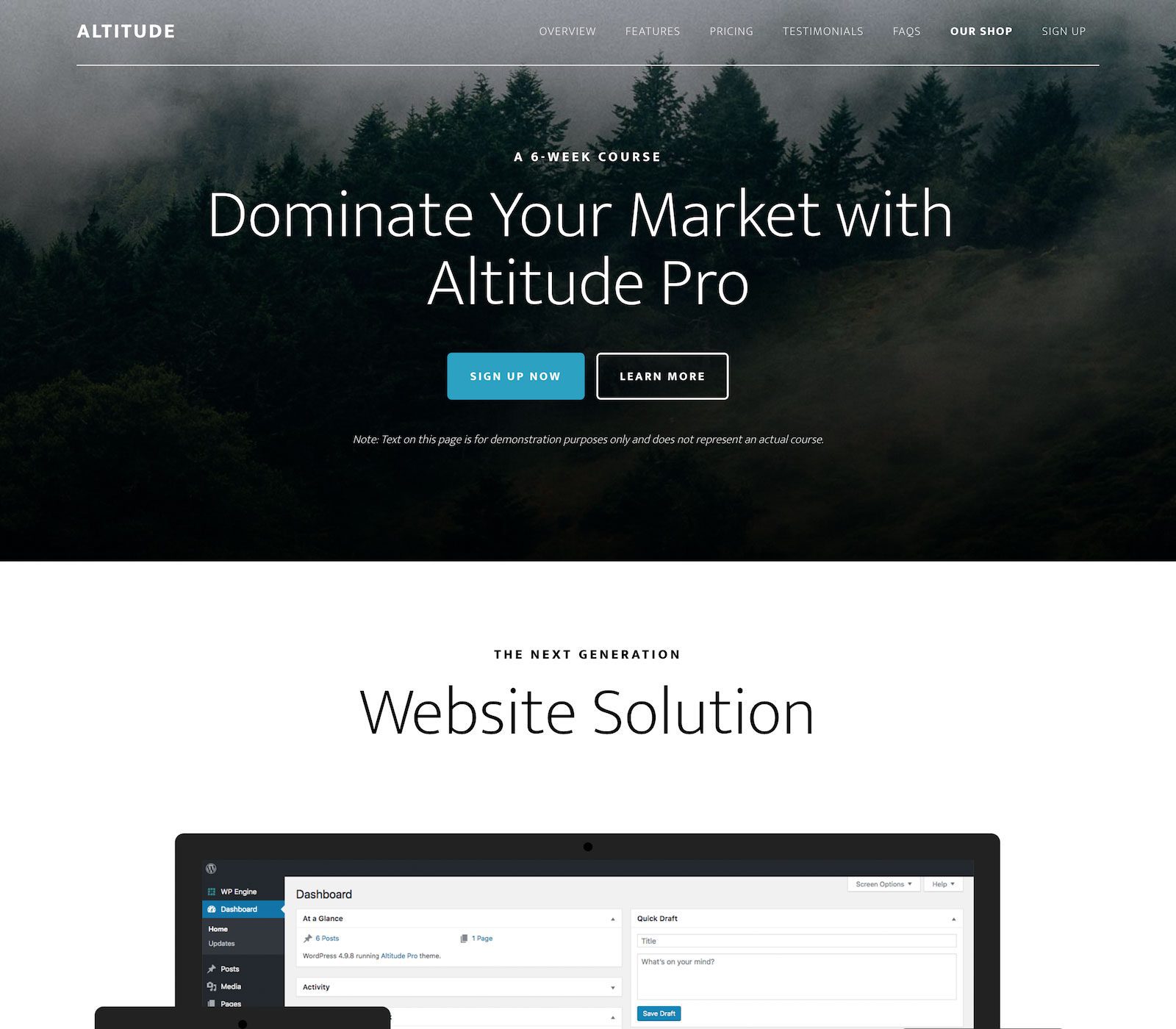 ---
Ambiance Pro
If your website is a party, you are the host. And you need a design that provides your readers what they want most: you. Your images. Your words. Your personality. Ambiance Pro puts each visitor directly into a private conversation with you — through the words in your blog and the images you choose to garnish them with.
---
Aspire Pro
When you're ready to step it up and seize success with a bold, eye-catching theme, you're ready for Aspire Pro. Aim high with a high-impact design that puts your best offerings in the spotlight.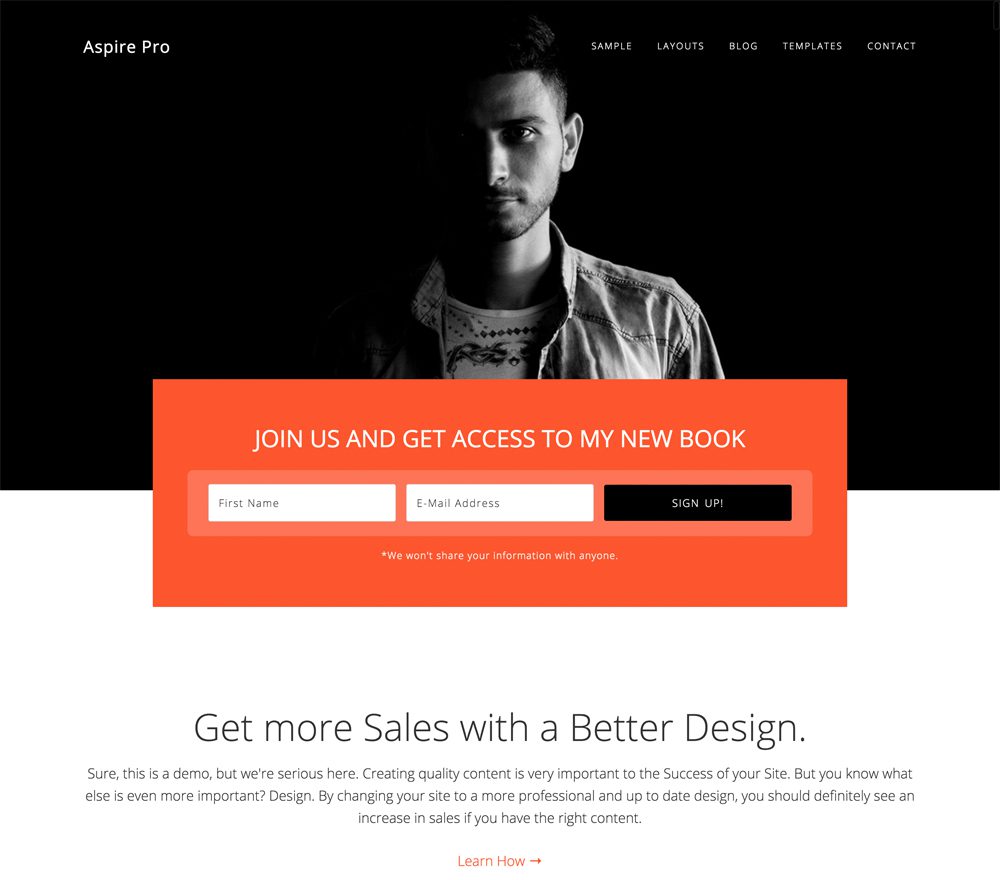 Atmosphere Pro
When you're ready for a theme with the utmost ambiance, take a peek at Atmosphere Pro. Your visitors will digest your content delightfully — both in your imagery and your written words — when you use Atmosphere Pro's wide-open spaces and beautiful contrasts.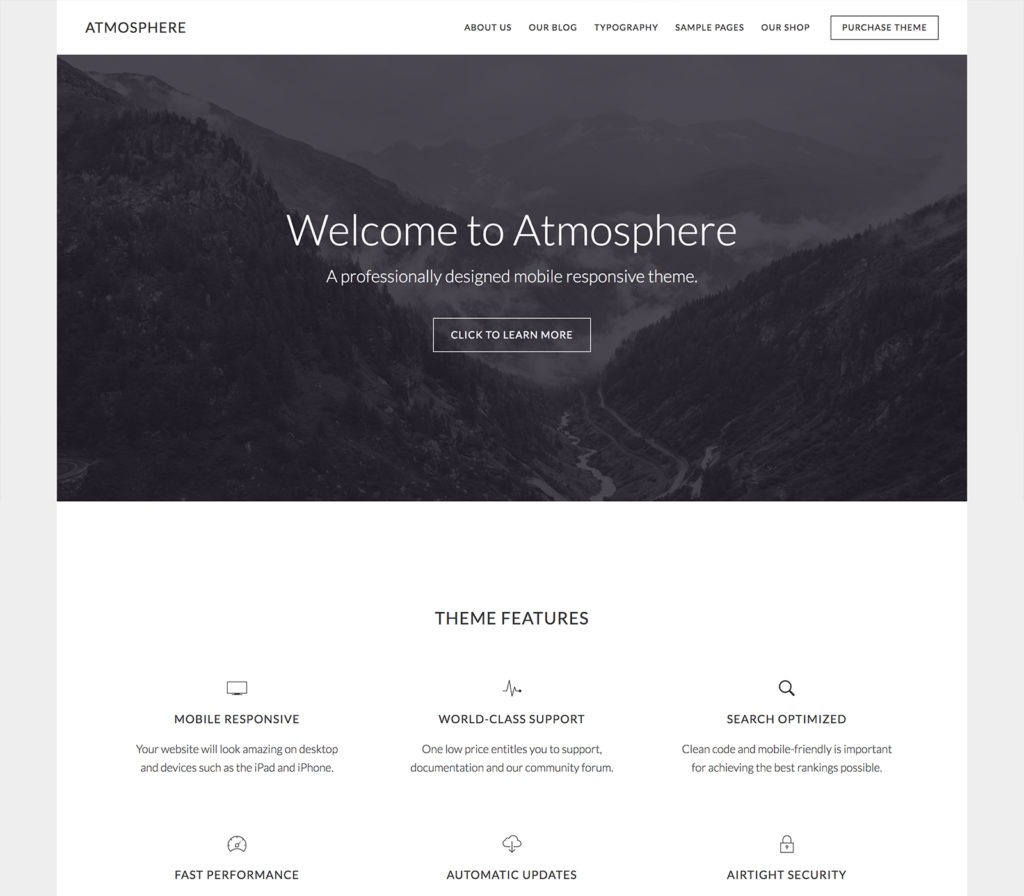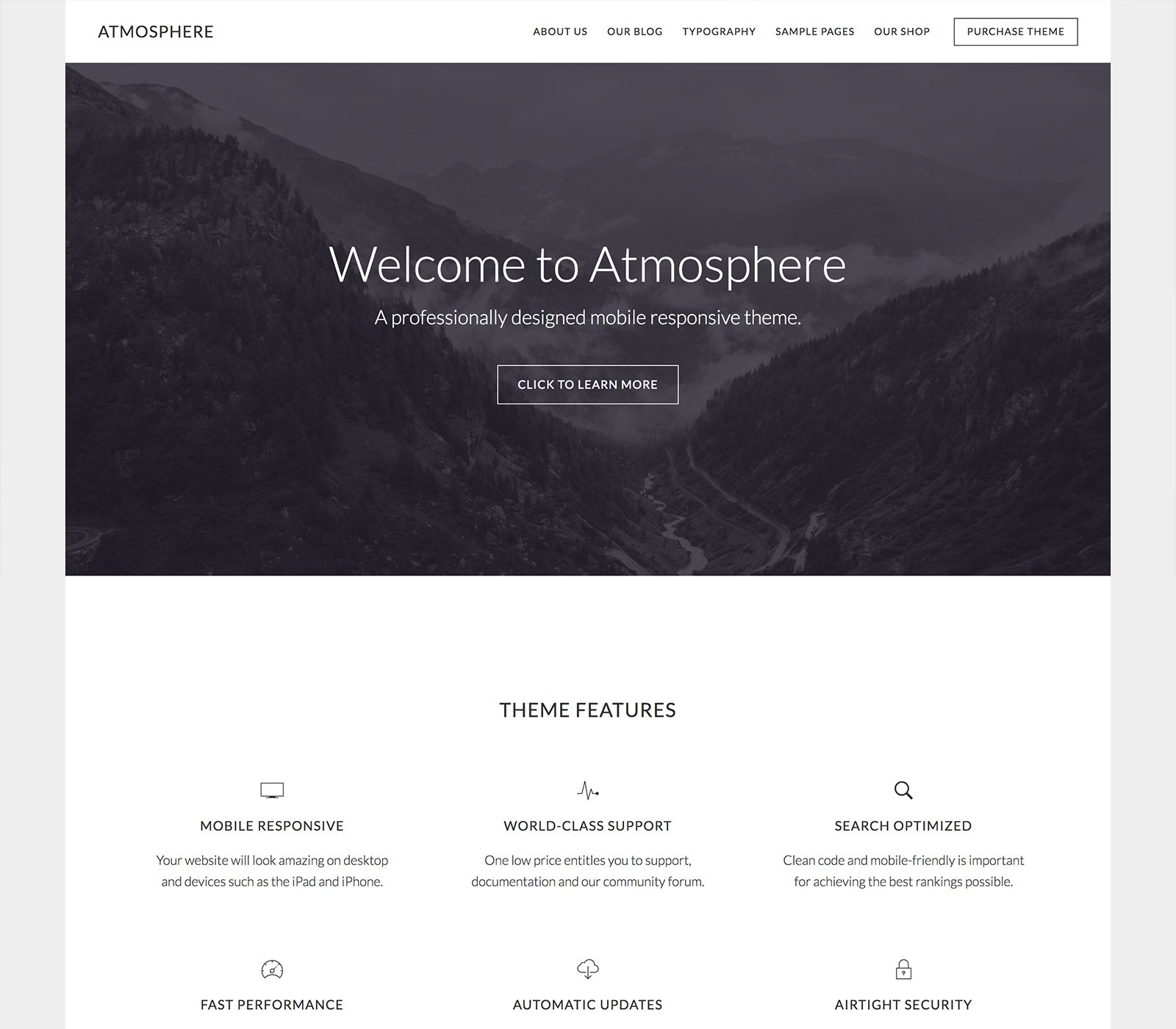 ---
Author Pro

Author Pro is a great theme for published authors. With author pro, you build a better online library of books with its intuitive design and powerful functionality. Showcase your published work with the user-friendly features of Author Pro.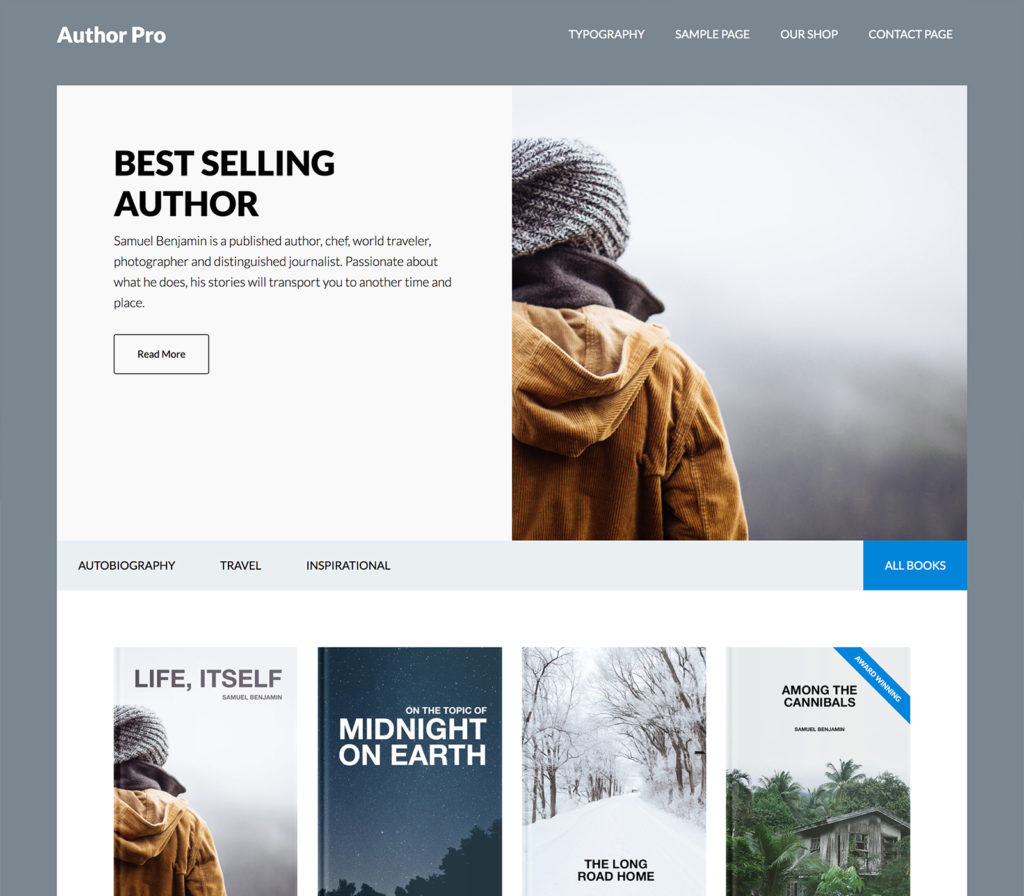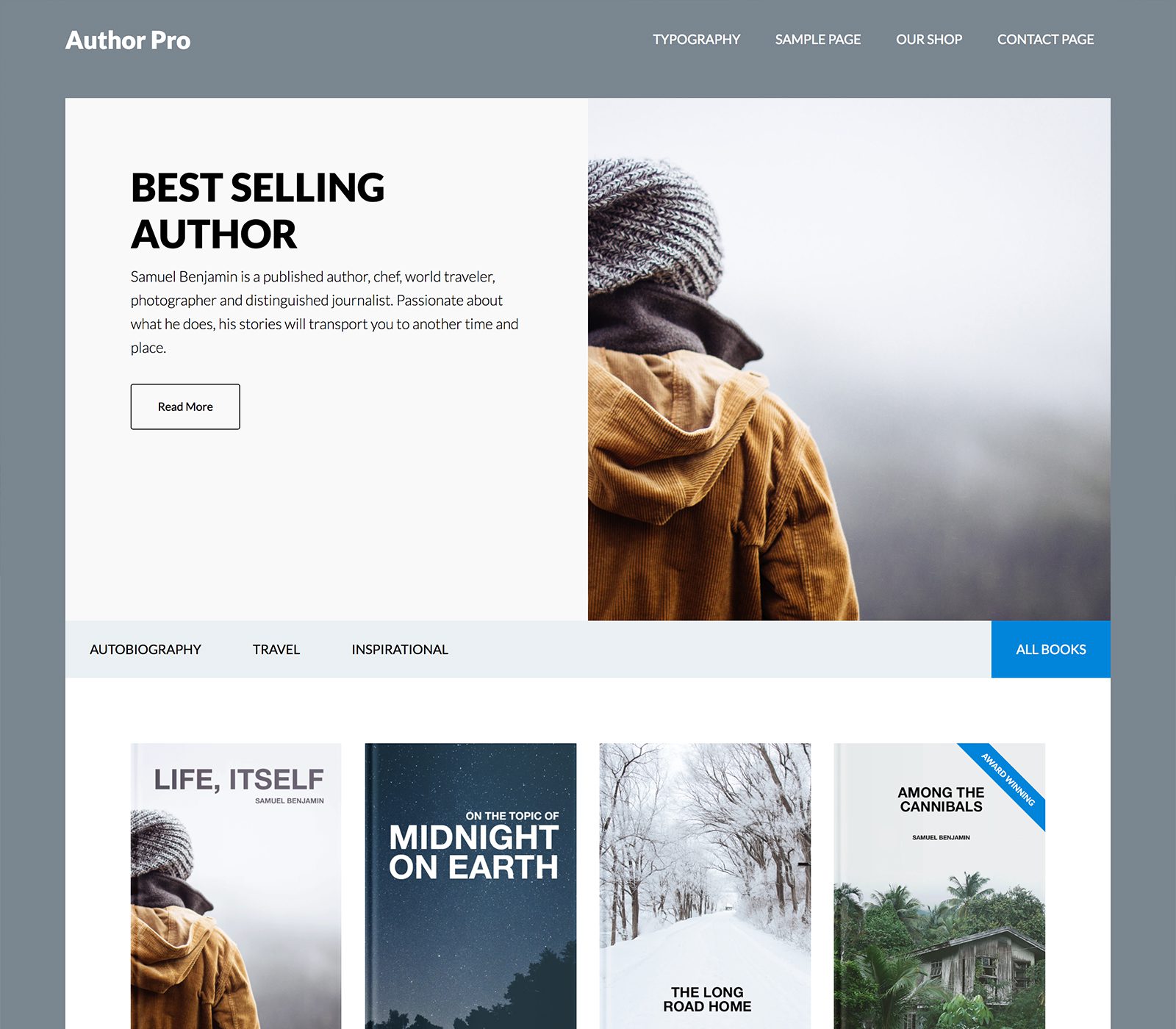 ---
Beautiful Pro
Enjoy Beautiful Pro, a theme that welcomes you to create your own beautiful canvas.
---
---
Breakthrough Pro
Breakthrough Pro is a popular theme for an advertising or marketing agency. It blends beautiful colors and minimal design. It's sleek and modern. Perfect for your breakthrough moment, this design helps you demonstrate your work and services.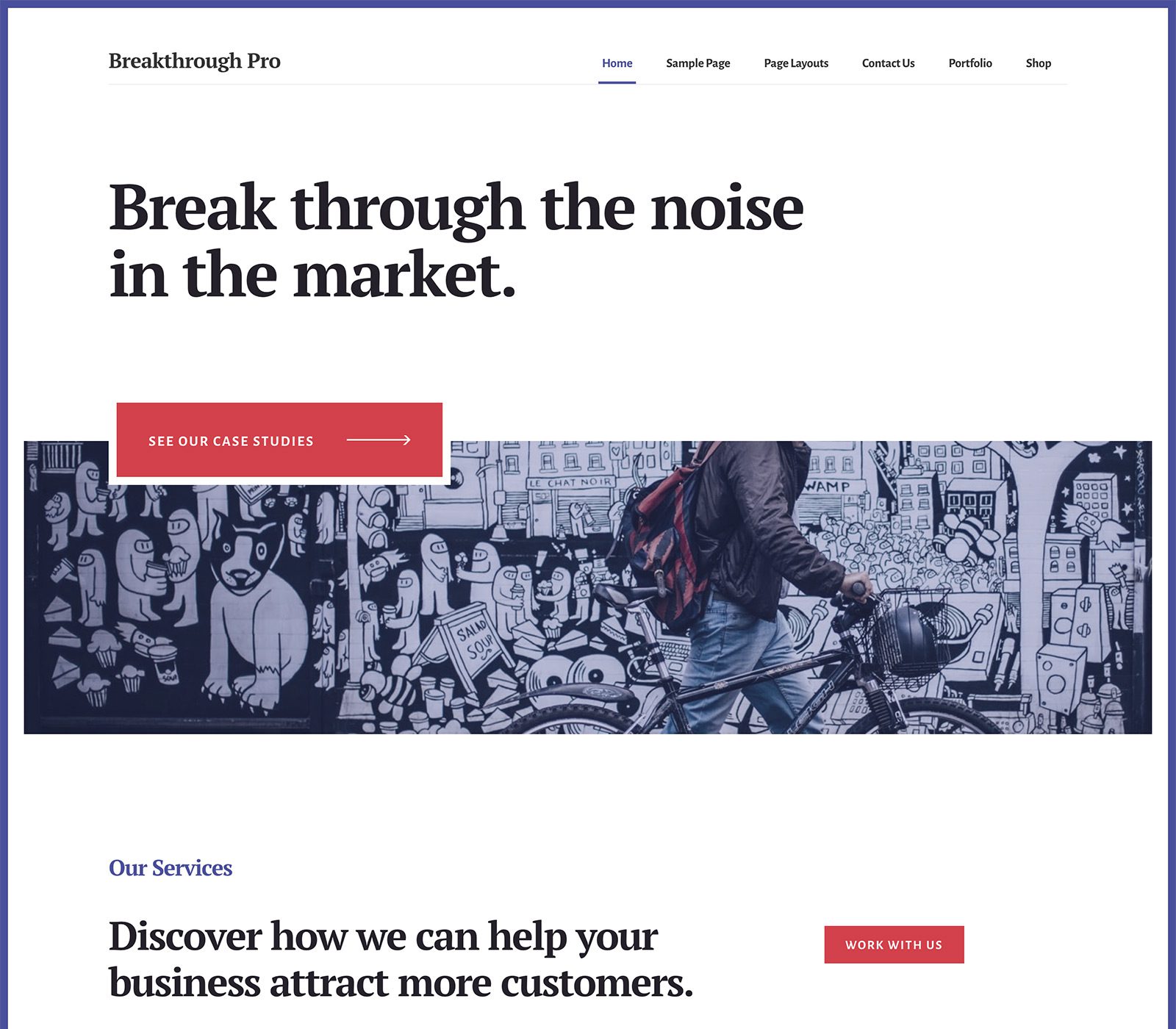 ---
Cafe Pro
Café Pro mixes up a recipe of elements from two of the most popular child themes — Parallax and Foodie — to build the quintessential design solution for not just restaurants, but for any physical business looking to create a captivating online presence.
You'll find Simple to set widgets allowing you to include all of the relevant information that should be on each page of your site such as contact info, address, hours of operation.
---
Daily Dish Pro
Daily Dish delivers your content as if it's the most amazing dish at a 4-star restaurant. Your website is the main course and Dialy Dish Pro serves your content in the form of video, images, and words showcasing the most important.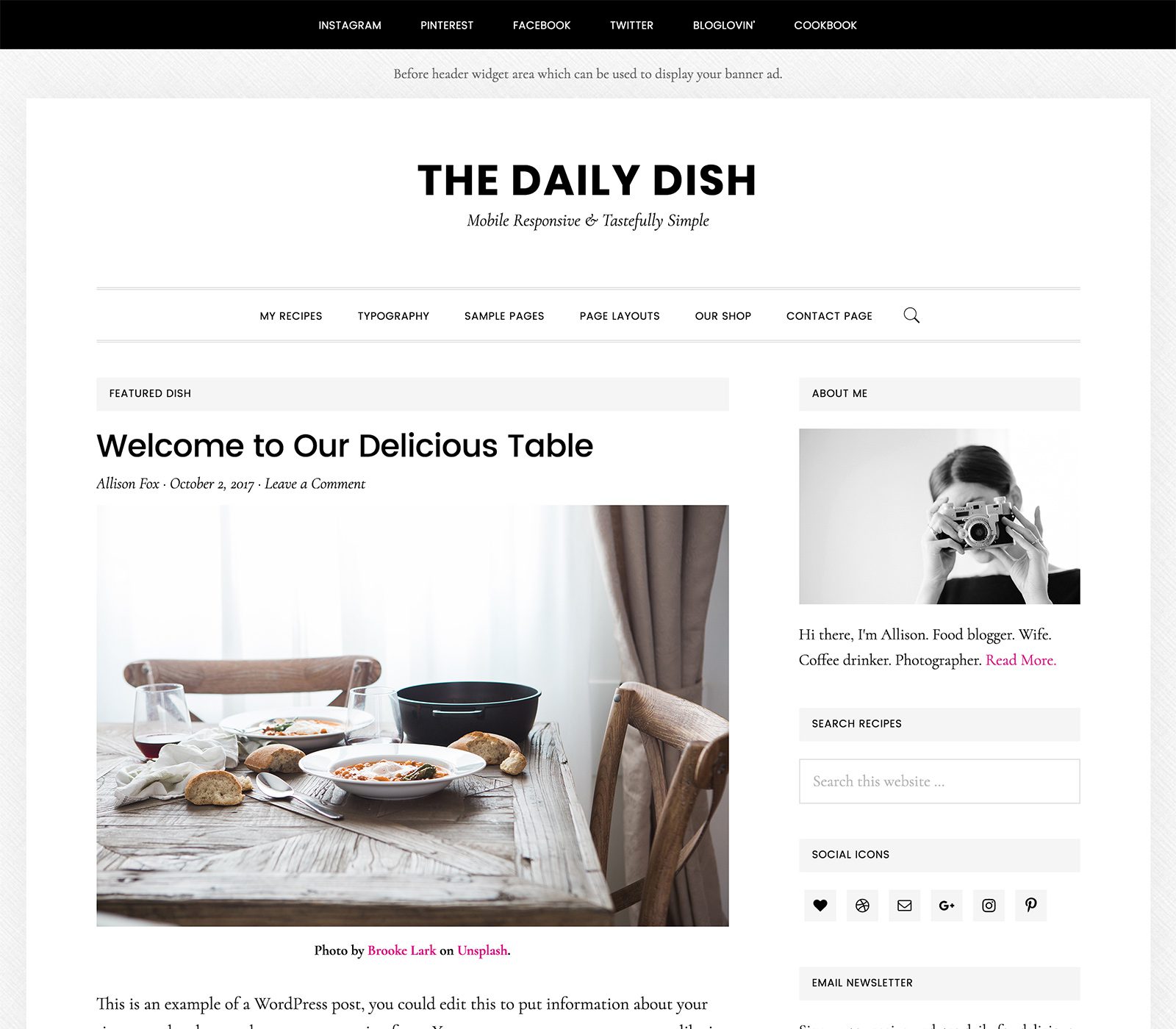 ---
Digital Pro
Digital Pro is a Studiopress child theme of the genesis framework and is tech-inspired.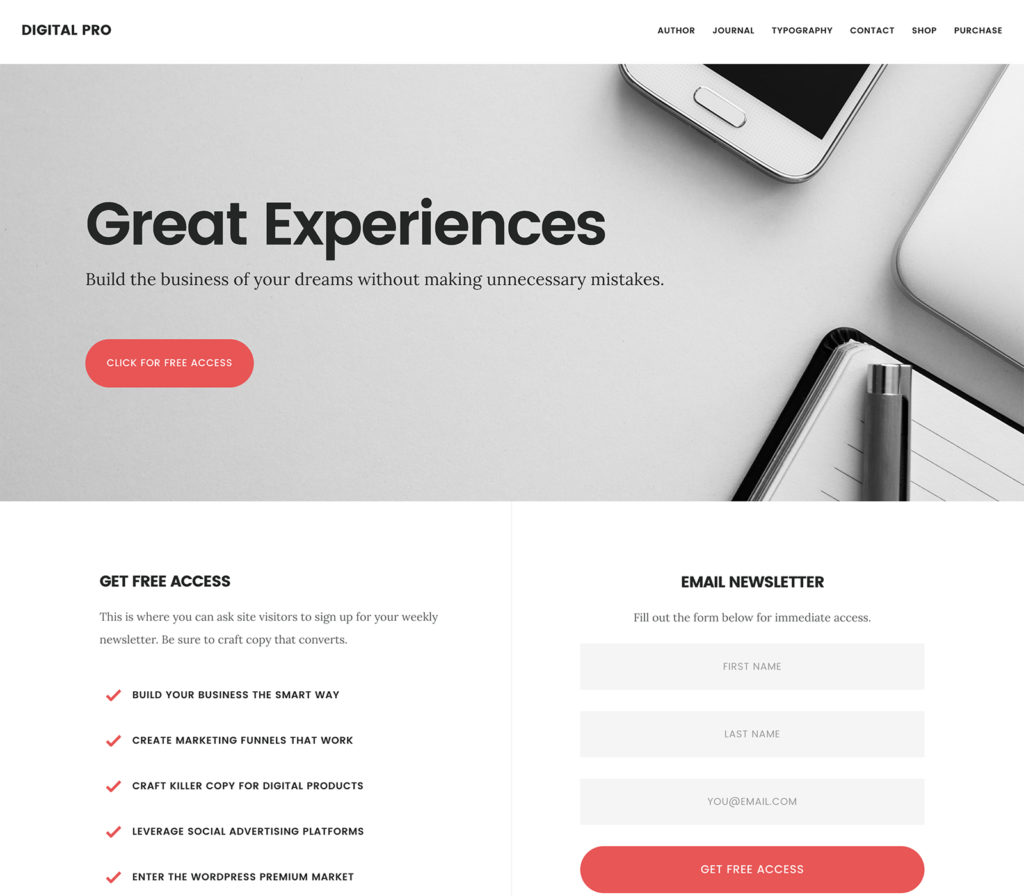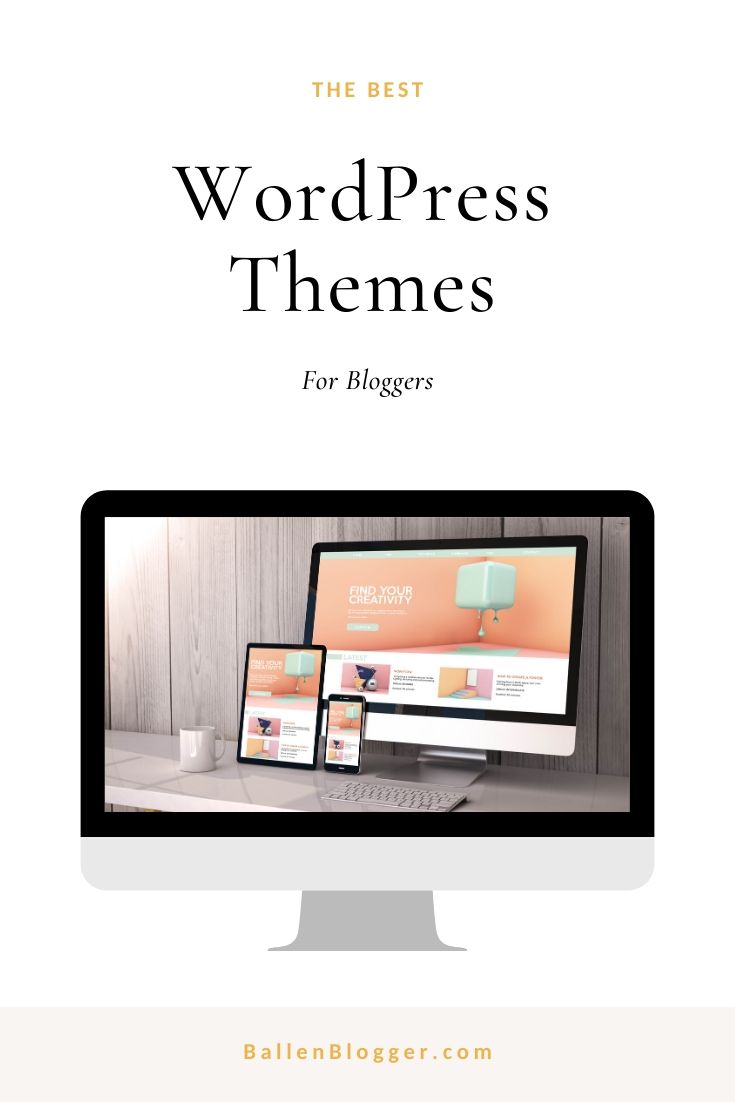 ---
Education Pro
Education Pro is a theme that is designed for teachers and students. Build your curriculum with audio, pics, video, and text. Let the homework begin.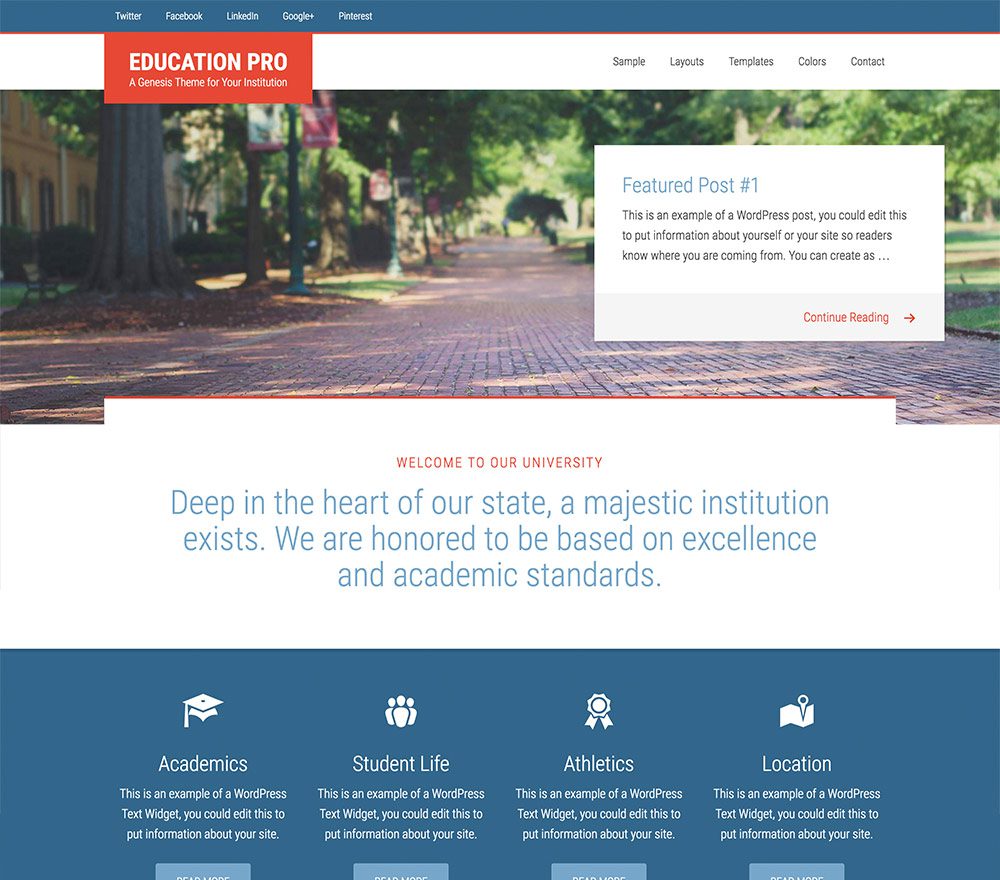 Eleven40 Pro
Form and function meet at Eleven40 to create a look that will invite your readers to browse regardless of what device they are on. The smart design of Eleven40 brings in mobile-responsive flexibility and HTML5 to produce the right look at the right time.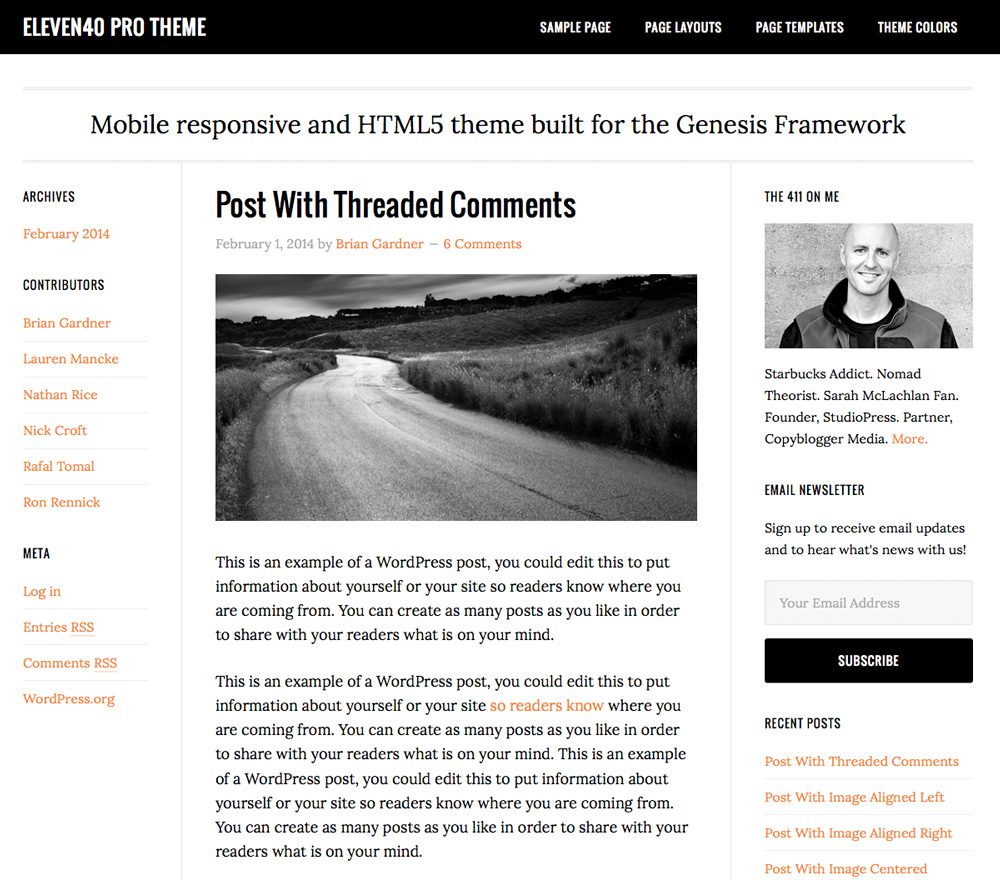 ---
Enterprise Pro
Enterprise Pro features an approachable enterprise theme. Give your business the rock-solid foundation needed to build your brand on the web.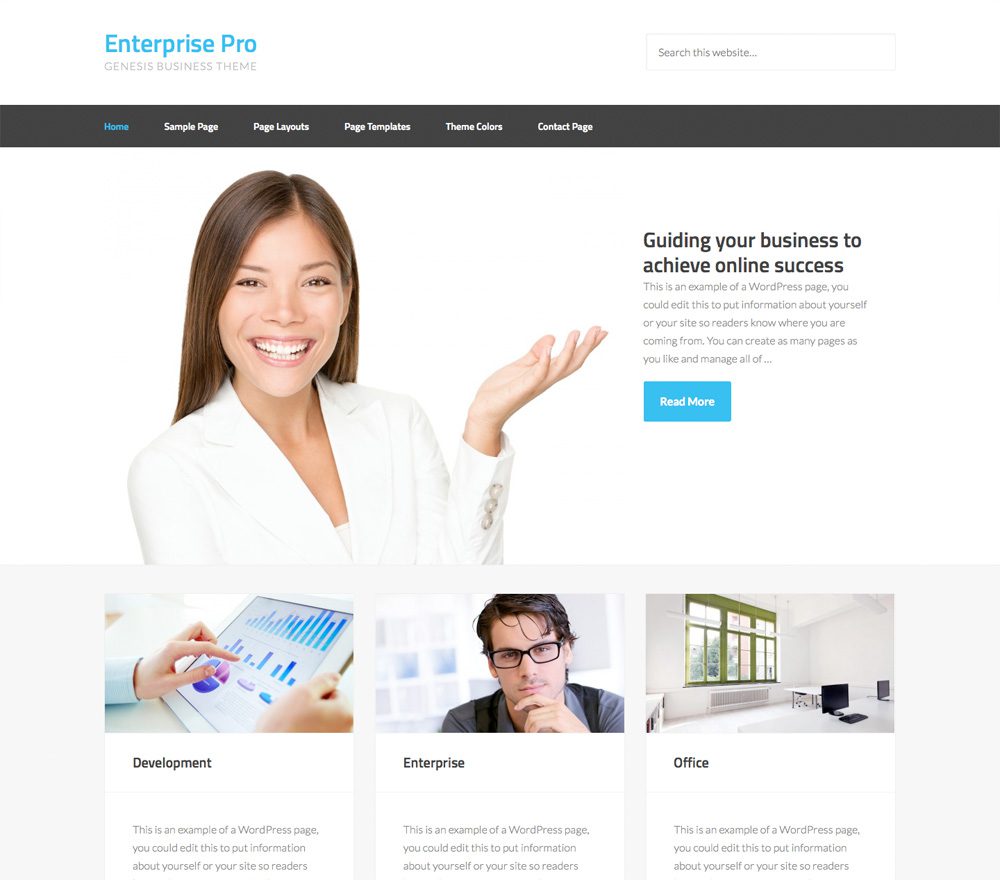 ---
---
Essence Pro
Essence Pro is designed for the health and fitness niche and is popular for lifestyle bloggers. It's clutter-free and simple by design.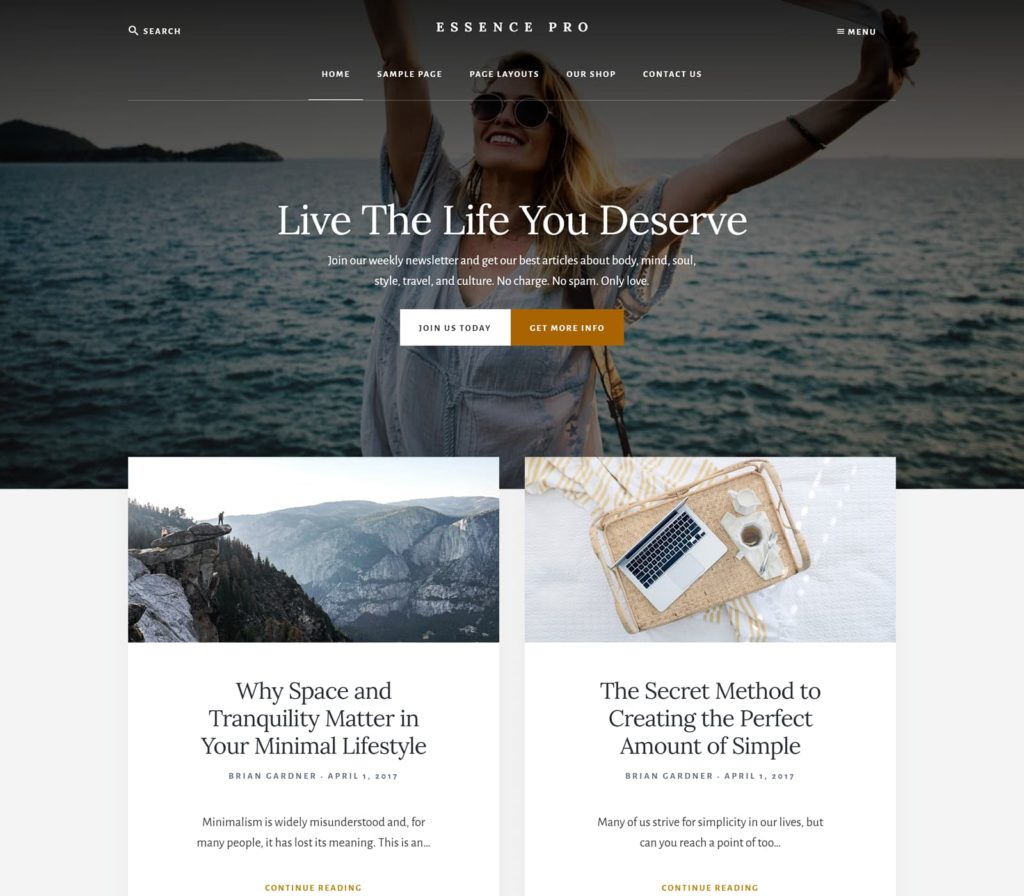 ---
Executive Pro Theme
The Executive Pro Theme offers strategically featured elements. It's elegant and simple to use and is ideal for professionals.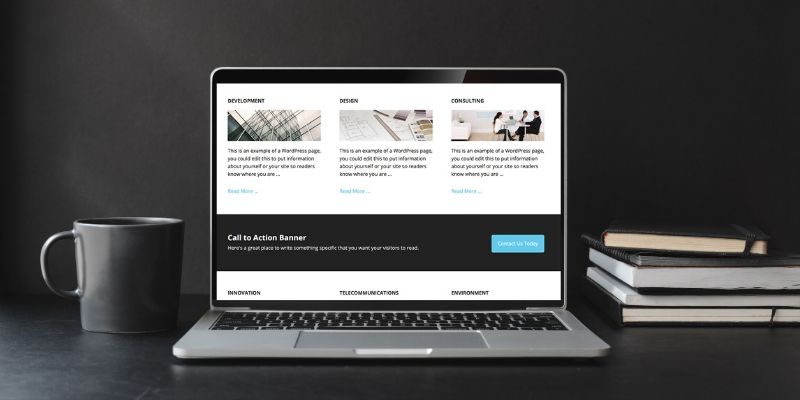 ---
Gallery Pro
Gallery Pro is a posh yet minimalist theme. It offers a warm welcome that is streamlined and full of light. With a winning combination of full-stretch and gallery images as well as beautiful typography, this theme offers loads of page, layout, and customization options.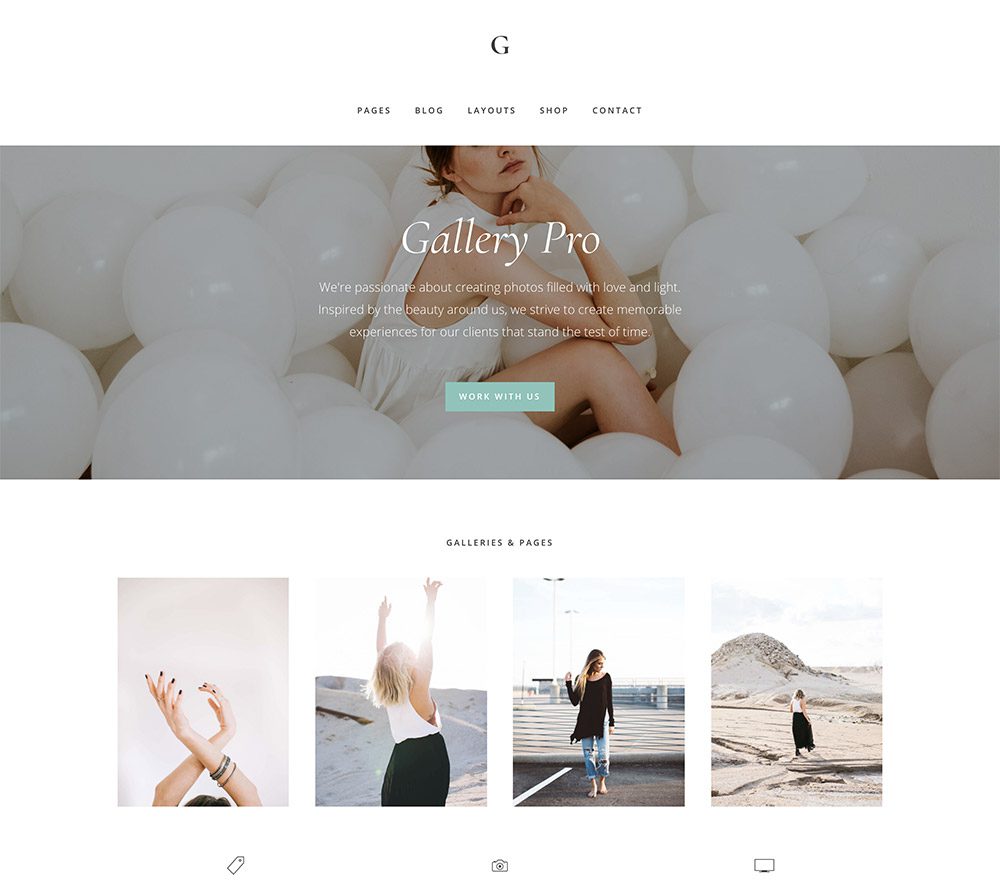 ---
Infinity Pro
If you're a digital company seeking to elevate your brand, Infinity Pro was created for you. It's a clean and sleek responsive way to present your brand.
With all of the flexibility we've packed into Infinity Pro to customize your visitor's experience, it's also one of the most powerful StudioPress theme releases to date. And did as a bonus, it's compatible with WooCommerce.
---
Lifestyle Pro Theme
LIfestyle Pro offers a magazine-style frame with style and flexibility. It offers a clean design with smart layouts and design options. It's ideal for lifestyle bloggers and niche websites designed to submit a library of articles.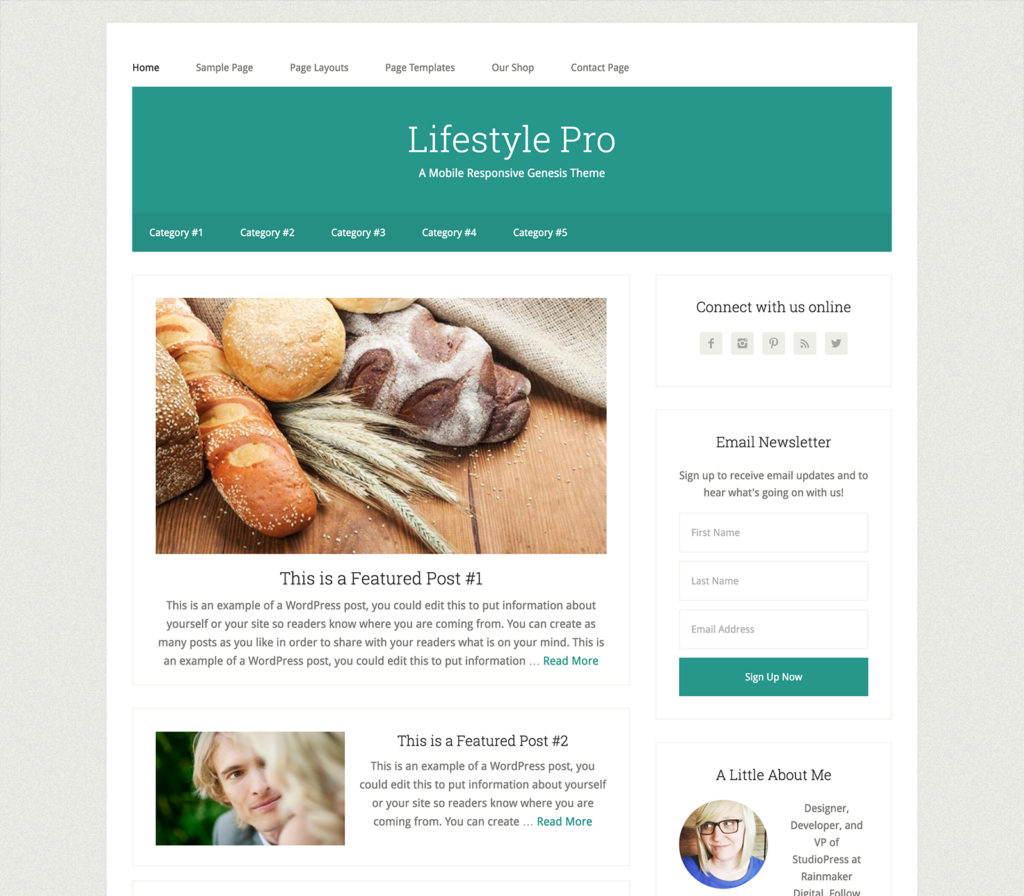 Magazine Pro
A great theme for writers, bloggers, and publishers, Magazine Pro offers a high-gloss look and feel. It's stylish and presents your content with a media-ready design.
---
Metro Pro
The Metro Pro WordPress theme offers a magazine-style look with a modern design. It's optimized for mobile devices and wide-screens. It's sleek and offers social features to build your audience fast.
---
Milan
Your unmistakable style deserves a site that features it beautifully. Presenting Milan, the fashion-forward, magazine-style theme for your digital story.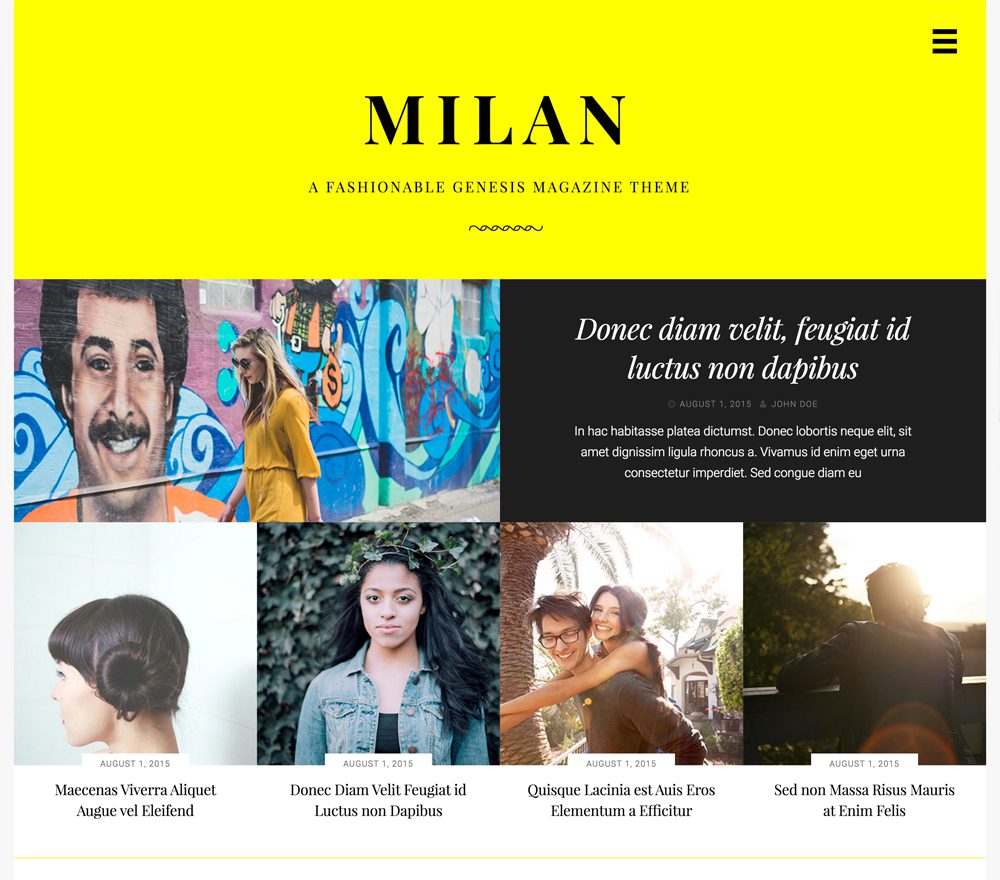 Minimum Pro
A stunning execution of "less is more", the Minimum child theme displays everything you're about, with very little effort. It's Clean, elegant, robust, unruled and uncluttered. It's simply… Minimum.
---
Modern Studio
Modern Studio pulls eyes exactly where you want them in an undistracted way. Bloggers understand that highlighting images is a key function a website can perform. Modern Studio cuts back on the clutter simplifies color and cleans the slate so that it's your creativity doing all the work.
---
Monochrome Pro
Need a theme that's substantial but simple? Monochrome Pro is sleek, has just the right balance of white space, and is a minimal "clean" design. This theme is strong visually while being easy to use. It's powered by genesis and has the robust WordPress features you've grown to love.
---
News Pro
Delivery articles in style with the powerhouse News Pro Theme. Give your readers content in the form of video, articles, audio, and images provided with an eye-popping designed them that offers simple navigation.
---
---
No Sidebar Pro
When you're ready to take things down to the basics, you're ready for No Sidebar. No Sidebar is more than just a theme. It's an uncluttered approach to life, content, and design and offers a minimalist theme and maximum impact.
---
Outreach Pro
Designed for a church or charity, Outreach Pro offers the framework you need to create messages that can reach the people that need to find it.
---
Parallax Pro
Today's role in web design is to share a story, which is what Parallax Pro was built to do. Parallax keeps your page content in the right narrative order creating a vertical design for visual ease on the eyes and proper flow. It naturally separates your content while still keeping the parts connected. Direct your visitors to the right call to action by telling a story with no pause.
---
Revolution Pro
Revolution Pro is a minimal design providing just the right canvas for displaying photography and text. It provides ample white space and spotlights blockquotes and headlines. It's a popular blog for lifestyle blogs, photography, travel, and art.
---
Sixteen Nine Pro
Sixteen Nine is simple yet stunning allowing your visual personality to shine. It offers a mobile responsive design, and HTML5 base and is designed to stand out and rise up.
---
Workstation Pro
Whether you're a creative studio or a one-person shop, Workstation Pro is the perfect theme to use to welcome visitors into your online space. This clean, open theme will feature your best work with its large, dramatic imagery and elegant typography.
Agent Focused
This WordPress theme is designed for real estate agents. Agent Focused Pro is a premium WordPress theme designed offering a design for real estate professionals and their real estate listings.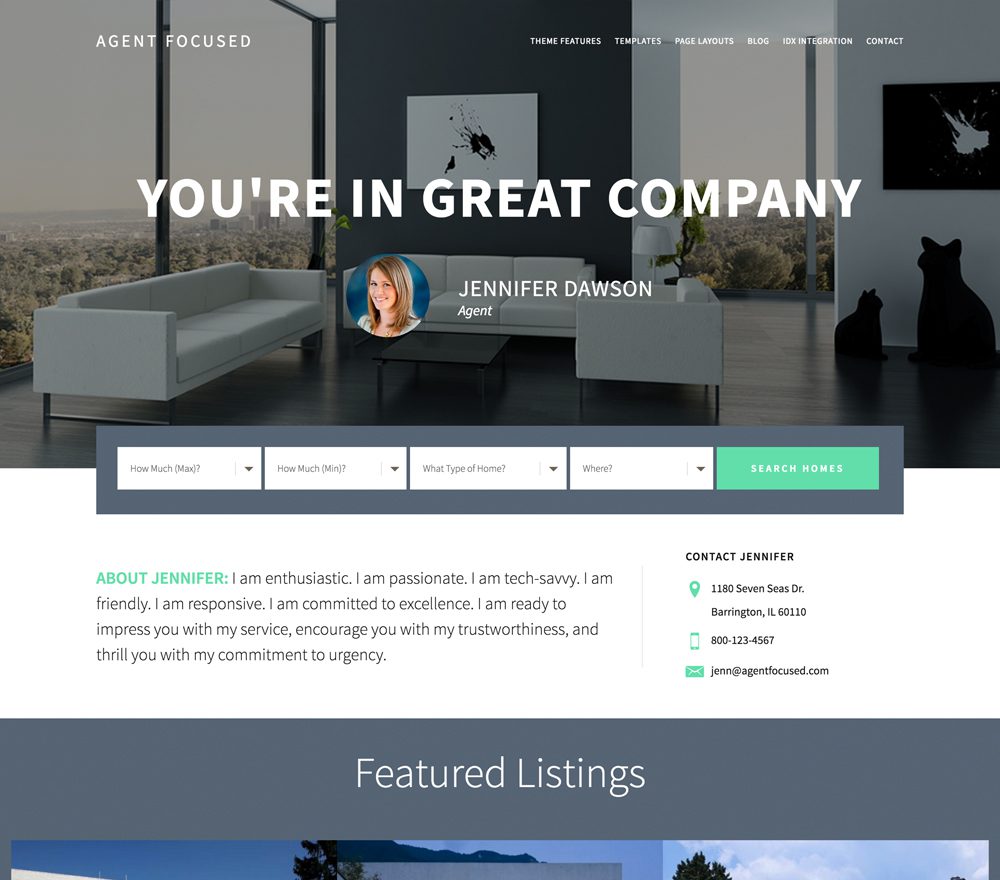 Lori Ballen, a Las Vegas real estate agent who uses WordPress uses IDX Broker on her themes to provide search capabilities. Lori's brothers Jeff and Paul Helvin are IDX Broker developers and build WordPress Real Estate Websites called BREW.
---
Authority Pro
Authority Pro makes for a great vanity website. It's designed to showcase your expertise, years of experience, and skillset. This is a popular theme for social influencers, bloggers, and authors just to name a few.
---
Brunch Pro
You may have heard of Foodie Pro, a popular Genesis theme, Brunch Pro is referred to as the little sister. She offers a minimalist style, a recipe index, font and color customizer, and flexible widgets.
Foodie Pro
Foodie Pro is sleek and svelte and offers a minimalist approach to WordPress design. Foodie Pro packs a punch with her powerful features is an incredibly flexible Genesis Theme. It features robust styling features including colors and topography.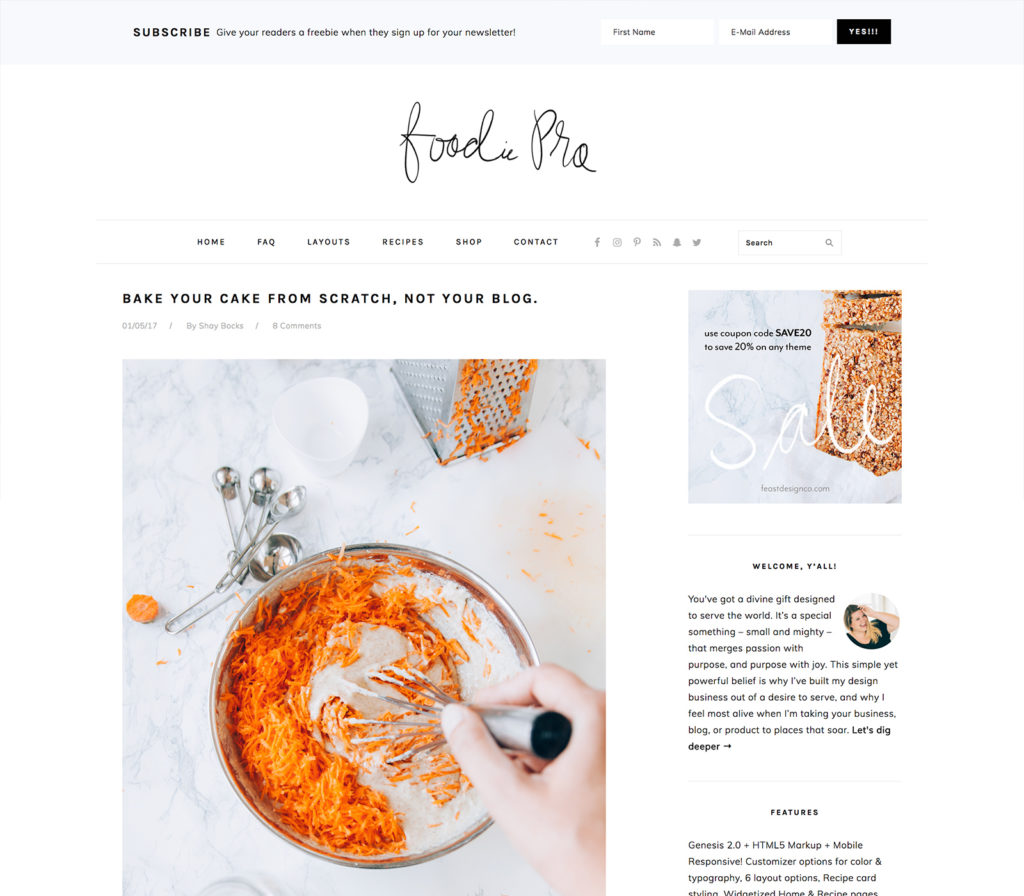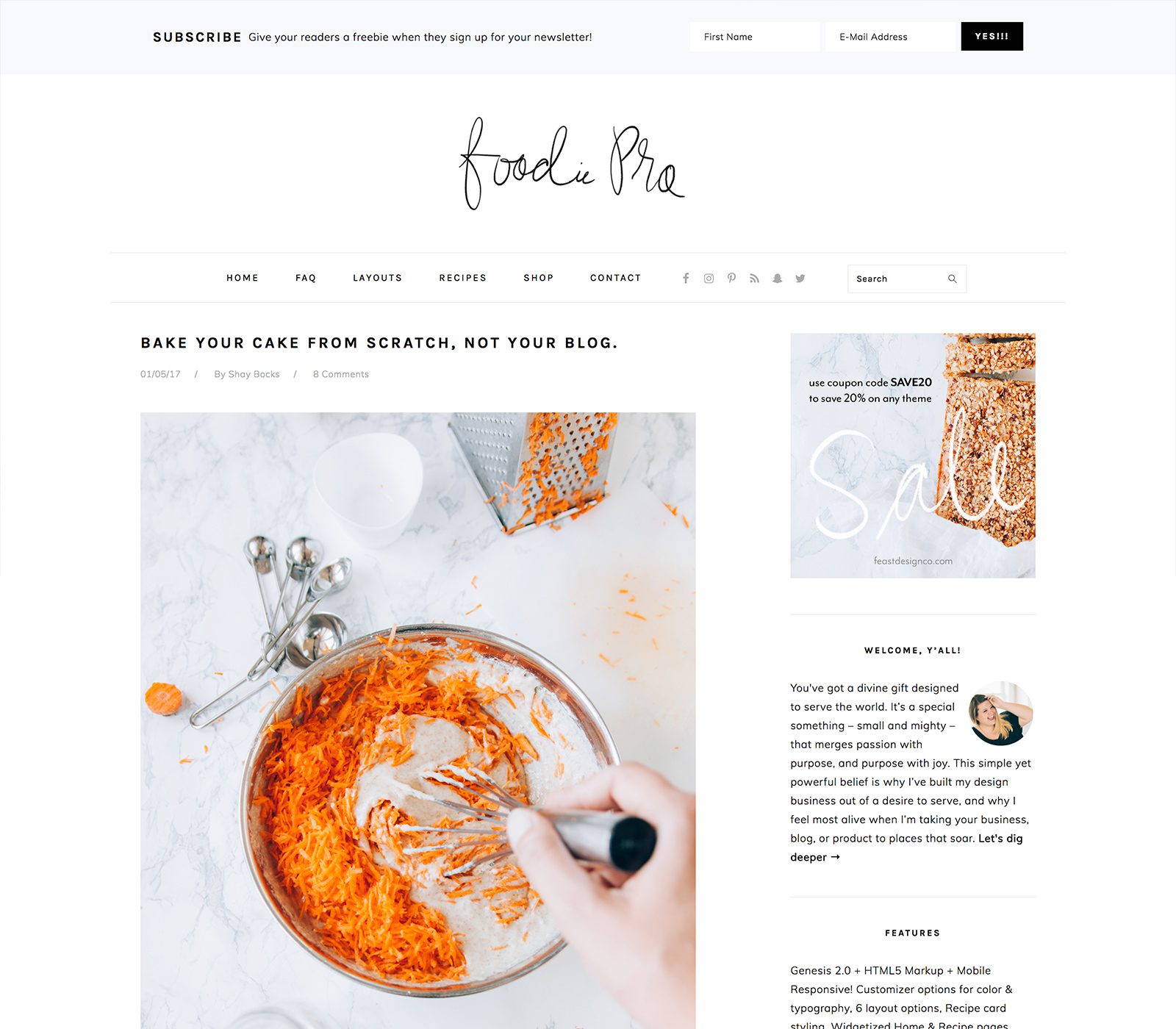 Mai Law Pro Theme
Made for law firms, the Mai Law Pro Theme is a search engine friendly child theme designed to give a law firm or professional practice a contemporary design that is also mobile-responsive. It's simple and flexible and offers 9 layouts. This theme also provides WooCommerce support and customizations.
---
Corporate Pro Theme
Corporate Pro is a great child theme for the financial niche or professional business. It has smart features like the One Click Demo Import and Amp Support.
---
Kreativ Theme
Kreativ Pro is a great design for digital marketing agencies to show off projects. a multi-purpose theme designed for marketing agencies to showcase projects in style. It's a versatile, clean style that is easy to use.
Outfitter Pro
Outfitter Pro is a great theme for WooCommerce websites. Many choose WooCommerce to build their online store. It features a masonry-style display for products. Drive more sales with the intuitive checkout process. A website featuring products for outdoors, hunting, camping, travel, and sports may appreciate Outfitter Pro.
Pretty Chic Pro Theme
Eat your heart out Pinterest Lovers! Pretty Chic is stylish and functional while still modern and sleek. And it's packed with design options. Choose a single column or one or two sidebars. You can have a wide width design or the traditional content and sidebar.
---
Pretty Creative Theme
Pretty Creative was designed by creatives, for creatives. Your work is displayed in a polished fashion.
FAQS
How Do I Install WordPress For Free?
Get the latest version of WordPress by Downloading it from WordPress.org.
Upload the files to the webserver, using FTP.
Add a MySQL database and user for WordPress.
Connect WordPress by configuring to the database you just created.
Finish the installation and setup the website!
Does WordPress Cost Money?
Typically, you'll pay for your own domain name that the WordPress Website will be addressed to, hosting which is the webserver where your website will be made live and kept live, and potentially for the theme, design, and plugins that add functionality.
How Long Does It Take to Install WordPress?
If you are a bit techy savvy, it should take 20-30 minutes for the setup. Customizing the theme could take an hour or two. If you are doing this for the first time and following a step by step guide, it could take you hours, a day, or a week maybe. Building the website itself can take weeks, for some even months.
Is WordPress Free with Bluehost
Along with many other managed WordPress hosts, Bluehost offers a one-click installation of WordPress when you choose the managed WordPress Hosting.
How Long Will It Take To Learn WordPress
WordPress does have elements that might take time to learn. You'll need to learn about posts and categories, tags, pages and child pages, widgets, themes, plugins, Gutenberg, settings, permalinks and more. Some people choose to only learn the basics and then call on a WordPress Development team like Ballen Brands (702) 917-0755 to handle support, set up, updates and integrations.
Are Plugins on WordPress Free?
Often, WordPress Plugins are free. Some offer a free download and charge when you need to access their premium features. This is the case with YOAST, an SEO Plugin.
What's a Framework?
A theme framework is a powerful WordPress theme that is the platform where your WordPress website can be created. Child themes of the framework are often used to change the design elements. Genesis framework offers the performance, SEO, and security to create the best website possible. Child themes are often included with managed WordPress websites with companies like WPengine, Hostgator, Bluehost, Wealthy Affiliate, and Godaddy or can be purchased for around $100-$150 per child theme. Studiopress also offers a bundle where you can buy the suite and use it as you like.