This post contains affiliate links. As a partner with Amazon and various brands, I am compensated when qualifying purchases are made through my referral links.
Making your blog more attractive to users is essential if you want to be seen as an expert in your field. One way that can help do this is by adding related posts to the end of each Post.
These are links that go back to other relevant posts on your site, and they make it easy for readers who enjoyed what they just read to find even more exciting information about the same topic.
They also provide an excellent opportunity for bloggers with multiple topics or interests to expand their content offerings without creating additional blogs or websites.
Read on to discover how you can add related posts to your WordPress Blog.
With Yoast, you can add related posts to a blog post in the post edit area. Rather than cards with images, Yoast offers related links.
The plugin has some built-in features that recommend popular posts on your site or the best topics that you can use according to your needs.
This premium feature allows you to use the WordPress Blocks feature to add the related links anywhere on the blog post or page.
While this is a nice feature, it's not perfect and doesn't offer much customization. Often, the related posts are not all that related and certainly not from the same category.
Instead, it's pulling in the same suggestions from the internal links in the right column.
The sibling's block from Gutenberg does a better job adding related pages under the same parent page but seems to only work with pages at this time rather than posts and categories.
Below, you can see the related links that Yoast suggested for this blog and exactly how they are displayed. Let's take a look at their suggestions.
How to Design a Blog Page in WordPress: It's related. The suggested blog is also in the same category.
8 Ways to Determine if a Blog Topic is Rank Worthy: While blogging is a related topic, it's not in the same category. It also has more a focus on SEO than blogging, so I would have much more relative content than this suggestions.
Build a Target Audience: Not in the same category. Not really related to this blog. Better for marketing specific blogs, or discussion on niches.
Gutenberg Goodies: Nicely related, and in the same category
In no way related to this blog
Read on for better options.
WordPress Gutenberg Related Posts
With the new WordPress Gutenberg editor, you can easily add related posts at the end of a blog post.
WordPress will display relevant links from your website, and they will have images and titles associated with them.
Click 'Add a block' in a post to add the Related Posts feature. You can select from the suggested categories on your site or use the Categories drop-down to add a new one.
Gutenberg will then give you some information about the number of posts that it will pull in for you related to this Post. It's important to remember not to select too many at once, as visitors will have difficulty digesting them all at once.
You can sort the order of these posts by clicking on the Options drop-down and selecting an option like "Newest first" or "Popular first."
Sorting allows you to show the most relevant related posts, which is vital if you don't want your site to look spammy.
Finally, click Insert into the Post to finish creating this block of related content. You'll now see that it's added a shortcode to your Post where you can edit it further.
It will also appear in Gutenberg below the main body text if your cursor is somewhere in the comment block associated with this feature.
Click on it and begin editing it, just like any element on your blog. Once you're finished, click on the X in the top right corner to close it.
You can also easily hide this block if you don't want it to appear for whatever reason. Just hover over the gray gear icon and select Hide Related Posts Block.
Of course, you could do this with any block, so be sure to unhide it if you ever need access again.
Below, you'll find an example of the WordPress Gutenberg Related Posts Blog. I customized it to include articles from the same category. I'm using the Atomic Blocks plugin.
You can customize the number of columns, the number of posts, how they are sorted, include or exclude excerpt, image, title, author, date, and so on.
If you're going to have a blog, you'll mostly be working in the Posts area of your WordPress dashboard. Posts are your actual blog posts. View them as articles in a newspaper. When you publish a new one, the last one gets pushed down and the new one is at the top and the most recent.
Continue Reading What is the difference between a page and a post?
Elementor Page Builder Related Posts
Adding related posts is easy with Elementor's built-in feature, which allows you to add cards that display information about "related posts" or "featured posts."
Displaying post information is perfect for giving your blog content more depth than just one Post at a time. Open up an individual page or post editor and go to the Elementor page builder to access these features.
Next to the Add New Element button, select Featured Post or Related Posts.
You'll notice there are several styles of related posts that you can choose from. The first is Classic Cards, which displays cards with images and titles like you'd see on Pinterest.
The other two ways to display them are as Posts List (without featured image) and Grid (with featured image). You can set this to be visible above or below your blog post, depending on your needs.
If it's not visible, beware that it will also not be hidden by default when you click Publish!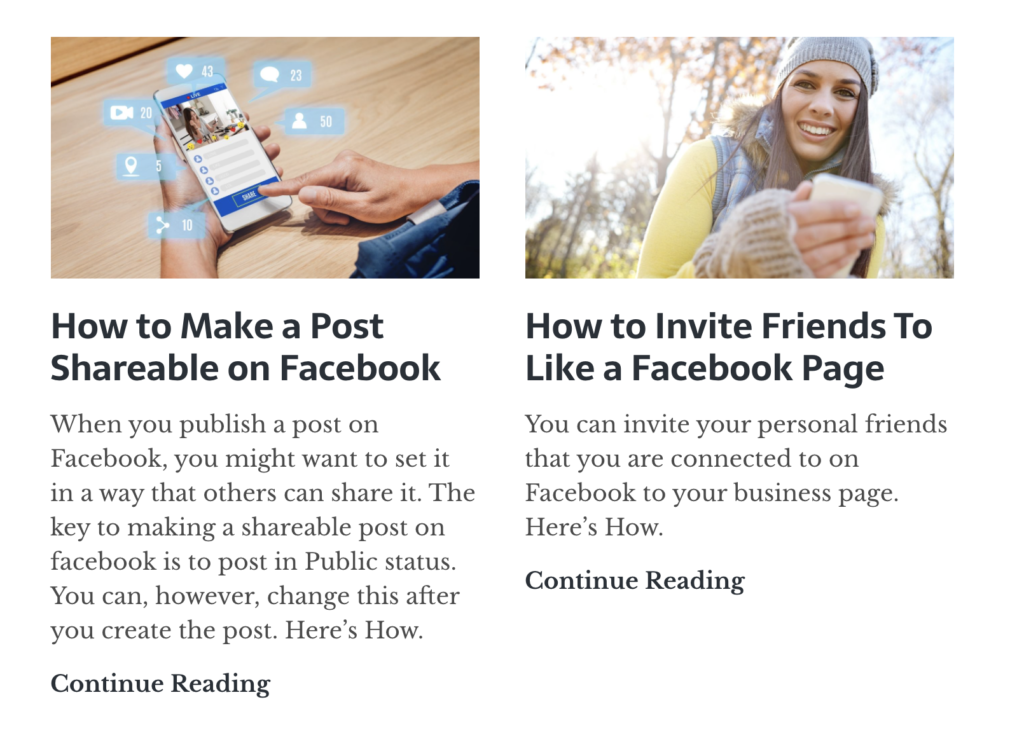 Why Related Posts are Important for Your Website
Posts with related links are crucial to your blog. They allow Google to index your web pages more efficiently since the content is less scattered across several sites.
It's also fantastic for increasing sales or generating leads if you write about something like "best practices for training" and then include a list of some of the best courses out there on that topic.
It's essential to understand how to use WordPress Taxonomies to tag and categorize your posts appropriately to use the related posts feature.
Related Posts for Internal Linking
Adding related posts can also help you build out your site with good internal links. Each Post will include a link to the next one in line, which is great for improving SEO and keeping visitors on your website longer.
Using Related Posts Wisely
If not used correctly, related posts can look spammy. To avoid this, don't select more than ten category options at once if possible. Your list will look cluttered, and it could cause your readers to click away before they see any of them.
It's a best practice only to add closely related categories so that your content seems natural and conversational instead of like an advertisement or product placement for something unrelated.
If you'd like to display affiliate links within these blocks, be sure only to include the ones that are relevant as well.
You should also avoid using related posts on posts with very little text since this can make it difficult for people to figure out how they're linked together.
The final thing to look out for is how often you decide to use related posts on your website. If you constantly add them and readers see them every time they visit a new page on your site, it could be viewed as spammy and push them away even faster than if you hadn't used any at all.
Conclusion:
These three methods will give WordPress users different options when adding related post widgets to their blog or website. You may personalize each of these using more elements than another if you'd like.
The most important part of having related posts is that they must be relevant and connected to the original post topic.
Related Posts and Page Speed
Before adding related posts to a blog post or web page, test your page speed. If you are using WordPress, you can install Google Site Kit to view the speed on any page on your website.
Some of the related posts options can slow down your page load time. Make sure they're not affecting your site speed and causing you to lose potential customers.
After installing the plugin, and adding related posts to a page, do a test to see if any slow down your page.
You can use this google site kit test to see how fast your blog page is loading with the related posts widget active.
The Best Related Posts WordPress Plugins
Before testing the various options available, I took a page speed test of one particular page on my Keto website. That's the page I'll use to run this comparison.

There are many related posts plugins available, but only a few have the best reviews on WordPress.org. Here they are:
Related Post for WordPress
Related Post allows you to display related content on your web pages. While robust options are available with the upgrade, the free version is basic.
Stats
40,000 + Active Installs
300 Reviews
4.5 Star Reviews
Last update was a few months go
Created by Never5
Cost: This plugin has both free and premium options. The free option won't give you any controls as to how to choose related posts.
User Interface: A bit clunky, the user interface looks like a developer built it.
Setup: Easy to set up. Click Link Now to run, and choose the total number of related posts.
Display: The free version displays a simple list with an excerpt and dots to imply the read more by default. In the settings, you can add an image, choose the total number of characters, and edit the heading text.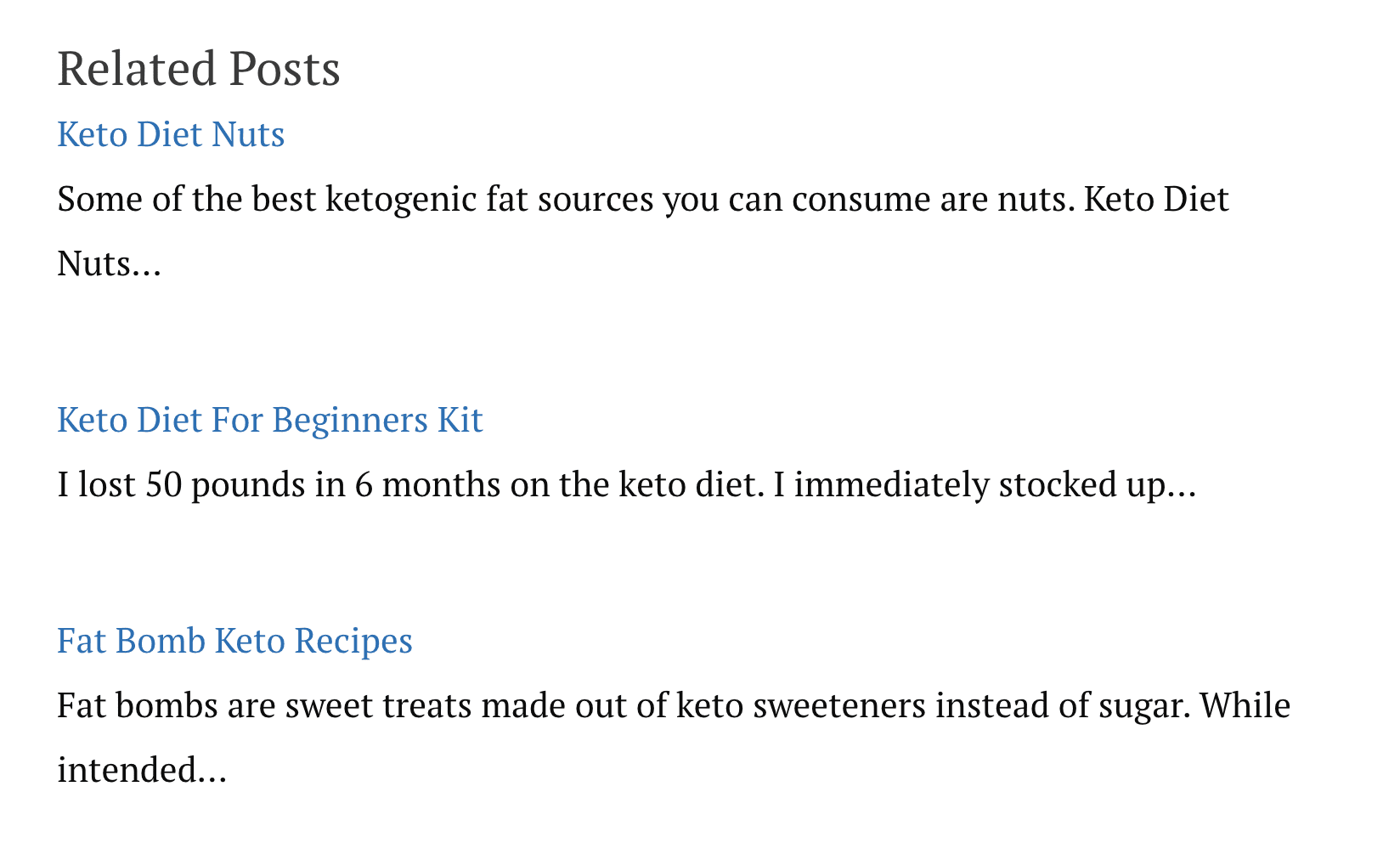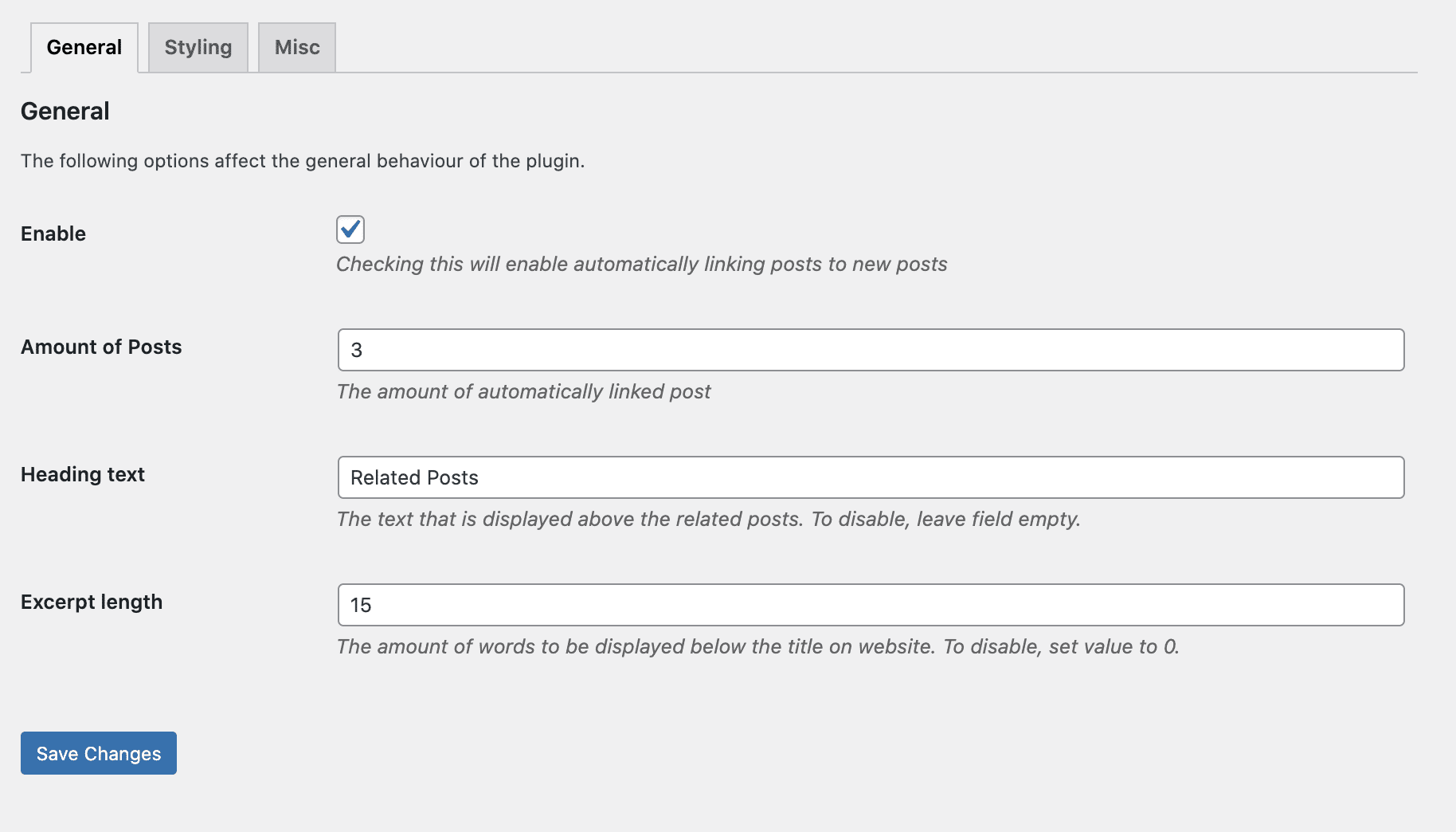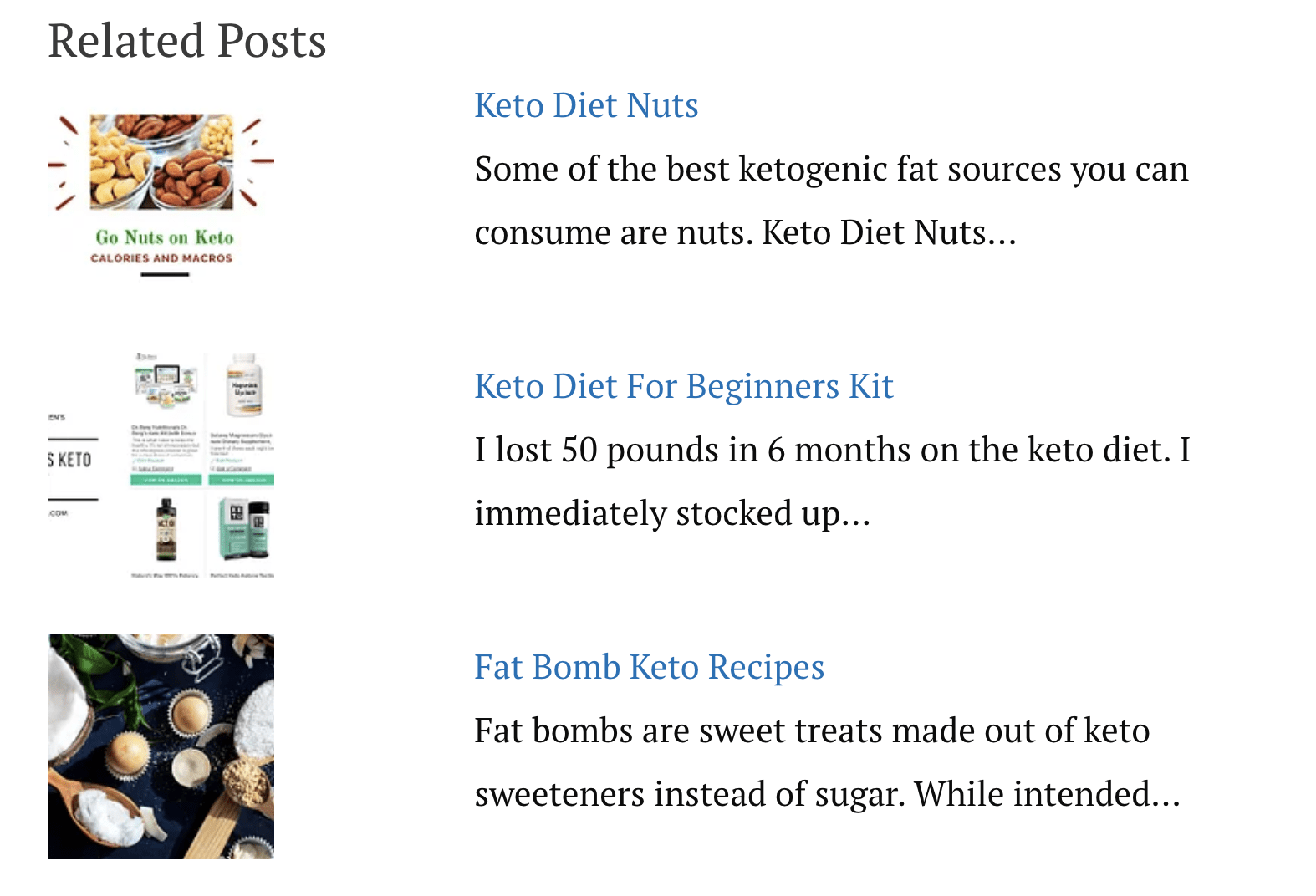 Page Load Speed:
The page load speed remained consistent. This plugin did not slow down the website.

My Opinion:
Based on the free options with WordPress Gutenberg, I would not install this plugin rather than using the Gutenberg blocks or Elementor posts options. If you want to customize the results, upgrading would be necessary. If you are using the classic editor, prefer using a plugin, and don't care about the customization ability, this plugin would work to add related posts.
Jetpack Related Posts Feature
If you're looking for a way to boost your blog traffic, then look no further. Jetpack Related Posts are the perfect solution for increasing your site views and keeping readers engaged with fresh content.
The Jetpack plugin analyzes each Post on your site and automatically generates related posts that will keep visitors coming back for more.
You can even customize how many related posts are shown per page or Post and what categories they come from! Jetpack does all of the heavy lifting, so you don't have to worry about anything but writing great content!
SEO Related Posts
The SEO Related Posts plugin gives users the ability to select 12 different options, including categories or tags. It's perfect for bloggers who want to see what people are talking about most in their industry without creating all new topics just to discuss them.
Yet Another Related Posts Plugin (YAARP)
Here is a video review for YARPP.
YARPP is the perfect plugin to increase your page views. It's professionally maintained, highly customizable, performant, and feature-rich. You can install it in seconds and watch your sessions and pageviews increase rapidly. In addition, related Posts can boost your SEO by up to 10%.
Installation: Easy to install.
User Interface: Looks like a developer built it, so it's not super user-friendly. That being said, the setup is fairly easy to follow and hints are available.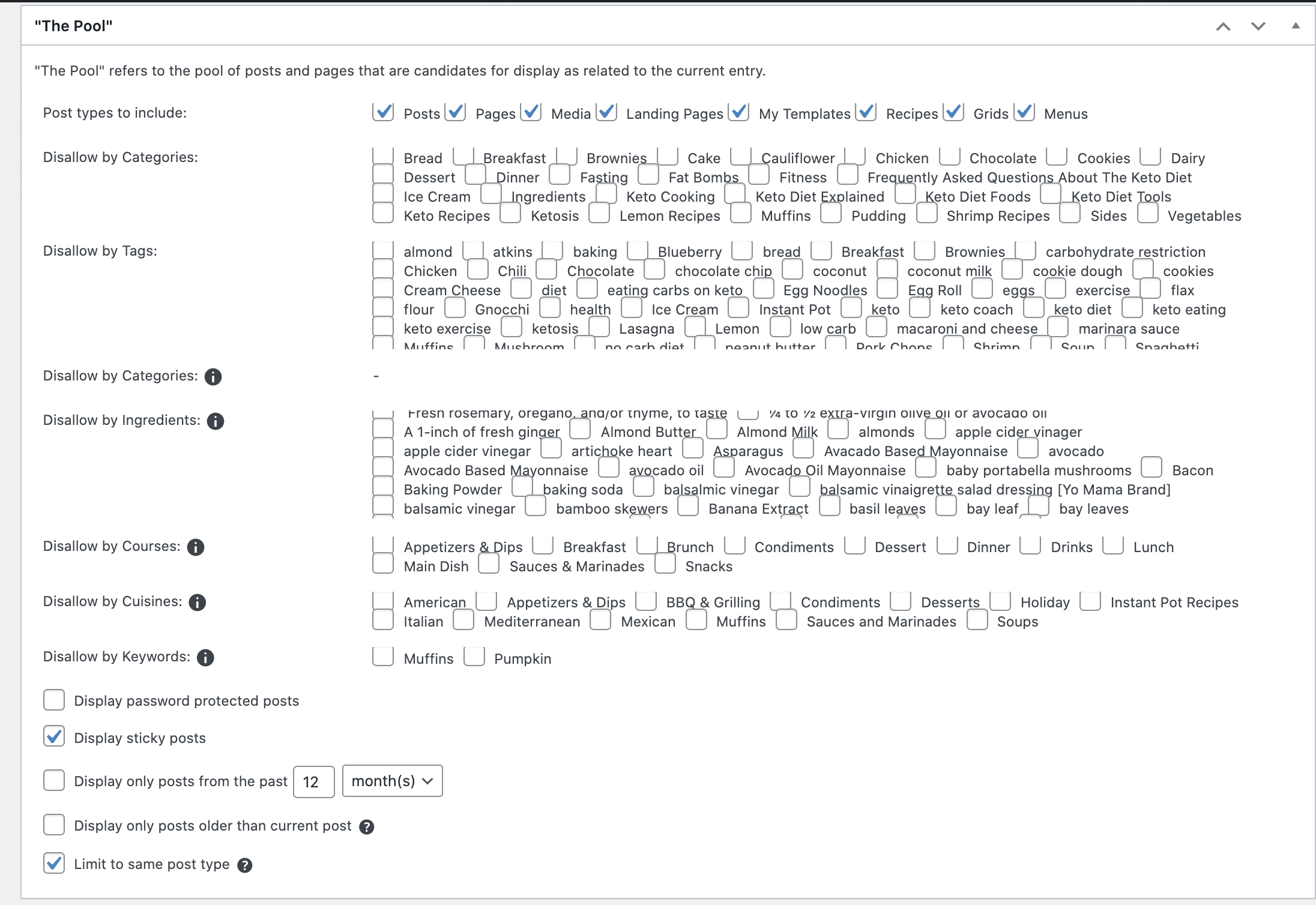 Features:
The basic version has many customization abilities including displaying sticky posts, choosing related posts by age, limiting to the same post type, disallowing by keywords, tags, categories, and other filters based on what the website has available.
The basic version allows the user to choose which page and post types display related posts.
Moving to the next section of the YAARP plugin, there are robust options available for sorting by category. You can give extra weight to the content in the title, body, and other elements to determine which show in the related posts. This is key to helping WordPress show the most relevant related posts.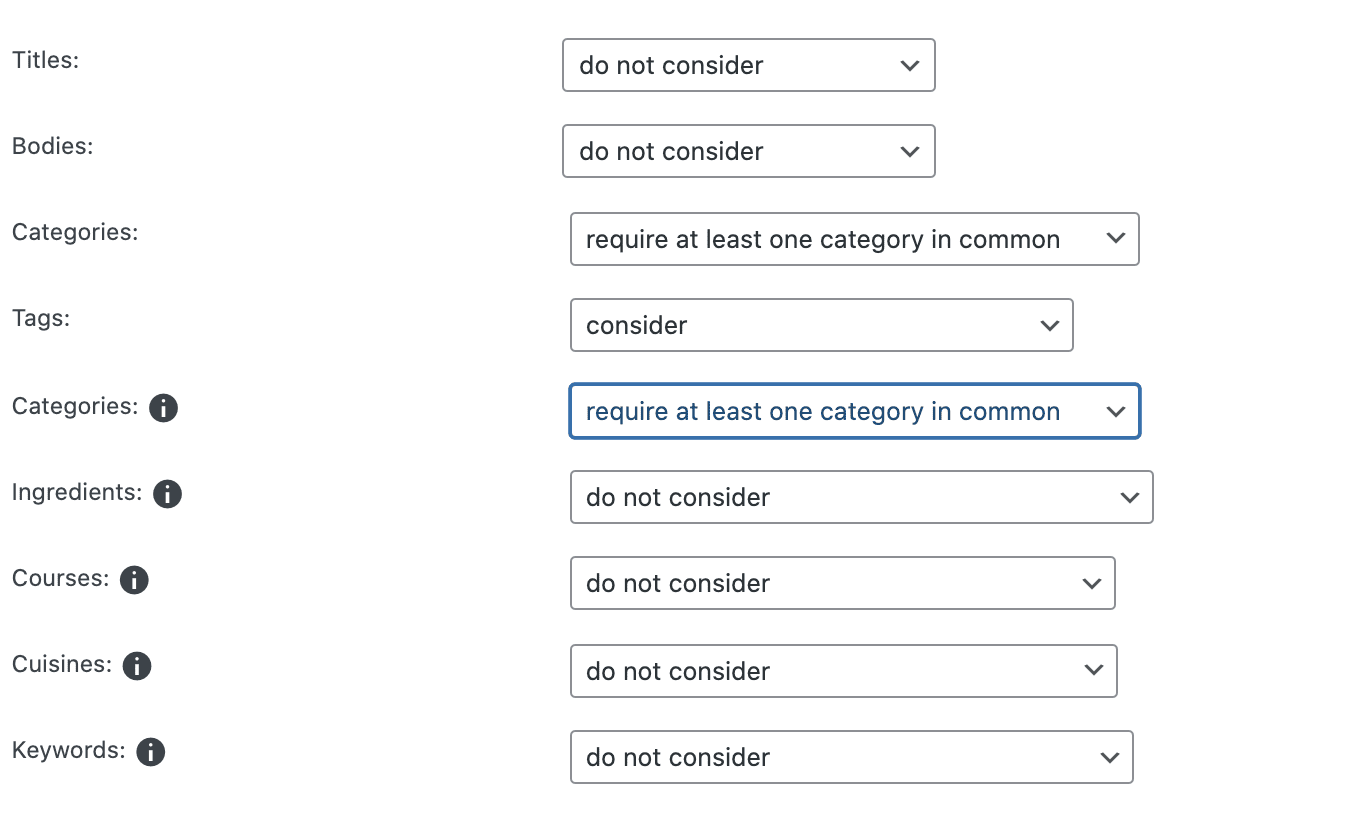 You can set the maximum number of posts to be displayed, as well as choosing a list view vs. thumbnails. You can edit the heading, and choose the thumbnail sizes. Be sure that all of your images on your blog are the same size to get a proper display of related posts.
I create my featured blog posts in Canva and use 1280 x 720 for each image.
When I tested the plugin, I was impressed at how it pulled related posts that were directly related. I used the filter that would include only posts that have at least one category in common.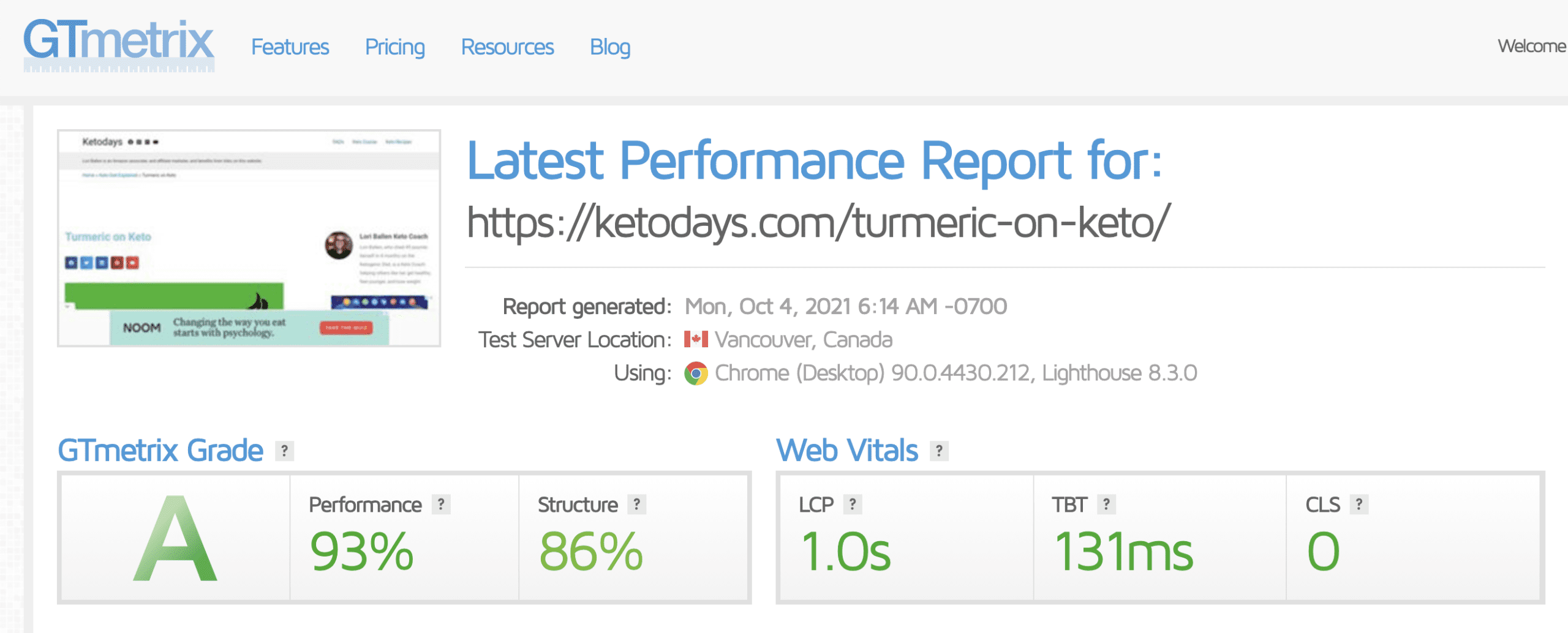 Stats:
100,000 Active Installs
749 Reviews
4.5 Star Reviews
Last Updates: 3 weeks ago
Yet Another Related Post Plugin Preview with the list option and no thumbnails. You can further customize the list.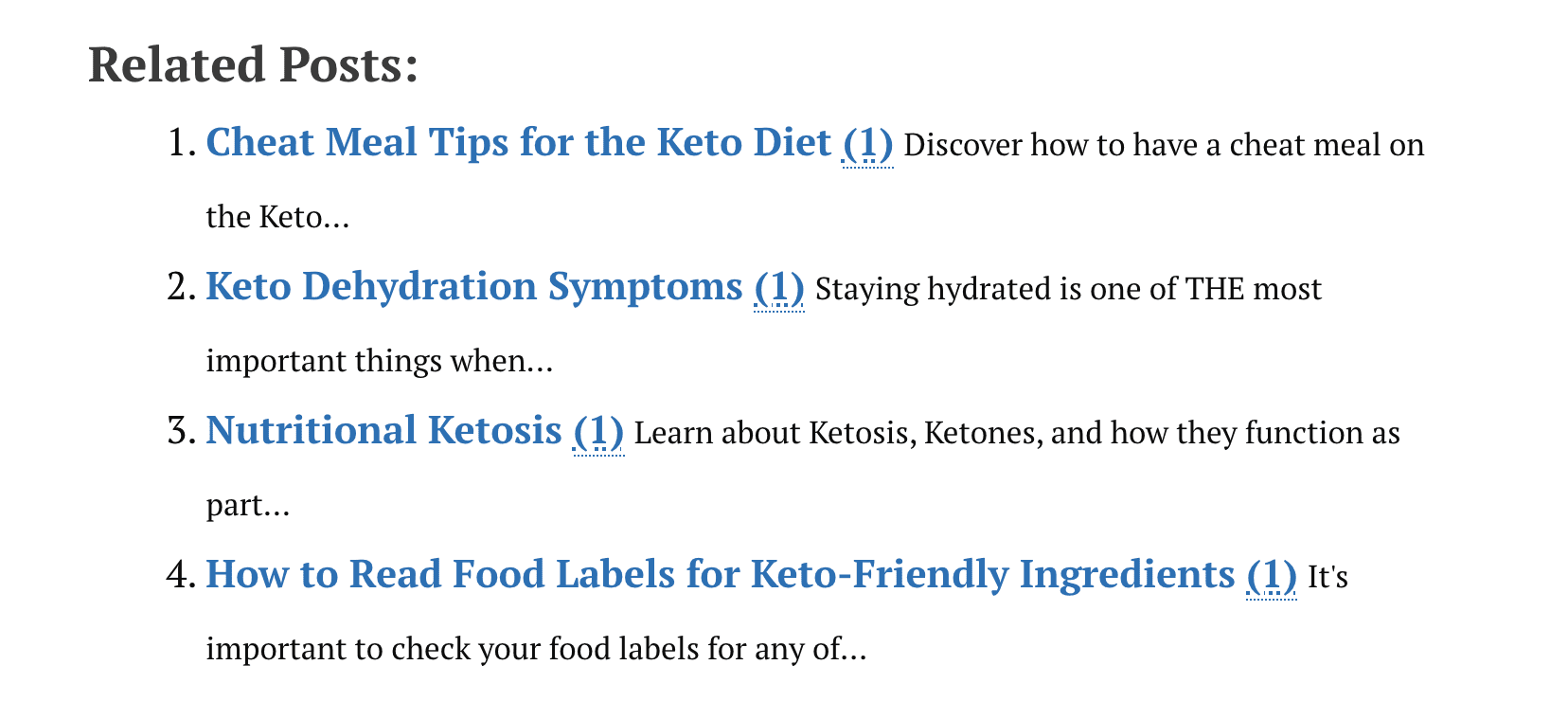 My Opinion: This plugin passed the test with flying colors. The customization options are much better than what the Gutenberg-related posts offer. I would highly suggest the YAARP plugin to display related posts if you are not already using Elementor.
WordPress Infinite Related Next Post Manager
The WordPress Infinite Related Next Post Manager plugin is a powerful search engine-friendly related posts widget that finds the best content from your site.
It finds all similar posts, ordered by recency and relevance, and displays them in an infinite scrolling widget under each Post.
This plugin also works on custom post types, so you can display the related next Post automatically or after a delay on any page. This can help to boost SEO rankings by getting more links indexed from your site!
Contextual Related Posts
Contextual Related Posts is an easy-to-use, feature-rich WordPress plugin that allows you to display a list of related posts on your website and in your feed.
The list is based on the content of the title and content of the posts, making them more relevant and more likely to be of interest to your readers.
This relevancy allows you to retain visitors, reduce bounce rates, and refresh old entries. Although several similar plugins exist today, Contextual Related Posts is one of the most feature-rich plugins supporting thumbnails, shortcodes, widgets, custom post types, and CSS styles.
In addition, the inbuilt cache ensures fast performance even when displaying large lists!
Super Simple Related Posts
Super Simple Related Posts is a plugin that will output lists of related posts for each Post on your site. You get to decide how the posts are related (categories, tags, custom taxonomies).
Unlike other related posts plugins, Super Simple Related Posts is super fast. It doesn't run resource-intensive algorithms on your database, and it doesn't bog down your server.
If you're looking for a plugin that'll run through all your content and match related posts word-for-word, there are plenty of good ones out there.
Related Posts Thumbnail
After the Post has been published, WPBrigade will show related post's thumbnails. Thumbnail sizes, display options, and type of connection may all be customized using this plugin.
In addition, you may control how many related articles to display when they should start, which categories they should appear in and whether or not they should be included in a list of results.
For search results, you can choose between types of relation: categories, tags, or both (categories and tags), as well as random or custom taxonomies.
In addition, you may choose to display related postings on a per-page basis, allowing you to link multiple pages and posts.
Who's using Related Posts?
Many bloggers are using related posts within their blog post content to better inform readers about other things that may be interesting or helpful to them as well. Other people choose this option for affiliate marketing since it can help promote other products they may own or would like to create.
Summary
Bloggers are using these within their blog content more often to better inform readers about other things that may be interesting or helpful to them as well.
Affiliate marketers also use this option because it can help promote other products they own or would like to create.
While there are many ways to add related posts to a blog, Yoast, Elementor, and WordPress Gutenberg offer valuable options.