Lori Ballen is a member of the Amazon Associates Program and earns money from qualifying purchases. Posts contain affiliate links that benefit Lori as well.
4 Minute Read
If you're planning to build a website, you might be wondering whether you should use WordPress or Wix. Both platforms are designed to simplify and streamline the otherwise complicated process of building a website.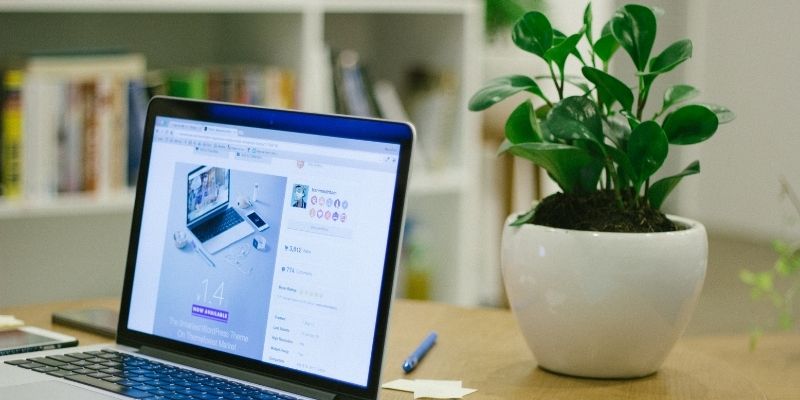 Complete WordPress Websites
Hosting, Design, Integrations, Done!
Using either WordPress or Wix, you can easily build a custom website from the ground up without even seeing the HTML code. With that said, WordPress and Wix aren't the same. There are several major differences between the two platforms that you need to know.
This blog is WordPress and is hosted by WP Engine which is a one-stop-shop for setting up WordPress and choosing themes.
What Is WordPress?
Originally released in May 2006, WordPress is an open-source, free-to-download content management system (CMS) that's used to build dynamic websites.
It relies on PHP and MySQL code to create and retrieve content. When a visitor tries to access a post or page on a WordPress website, his or her web browser will send a request to the site's server.
The PHP code included in WordPress's core files will then process the visitor's request by retrieving the page's content from a MySQL database.
To build a website with WordPress, simply choose a host like WP Engine, Bluehost, or GoDaddy where you can get your WordPress platform, website hosting, website themes, and SSL Certificate.
---
Get the best WordPress hosting for your site.
WP Engine is a WordPress platform backed by a team of experts who are available 24/7 to make things easy for you.
What Is Wix?
Wix, on the other hand, is a commercial cloud-based platform that's used to build static websites. The company offers several plans with different pricing and features. You can build a Wix website for free under the company's free plan.
Alternatively, you can expect to pay about $13 to $24 per month for a more inclusive premium plan.
To build a website with Wix, you'll need to sign up for an account or log in using your Facebook or Google account, at Wix.com. After creating your Wix account, as well as upgrading to a premium plan if desired, you can access the Wix Editor to begin building your website.
Join Over 150M People
Who Trust Wix with Their Website
Explore 100s of templates designed for businesses like yours.
---
Similarities Between WordPress and Wix
Whether you use WordPress or Wix, you'll have the freedom to build your website from any computer or device that's connected to the internet. Both platforms provide admin access through an online dashboard.
For WordPress, you can create or edit content by logging in to your website's admin page, which is typically located at example.com/admin.php. For Wix, you can create or edit content by logging in to your Wix account at Wix.com.
You can change the appearance and layout of your website's design using WordPress or Wix. WordPress offers themes, whereas Wix offers templates.
For a different website design, you can install the desired theme or template. Changing the theme or template will instantly change your website's design.
---
Benefits of WordPress
WordPress offers a higher level of customization than Wix. Using WordPress, you can customize practically every element of your website's design and functionality. Wix is more restrictive regarding customization.
Get the best WordPress hosting for your site.
WP Engine is a WordPress platform backed by a team of experts who are available 24/7 to make things easy for you.
You can customize some elements of your website by modifying the template, but you won't be able to customize them all.
Only WordPress allows you to see and edit all of your website's source code.
Your website may attract more organic search traffic if you build it with WordPress rather than a different platform like Wix.
Many digital marketers build their websites with WordPress because of its search engine optimization (SEO) features. WordPress is written in clean code that's easy for search engines to read.
More importantly, it supports plugins like the All-in-One seo plugin that introduces additional SEO features.
If you're planning to build a blog, you should probably use WordPress. WordPress was originally developed for blogging, so you can rest assured knowing it works. Some of its blog-friendly features include support for multiple authors, support for visitor comments, the ability to assign categories or tags to posts and an easy-to-use text editor.
---
Benefits of Wix
There are still reasons to consider building your website with Wix. For starters, Wix is incredibly easy to use, even more so than WordPress.
The Leader in Website Creation
Choose from over 500 designer-made templates for every business.
You don't need to download or upload any files. Rather, Wix offers everything you need to build a website in its drag-and-drop editor, which can be accessed by logging in to your Wix account online.
WordPress doesn't have a drag-and-drop editor. Instead, it offers a traditional text editor known as Gutenberg.
If you prefer using a drag-and-drop editor, you'll feel right at home with Wix. The platform allows you to move images or other elements around by dragging them with your cursor.
Along with the drag-and-drop editor, Wix offers an AI-powered editor known as the Artificial Design Intelligence (ADI) editor. With the ADI editor, you enter some basic information about your website. The ADI editor will collect and use your information to build your website on the fly.
If you aren't happy with the results, you can touch up your website using Wix's standard drag-and-drop editor.
If you encounter a problem or otherwise need help building your website, you can reach out to Wix's customer support department. WordPress, unfortunately, doesn't offer any official customer support.
You can ask questions on forums, or you can pay a professional web development company to troubleshoot your problem, but there's no official customer service department at WordPress.
Wix, however, is recognized for its world-class customer service. You can contact the company by phone, email or live chat for help building your website.
Wix also offers web hosting at no additional charge. You'll still need to purchase a domain, assuming you want to use a custom domain rather than a Wix subdomain, but you won't have to worry about purchasing a web hosting service through a third party.
WordPress and Wix aren't the only platforms on which you can build your website. Others include Drupal, Joomla, Magento, and OpenCms.
Nonetheless, WordPress and Wix continue to lead the pack. Just remember to weigh the pros and cons of each platform to ensure you make the right choice for your website's future.
Related Articles