This post contains affiliate links. As a partner with Amazon and various brands, I am compensated when qualifying purchases are made through my referral links.
While most digital marketing methods continue to be relevant, however, well-designed webinars, in particular, enjoy great popularity.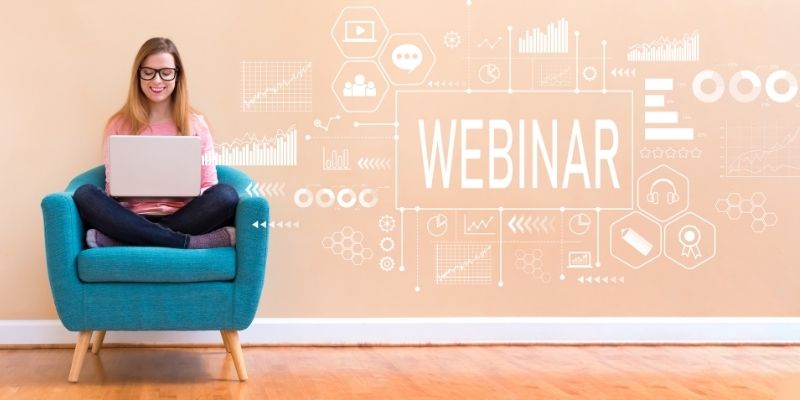 Why Webinars?
Earn More Without Working More
Create Pre-Recorded Webinars That Look And Feel Live
In social distancing times, businesses are always looking for new ways to reach out to customers and potential leads.
Webinars certainly were popular even before the pandemic occurred. One study on InsideSales, for example, found that three out of four leaders in sales and marketing found webinars to be the second most effective way, after small executive events, to generate usable leads.
Since executive events aren't an option in socially distant times, webinars are the top choice for reaching out.
When done right, webinars are an excellent way to bring your business to a broad audience, no matter what area you may operate in — B2B (business-to-business), consumer, or anything else.
Webinars allow businesses to interact with their customer bases in real-time when cities are on lockdown, and when life returns to normal.
They allow you to make complex topics easier to understand for your audience and present your audiences with an idea of the value that your business has to offer, all in a reasonable timeframe.
If the concept of a webinar as a marketing tool is unfamiliar, a short refresher on how it offers a healthy return on your investment can help.
Check out this list of great Webinar Platforms for choosing how you broadcast your Webinars. You might also like this article where we compare easy webinar vs. Everwebinar.
Use current topics of interest to build your brand.
When you host a webinar, you start by reading the room.
What questions do you believe your audiences have on their minds? For instance, amid the coronavirus outbreak, you might think about how you could bring your expertise to bear to inform and reassure customers.
You might also choose an evergreen webinar topic; a subject with immediate, current appeal, however, can draw in larger audiences.
Whatever you do, you need to pick a topic that dovetails into your business, and that allows you to show your audience that your business is relevant to their lives.
Certainly, finding convincing answers to offer your audience for questions that they come up with can be challenging. Your ability to respond to inquiries in real-time, however, is what helps establish your business as a thought leader in the minds of your audience members.
Build an email list to follow up
An opportunity to build your email list is one of the most persuasive reasons that you have to get into webinars. When you sign people up for your webinars, you get to collect their email addresses.
Once a webinar completes, you get to follow up with them by sending them relevant information in the form of marketing emails. Each sign-up to your webinar is a potential lead, especially participants who demonstrate interest and curiosity in your product throughout the webinar.
You can reach out to your participants over email, talk about the questions raised at greater length, or offer suggestions. Email marketing offers some of the highest returns on investment of any marketing method.
Join hands with partners
If you believe you might find it challenging to build adequate participation for your first few webinars, you could find another, more experienced company to join hands with.
You could co-brand the webinar, bring your business to the attention of a new audience, and make the webinar less burdensome to organize.
You'll have greater confidence in the process because you'll know you have help building attendance.
Building an audience is also a possibility when you bring highly regarded guest speakers to speak at your seminars. A guest speaker with name recall can make it easier for you to attract sign-ups.
Bring leads around with demonstration-webinars (or seminars)
Impressing your audience with your expertise is desirable. Still, you do need to allow for the possibility some participants won't sufficiently understand the exact nature of your business or your products through the course of your webinars.
For them, you could announce a separate arrangement — a demonstration-webinar (or seminar).
In a seminar, you cover the basics of how your business works, how your products offer value to users, and other essential information that would not be appropriate for a webinar aimed at a wider audience.
Seminars tend to be smaller than webinars and give participants an intimate look at your company, often with personalized attention, meaning that participants are more likely to go on to make a purchase.
Repurpose the content of your webinar
Often, when you organize a webinar, you get a window into the kinds of ideas your audience members are interested in.
Whatever information you offer your participants throughout a webinar, you could repurpose it into blog posts, articles, YouTube videos, and newsletter posts over time, taking your knowledge to new audiences.
A successful webinar, in other words, can power your entire digital marketing strategy.
The Bottom Line
Webinars can be highly effective marketing tools, allowing your company to interact personally with its customer base.
Webinars offer businesses an excellent way to provide information, directly collect meaningful feedback, and put together a list of quality leads.
A webinar is a tool that, when used correctly, can be a powerful way to take your digital marketing forward.