Lori Ballen is a member of the Amazon Associates Program and earns money from qualifying purchases. Posts contain affiliate links that benefit Lori as well.
There has never been a better time to learn how to host a webinar. In this guide, you'll learn what a webinar is, the best webinar platforms, and how to host a webinar to increase brand awareness, build a database, and increase Sales.
What is a Webinar
A webinar is a platform for hosting virtual events. By definition, the meaning of a webinar is a seminar conducted over the Internet.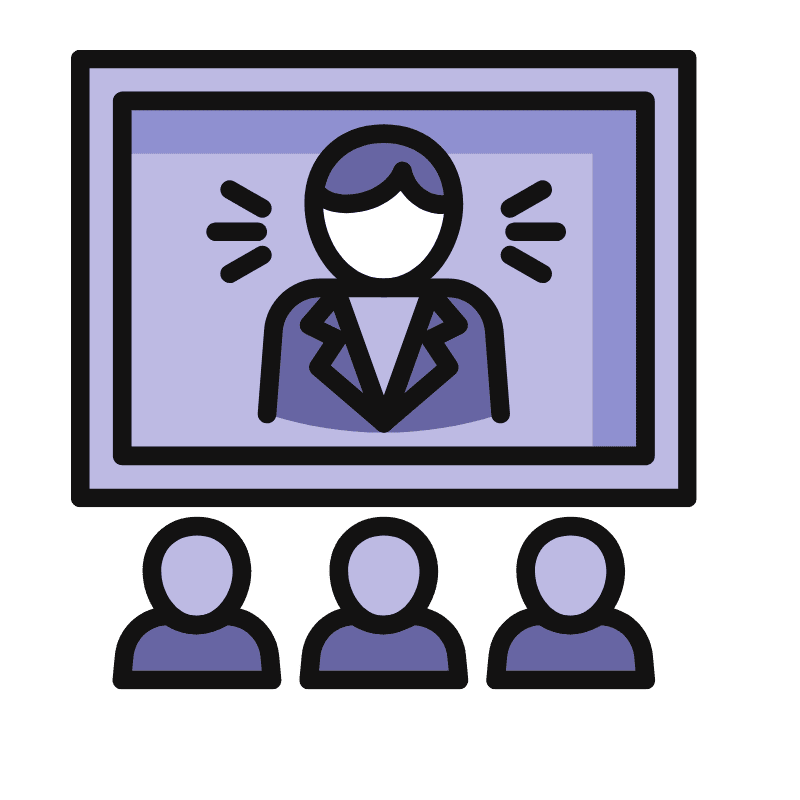 Typically, a webinar is informational or educational and offers a "talk" or "screen share" tutorial, or both. Webinars can also be used for interviewing guests allowing for a single guest or multiple "round-table" style talks.
Webinars can be recorded and distributed as a playback or replay. Some webinar platforms allow you to download the webinar as a video or audio file in which you can use on Youtube or a Podcast.
Webinar hosting is frequently used for lead capture, to build an email, text, or retargeting list. Some platforms allow you to charge your guests for a "ticket" to your webinar.
Many entrepreneurs use webinars to sell a special item.
How Does a Webinar Work?
The host sets up a registration landing page and a confirmation thank you landing page. They set the pricing (many webinars are free). They add the description, title, and host information. They schedule the date.
After they complete the set up, they receive a registration link that they can now share to their potential audience.
This link can be distributed by email, text campaigns, social media, other youtube videos, podcasts, through affiliate programs, through ads such as Facebook and Twitter and any other form of promotion the host wants to do.
Check out optinmonster and Convertkit for displaying offers on your website that can be used to promote your webinar.
The webinar registrants are each sent a unique link to access the webinar. Some webinar platforms allow the host to set up reminders.
Webinarjam, for example, offers SMS Text reminder integrations as well as email reminders.
At the time of the event, the host pushes a button to make the webinar "live" and uses their camera and screenshare to launch their webinar. Some webinar hosts like to use a preset powerpoint presentation which is fine too.
Generally, the webinar attendees are able to use the chat features to ask questions throughout the event. Some hosts like to have an additional moderator to help moderate the chat.
During the webinar, the host can launch polls, ask questions, make offers, play videos, hold contents, make sales and drive traffic to their affiliate offers, services, or products.
Once the webinar is complete, a replay can be distributed to the attendees. Using a platform like EverWebinar, the host can turn their live webinar into a replica replay to generate leads and sales all of the time without actually sitting at the computer.
The Best Webinar Platforms
When comparing webinar tools, you should know that what's right for one user might be different for another. Your goals and plans for your webinar platform can make a significant difference in your choice.
For some, price is the ultimate factor. For others, they will choose a webinar software based on it's features.
For most, you'll want to explore the following:
Marketing Features: These are features that help you accomplish your sales goals during the webinar. This could be in the form of making offers that allow you to post a call to action and a link, provide a countdown to create scarcity, etc.
Engagement Features: Live Chat, Polls, Quizzes and other interactive items that encourage engagement.
Webinar Funnel Pages: Registration, Confirmation or Thank You, Sales Pages, Replay Pages and so on. Some webinar platforms allow you to use your own landing pages.
Evergreen Webinars: These are webinars that look and feel like the original live webinar including chat, offers, polls.
Pricing: Be sure to pay attention to the pricing features that matter most too you. Some are willing to pay for more features, more attendee spots, more hosts, and so on.
Quality: You'll want high definition webinars that offer high-quality audio and video.
Reliability: Connection and Ease of use can make or break a webinar.
Security
Webinarjam
I use webinar jam for my business. I love the ability to add offers, polls, and send an automatic replay. I also ever webinar for evergreen webinars which are created out of the live webinar I host on webinar jam.
Webinarjam Walkthrough
Webinar Jam Features:
Seats up to 5000 people in a single presentation
Up to 6 presenters
Host controls
Raise Hand
Screen Share
Always Open Webinar Room
High Definition, 30 FPS, high-quality video and audio broadcasting.
Chat and run Q&As in real-time.
Sticky Announcements
Schedule webinars by time: Instant, Later Date, Always-On, Recurring
Replica Replay" feature mimics, second-by-second, everything that happened in the Live Room!
No user required Downloads
All Browsers
Chat
Polls
Q&A
Handouts
Screenshare
File share
Video Sharing
Recording
Pop-up Offers
VOIP & Dial-in Audio
Robust Analytics
Customer-facing Channel
Full-service Registration
Emails Templates
landing page Builder
landing pages Library
Embeddable Webinars
Sell Tickets
Custom URL
BigMarker
Bigmarker Combines Powerful Webinar Software With Robust Marketing Features. Creating The World's #1 Webinar Hosting & Automation Platform. Start For Free Today! Webinar Hosting. Automated Sales Funnels. MeetingSpace. Webinar Marketing.
Bigmarker Walkthrough
Bigmarker Features
No user required Downloads
All Browsers
Chat
Polls
Q&A
Handouts
Screenshare
File share
Video Sharing
Recording
Pop-up Offers
VOIP & Dial-in Audio
Robust Analytics
Customer-facing Channel
Full-service Registration
Emails Templates
landing page Builder
landing pages Library
Embeddable Webinars
Sell Tickets
Custom URL
API Access
Contact & List Management
Marketing Email Templates
Enterprise Setup & Support
Dedicated Account Manager
Branded Toll-Free Dial-in
White-labeled Webinar Room
White-labeled landing pages
White-labeled Emails
Domain Masking
Negotiable DPA
Zoom Video Webinars
Choose from options that support from 100 up to 10,000+ view-only attendees
Zoom Video Webinar Features
100 interactive video panelists
Plans ranging from 100 to 10,000 view-only attendees
Host controls such as mute/unmute panelists, recording and more
Q/A with live or text answers, polling, registration, and reporting
Live streaming to unlimited audiences on Facebook Live and YouTube
Webinar Ninja
If you're like most people getting into webinar marketing, you've had to settle when it comes to the software.
You're forced to use something that's a pain, or doesn't work well, or has all the style of an Excel sheet. Or all of the above.
No more.
WebinarNinja finally built something sleek, easy, and effective for independent coaches, trainers, and other entrepreneurs.
It's years ahead of most webinar platforms with its cutting edge broadcast tech and features. Features like:
HIGH-QUALITY HD webinars with zero delay.
Slide uploads that don't require screen share
10-second (literally) webinar creation
Universal device compatibility; watch on a phone, tablet, laptop, you name it
A powerful webinar search engine
Embedded video (Hybrid live/evergreen content)
Gorgeous embedded sales offers
WebinarNinja makes it so easy to create, promote, and run your webinars that you'll actually use it. That means more brand awareness, leads, and sales for you.
I don't get behind just any product. But when an exceptional tool comes along that can seriously help your business grow…I think it's only right to spread the word.
Don't just take my word, though; try it out for free. They include a free 14-day trial with every membership.
That means you only pay for your membership on day 15, after you've already fallen in love.
Start running better webinars, with no worries. Get Started with Webinar Ninja
Crowd Cast
Simple & Powerful Platform For Webinars, Q&As, Live Courses And Summits. Try Now For Free! Outstanding Support. Unlimited Events. Get Started In Seconds. Advanced Analytics. Easy Integrations. Broadcast To Social Media. Unparalleled Engagement.
Easy Webinar
Flexible and Powerful Enough to Run Your Business and Stay within Your Budget! Unlimited Automated Webinars with up to 2000 Simultaneous Attendees Per Webinar Session. 21K + Happy Customers. Record and Archive. Upload Presentation. 6 Millions+ Attendees.
Click Meeting
Host flawless and productive webinars regardless of device and operating system. Engage your audience with your content and allow for interaction.
GoTo Webinar
With Goto Webinar, you can Easily Set Up, Present And Engage Your Audience. Expand Reach. Create Buzz. Build Awareness. Types: Conference Recording, HD Video Conferencing, Full Desktop Sharing, Screen Share, Video Conferencing, Automated Emails, Content Sharing, Conduct Surveys.
Live Webinar vs. Evergreen Webinar
A live webinar allows you to interact and engage your audience. It's held one time and your opportunity to make sales is when you are live.
An evergreen webinar, such as those provided through. the platform everwebinar allow you to record a special webinar or use a replay from a live webinar to offer registrations all of the time.
With an evergreen webinar, the webinar appears as if it were being broadcasted live yet doesn't require you to be in the room or present for the event to run. The visitors can ask questions and you will receive an email with the ability to respond and add that Q & A to the replay stream.
At BallenBlogger.com, we use a combination of both live webinars and evergreen webinars.
Webinarjam vs. Zoom
In this video Gemma Bonham-Carter shares her thoughts on WebinarJam vs. Zoom.
"The Sky is the limit on how you can deliver your webinar", she says about Webinjam
Blog Tutorials