This post contains affiliate links. As a partner with Amazon and various brands, I am compensated when qualifying purchases are made through my referral links.
Looking for whiteboard animation software to make your own animation videos? Here's a list of popular whiteboard animation software!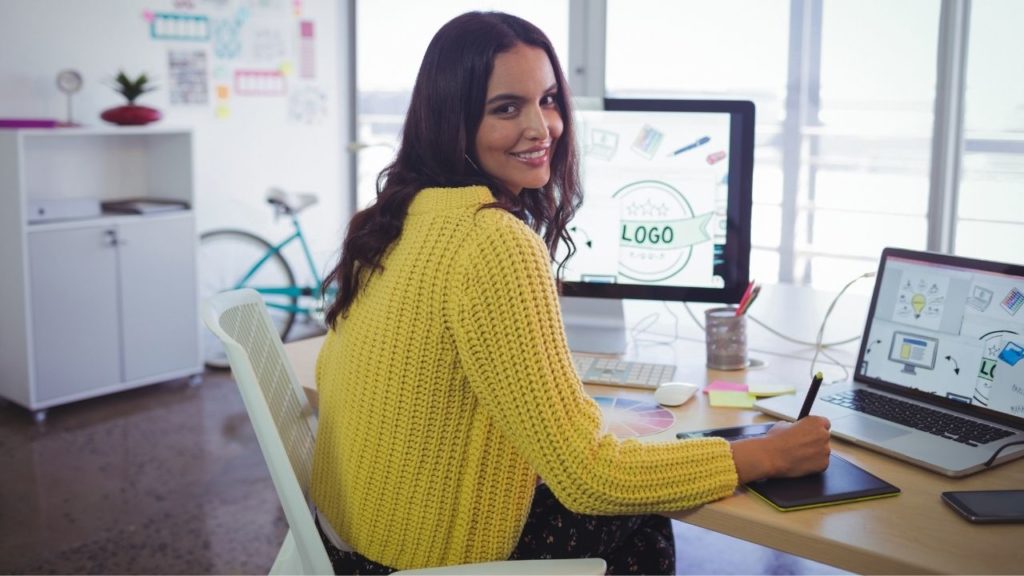 Do you remember when you were a kid, and mom or dad would sometimes take you to the office with them? In my case, it was my Grandma.
I bet you did like me and found the nearest whiteboard and sharpie and doodled all over it. Well, whiteboard animation is a thing now, and there's software that will get it done for you.
For those of you who are only just hearing the term, whiteboard animation is the process in which you illustrate and create a series of drawings on a whiteboard recorded in a sequence and then played back to create an animated presentation.
The following is a list of popular whiteboard animation software and a condensed description of the features they offer:
Whiteboard Animation Video Options
VideoScribe
People believe that it requires a lot of talent to create animation. They'd be right, but everyone starts somewhere, right? VideoScribe is the perfect software for beginners to wet their feet in this field. Launched back in 2012 by UK company Sparkol, VideoScribe is developed in Adobe Flash and produces QuickTime movies and Flash videos.
Features at a glance
A variety of default images and shapes and the option to import your very own pictures and shapes, if desired.
Unlimited online storage.
The screen can be organized any way you like, based on your preference and output choice.
High-def and high-quality animation made it easy for beginners and experienced animators alike.
There is a variety of fonts and styles of animation to choose from.
A simple user interface that helps to identify and place your doodles in your animation.
VideoScribe is available on both your iPad and your desktop. The desktop version offers a 7-day free trial.
According to customer reviews, one aspect of VideoScribe that many have reported as needing to be corrected is the processing speed. Converting an animation to a video file, typically an MP4 file is slow and could do with an upgrade.
Doodly
Doodly is one of the best animation software that makes whiteboard videos appear professional and sophisticated. Doodly has a quick and easy drag and drop doodle video creator that makes animations a breezy experience.
Created by Brad Allen and co-founder Jimmy Kim, Doodly passes what they call the 'mom test.' That means that the software is so simple that even the creators' mothers can use it.
Features at a glance
Doodly is realistic and intuitive, allowing the user to decide what they want to draw on the screen. It offers both a whiteboard and blackboard to work on.
The drag-and-drop interface makes it easy to sketch and, well, doodle. It is great for beginners to learn how to create different kinds of videos.
Doodley's software houses several images and templates to choose from in its library. Drag and drop them, and allow Doodly to sketch it out for you. You can also import and upload your own images. The free library also allows you to add videos.
Doodly is supported by Windows, and its typical customers include people from startups, SMEs, Agencies, and enterprises.

Get Doodly
New software allows anyone, regardless of tech or design skills to create doodle videos. Professional whiteboard, blackboard, or glassboard doodle videos in seconds.
Doodly also offers the following features:
Import and Export Database
File Management
Dashboard
Voice over and audio
Training and support
Social sharing
Work both online and offline
One major downside is the excessive add-ons that have to be installed in order to get the 'best' use from this software. That and the slow rendering speed.
Try Doodly.
Explaindio
Another software to make this list for its versatility and competence is Explaindio. This software is all about customization and giving its user all creative liberty while helping them hone their animation skills while facilitating the creation of unique animation.
Features at a glance
It is an all-in-one video creator that helps you focus on creating 2D, 3D, explainer, and even training videos that look professional and grab the attention of viewers.
It does not require a camera capture to create a whiteboard animated video. Included in the library are images, clips, and videos that you can use. But what better way to let the software do what it.
The process to create a whiteboard animation on this software pretty simple and is applicable to most software :
1.First, select a template that you like from the given list or start from scratch if you prefer that.
2.VideoScribes offers you more than just a whiteboard to work on as your surface. Now, you can choose the type of board you want to work on.
3.Select the characters and props, along with the scribbling.
4.Add Effects, edit the text and top the entire thing off with some music before you share your animation clip with friends and family.
5.Explaindio is easy on the pocket, true, but the software has been reported to be slow. Additionally, it does not support all languages.
Try Explaindio.
Adobe Animate CC
Developed by Adobe system, this is one of the highest performing software, with the best whiteboard animation design and execution. You've heard of Adobe Flash.
Adobe Animate CC has now replaced the older software and offers all its predecessors' best, with added bells and whistles.
Animate is used to create and design vector graphics and animation for television programs, online videos on YouTube, web applications, internet applications, game development, and many other interactive projects.
Features at a glance
Versatile and result oriented, this is a tried and tested software known for including post-production editing as a part of its features. With most other software, post-production edits need to be done externally.
It also introduces a virtual camera function that is reportedly unlike any other animation software out there. It aims to help with easy stimulation of your camera's movements to give your animation a realistic view.
A new OAM packaging is also introduced by Adobe Animate CC, that enables you to package your videos in .zip file format.
You can now create vector brushes similar to what is used in Adobe Illustrate. This update allows pressure and told functionalities to your brushes for drawing lines and strokes with the help of a stylus or pen.
Audio syncing is now available as a part of the timeline feature. This tool will allow you to sync your audio for your animation series.
VYond GoAnimate
GoAnimate, now caalled Vyond is designed to develop a simple, quick, and cost-effective tool to create high quality, professional, and creative video content and animation.
People in many sectors, especially businesses and educators, use it to build custom animated videos from scratch. GoAnimate also offers programs for government agencies to choose from for promotional or training videos.
GoAnimate is a cloud-based animation platform, easy to understand and even easier to use. You do not need to have any animation or design skills before using this software. Since it is a web-based platform, you can use GoAnimate anywhere as long you are connected to a good internet connection to keep you going.
Features at a Glance
GoAnimate allows its users to create and animate characters, bringing them to life. You can synchronize speech and audio with your animation to create a sophisticated animation video.
There is a step-by-step guide that will teach you how to animate videos as you work, allowing users to choose from pre-built sequences and upload their images and other data.
The ability to import your own content is a winning feature in this software definitely, but you also have a large and varied collection of characters, backgrounds, props, and audios to choose from and add to your own videos.
Camtasia
Camtasia is a 'software suite' created and published by TechSmith way back in 2002 but is still one of the best for whiteboard animations.
Camtasia allows you to create tutorials, presentations, and videos directly via screencast or via a direct recording plug-in to Microsoft PowerPoint while not overly sophisticated.
This is a premium whiteboard animation video software with amazing whiteboard animation features and a range of customizable videos that include intros, outros as well as 500 thousand stock photos, images, videos, and custom data.
As of 2020, the software and its features have undergone a significant update.
The Best All-in-One Screen Recorder and
Video Editor
Tutorials, demos, training videos, and more. Made by you!
An overview of features
Automatic audio leveling to ensure that your videos will sound better, no matter how many audio files you add to your timeline. Camtasia automatically adjusts your audio tracks.
Editable keyboard shortcuts to make it easy for you to personalize your workflow with familiar settings.
Support for themes with logos or other images.
You can now include your own images and logos and easily apply it to the editable video assets to get the best impact.
Other new features include a new WhipSpin transition, a block text style for callouts and annotations, support for importing PDFs, and also, Camtasia is available in French, German, Japanese, and English.
Alternative Whiteboard Animation Software