Lori Ballen is a member of the Amazon Associates Program and earns money from qualifying purchases. Posts contain affiliate links that benefit Lori as well.
Pinterest is made of accounts, which then contain boards, which then contain pins. Pinterest Board Names can be anything the account holder wants, but many name their boards strategically, for efforts such as Pinterest seo. Let's dive into Pinterest Board Names.
How To Name a Pinterest Board
Check out Tailwind, an automation tool for Pinterest!
If you are looking to categorize your boards for your own personal use, think of your boards as a filing system. Organize them by topic such as:
Home Decor
Summer Fashion
Winter Outfits
Sweaters and Boots
Makeup I like
Dream Vacation
Art to buy
Books to Read
and so forth.
If your account is for business, you'll want to focus on niches. Maybe you sell Home Decor. Your boards might start off as being sorted by rooms such as the following.
Living Room Furniture
Bedroom Designs
Bathroom Decor
Lamps and Lighting
Exercise Equipment
Nursey
Game Room
Pinterest Board Name Generator
You want to know the easiest way to come up with board names? When you search something on Pinterest, it returns a list of semantically related keywords that are frequently used as a more specific search for that Category.

If you are wanting to rank your pins on Pinterest in top positions, you can use that search and those suggestions as a Pinterest Board Name Generator.
Let's say you do nails. Maybe you don't do nails but you want to be an affiliate for various types of beauty products and are a beauty blogger focusing on various nail designs (very popular on Pinterest of course).
Your account is called "Nails by Natalie" and you want to rank for all things related to nails.
Based on the suggestions listed under the keyword "Nails", Pinterest generated the following ideas which you could use for Pin Boards.
These are sorted by the most popular as well. Furthermore, I've given you examples under these categories you could use as board names as well.
You can have up to 500 boards (including group boards) on Pinterest, so if you have the time, energy, and content, go for it!
Summer Nails (the boards don't have to all say Summer, but when it makes sense, they might!)

Summer Nail Colors
Acrylic Nails for Summer
Summer Nail Designs
Teal Nails for Summer
Gel Nails for Summer
Short Summer Nails
Beach Nails for Summer
Dip Nails for Summer

Acrylic Nails
Spring Nails
Blue Nails
Winter Nails
Fall Nails
Coffin Nails
Gel Nails
Short Nails
Natural Nails
Cute Nails
Ombre Nails
Nail Design

Easy Nail Design
Unique Nail Design
Nail design with Rhinestones

Almond Nails
Matte Nails
Pink Nails
Pretty Nails
Valentines Nails

Pink Glitter
Red Valentines Nails
Ring Finger Nails

White Nails
Black Nails
Red Nails
and the list goes on!
Now, Let's take the keyword "Nail Designs" and search for boards instead of Pins. As you can see from the results, Pinterest rewards exact match named boards to the keyword in the search.
Similarly, if we search for nail designs and drop down the menu to show people, we see profiles who also rank for Nail Design.
The Bottom Line is This.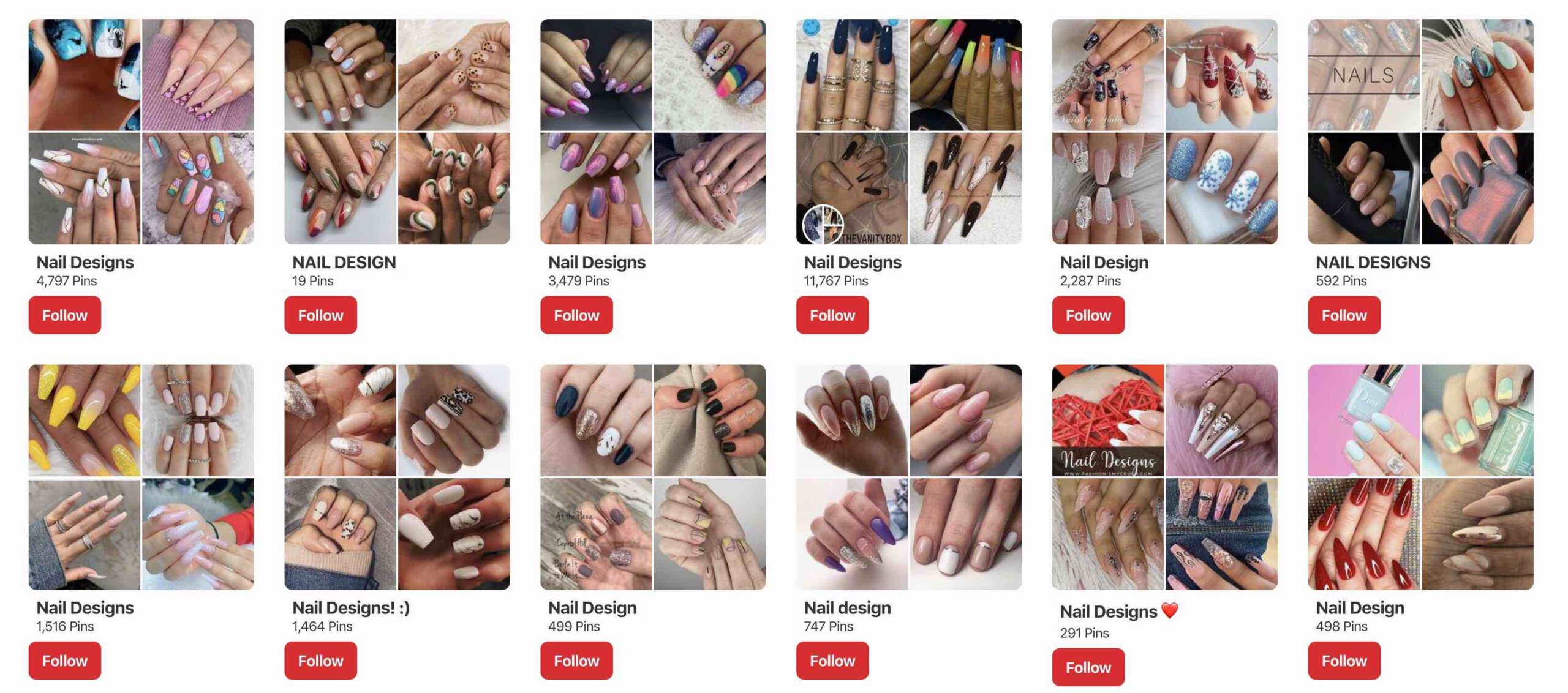 Pinterest SEO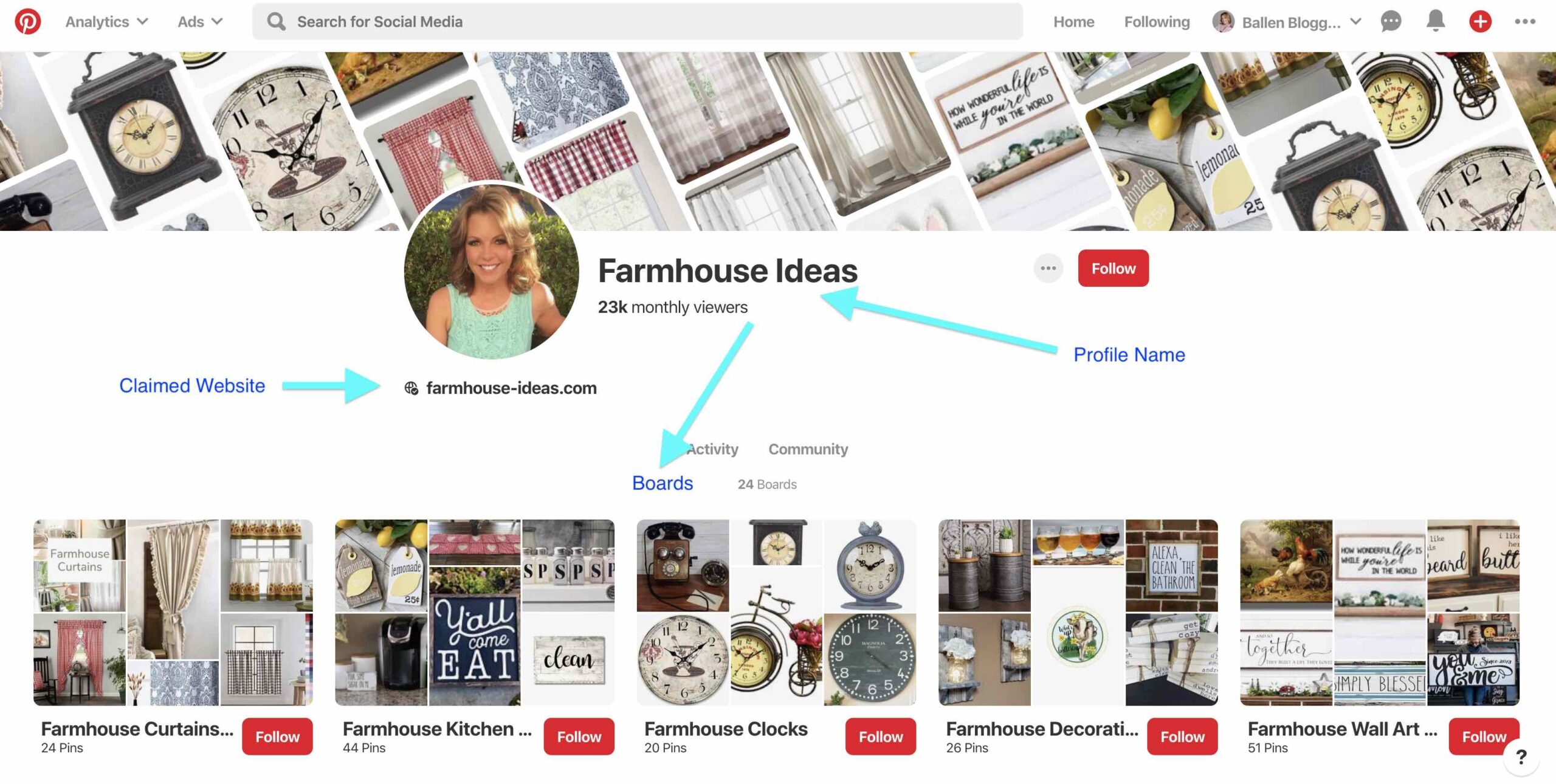 Consider the Pinterest algorithm. Not unlike Google, Pinterest has its own formula for ranking pins. Many pinners don't realize that Pinterest is more of a search engine than a social platform. People search for a topic and browse pins. They may follow a board or an account, but generally, they are seeking to browse certain topics and images.
The Algorithm considers:
Your account Profile Name
Your Profile Description
The claimed Website
The Pinterest Board Name and Description
Pin Name
Pin Description
Pin Content Source and Relation to Pin
Account Authority
Quality of the Pinner, Pins, and landing pages
Relevancy
Account holder activity
Quality of re-pins
While we don't know how much weight each ranking factor holds, how you name your Pinterest boards and pins, matter.
Pinterest Food Board Names
Recipe Boards
Food Recipes For Dinner
Healthy Food Recipes
Easy Food Recipes
Food Recipes for Kids
Crockpot Recipes
Dessert Recipes
Chicken Recipes
Instant Pot Recipes
Pasta Recipes
Vegetarian Recipes
Casserole Recipes
Breakfast Recipes
Soup Recipes
Keto Recipes
Food Recipes
Beef Recipes
Shrimp Recipes
Cooking Boards
Cooking Videos
Cooking Recipes
Healthy Cooking
Cooking Photography
Cooking Tips
Cooking with Kids
Cooking for Two
Cooking Tips
Pinterest Board FAQs
How Do You Name a Board on Pinterest?
You can name your board whatever you like. However, if you are trying to rank your pins in higher positions using Pinterest seo, you can title your boards based on a category in which you'll post pins with keywords for that category. When you search a title on Pinterest, you'll see suggestions under the search bar. These are popular subcategories of the main topic. These make great board names.

50 Pinterest Board Name Ideas
 The names you give your boards on Pinterest have a huge impact on the kind of traffic you're going to be able to push to your platform. And traffic has a huge impact on how well you do on Pinterest!
That's why so many Pinterest wizards spend a lot of time thinking about the kinds of names they give their boards, rather than just throwing things up, crossing their fingers, and hoping for the best.
Below we highlight 50 of the best Pinterest board name ideas you want to consider using moving forward!
Travel Boards
Dream Travel Trips
Travel Bucket Lists
Travel Inspo
Travel on a Budget
Travel Hacks
Try to think about what folks are going to be searching for when they want inspiration to get away on a dream vacation when creating travel boards for your Pinterest account. Capture the imagination and your board will get a lot of action!
Design and Décor
Interior Texture and Color
[ROOM] Ideas and Inspiration
DIY Home Design
Beautiful Bath and Kitchen
Room Redo
Home design and decor boards are super popular on Pinterest. Focus on creating boards that evoke a certain style or aesthetic, or focus on a specific space, and you'll be good to go!
DIY and Crafting
Crazy Quilts
Fun DIY Projects
Crochet and Knitting Tuts
DIY Secrets
DIY Supplies
DIY and crafting boards on Pinterest get a lot of action, right up there with home design and decor, health and fitness, and food based pin boards. It's not hard to drum up targeted traffic with board names like the ones above. Keep things focused on inspiration or "blueprints" for the best results.
Food and Recipes
Beautiful Brunch
Breakfast in Bad
Diets that Work
Healthy and Tasty
Food From Around the World
It's hard to overstate just how much traffic food and recipe boards get on Pinterest today. If you're able to tap into even just a fraction of that action you'll find it's effortless to push traffic to your other platforms, too. Stick with delicious recipes and you'll have this on easy mode.
Style
Summer Suits
Kicking Accessories
Dressing on a Dime
Casual Killers
Perfect Fits
Fashion boards speak directly to the ideal target market for Pinterest users, women between the ages of 18 and 29 that make up about 36% of all Pinterest traffic. If you're looking to build a style influencer page on Pinterest, these are board ideas you'll want to use for sure.
Garden Projects
Green Thumb Garden Design
Perfect Planting Ideas
Plant Schedules
Landscaping Secrets
Veggies and Flowers
Garden projects are becoming more and more popular, and finding inspiration for everything from a backyard garden to a full-blown farm or greenhouse and everything in between on Pinterest is easier than ever before. These are competitive spaces, so make sure that your boards are very descriptive and focused.
Wedding Inspiration
Perfect Wedding Dress
Magical Wedding Themes
Destination Weddings
Big Day Jewelry and Accessories
Wedding Food and Desserts
A quick nose around Pinterest will have most people feeling like the platform was built from top to bottom to make it easier to plan weddings more than anything else!
There's a ton of wedding content on Pinterest today, which means these boards are always super competitive.
Focus up, drill down, and target your board names and content for the best results.
Inspiration
Morning Motivation
Uplifting Quotes
Journal Entries
Happiness
Pure Poetry
Sometimes you can get a little broader and a little more general when you are drumming up new Pinterest board names, especially in a niche that is as wide and as scattered as this one.
Still, it's a good idea to try and categorize your boards as best you can according to the content that you are aggregating in that collection.
Money Management
Smart Stock Pics
Real Estate Secrets
Retirement Plans
FIRE
Credit Cards and Debt
There are a handful of niches that see a lot of action on Pinterest, more than any other niche, and the money and finance niche is definitely one of them.
People are always looking for ways to increase their income, boost their savings, and generate smarter investments.
Money making "secrets" always play well in board names.
Beauty and Skincare
Hollywood Beauty Secrets
Celebrity Skin Secrets
Makeup Tutorials
Natural Beauty
Hair Inspo
Another of the more dominant niches on Pinterest, there are always new boards in the beauty and skincare space popping up – pretty much on a minute by minute basis.
Those looking to capitalize on this kind of traffic or to become real influencers on Pinterest in the beauty and skincare world need to focus on "secrets", tutorials, and how to pull off the natural look – even if that means cheating with a bit of makeup!
Closing Thoughts
At the end of the day, dominating on Pinterest really starts by coming up with board names that are:
Highly relevant to what Pinterest users are searching for right now
Laser targeted to the kind of content that the board is going to have and
Interesting enough to stop people when scanning the rest of the boards that show up on a search
As a general rule, it's a good idea to keep your board names pretty tight and pretty punchy as well. Shoot for a maximum of five words or so, and try to use highly descriptive but plain language.
Every now and again you can break these "rules" – especially in competitive spaces where everyone else is using the same kind of names and descriptors – but you need to be careful.
When you get right down to it, the whole idea here is to create Pinterest board names that are interesting, engaging, and are going to get visitors to take a second to look at your content and maybe click through a couple of pins.
So long as you remember that this is the primary mission of your Pinterest board names (capturing attention, proving relevancy, and driving interest) you are going to have a much easier time coming up with names all on your own out of thin air.
Don't be shy about having a look at the board names of Pinterest users that you really like, respect, and admire as well. You'll be able to get some inspiration with a bit of "x-ray vision" looking over their boards and seeing what they are making work, too!
Most frequent questions and answers
1. In the Search Bar, type in a topic.
2. Use the drop-down menu and select boards.
It's a best practice to name your board focused on a keyword or topic. When someone does a search on Pinterest, they can drop down the menu to show boards. Pinterest returns exact matched boards to that keyword.
Yes, you can merge Pinterest boards. From your profile, press and hold the board you want to merge. Click Move. Choose a board to merge with. Tap Move Pins and delete the board.
You will need Photoshop preferably version CS6 and newer.