Lori Ballen is a member of the Amazon Associates Program and earns money from qualifying purchases. Posts contain affiliate links that benefit Lori as well.
What is a Search Engine Strategy?
SEO, or search engine optimization, is the critical element to winning digital marketing challenges. Why? Because nearly every click on your page, except for return visitors, comes from a search engine query.
To get on Google's page one of search engine results, the world's largest search engine, you have to have a content strategy – a plan, a road-map, a guide to follow strategically and methodically to reach your digital marketing goals.
A search engine strategy focuses on the areas of on-page SEO, off-page SEO, and technical SEO. It's an outline of how you plan to build out your website and your content in a particular order and schedule for maximum results.
An SEO strategy is not the same as pay-per-click marketing, where you ensure your spot on the top of page one of the search engines. It's a way to get organic search engine results.
On-page SEO 
On Page SEO revolves primarily around the quality and consistency of your keyword-rich content, structure, titles, and meta descriptions. On-page SEO solely focuses on what's on the page – each page. 
Through internal links, those pages should all connect in some pre-determined, organized way.
---
Off-page SEO
 involves the number of other high-ranking, related websites that link back to yours. Google notices and rewards you for having relevant online sources that link to your page and for relative pages you link to as well.
---
Technical SEO 
is a way of constructing your website to make it as easy as possible for Google and other search engines to find and index. Technical SEO has to do with code such as heading and subheading tags. It also considers whether a site is mobile-friendly and how fast it loads.
---
Understand Your Audience Before You Create SEO Strategy
For your SEO strategy to be profitable, you have to understand your audience, needs, and solutions.
What are your customer demographics? 
Who is your ideal client? 
How old are they
Are they male or female? 
Where do they live? 
What are they searching the web for, and why?
Your search engine optimization efforts are the bait meant to draw in viewers, so you can't take a salesperson's approach with your content, nor can you haphazardly throw it together. 
Instead, offer substance, something of value, information your audience can use to solve a pain point and lay it out in a particular format.
When a person finds your content useful, they're likely to return to your site when they need similar information. 
Google knows when a viewer has been to your website before and how long they were there, so when that same user searches the web again for a topic you've covered, you'll appear with higher authority on the search engine results page.
And, if you've created content with enough magnetic pull, it's more likely to be shared.
On-Page Search Engine Optimization
On-page SEO is essential for your website to get more traffic, encourage engagement, and, ultimately, increase sales.
Here's how to get started with an on-page search engine strategy: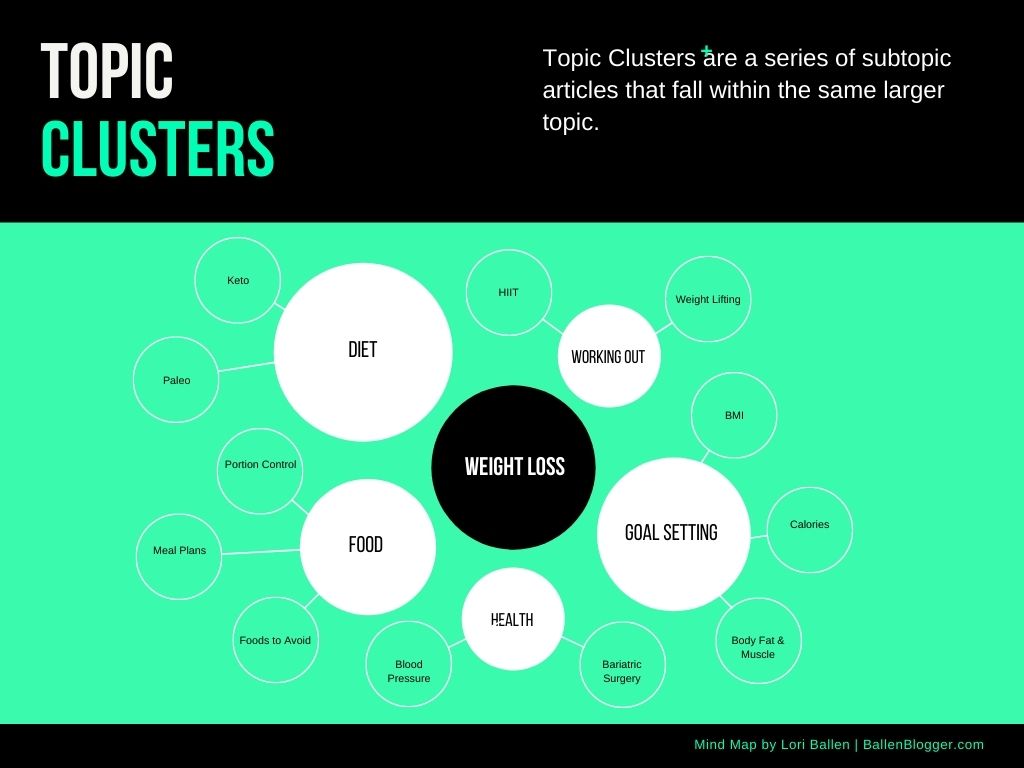 Create a list of Keywords Related to Your Business's Topics 
Keywords are the fundamental foundation for all things digital marketing. Keywords are the questions people are typing into the search engine and how Google recognizes your content's subject matter.
Make a list of about ten keywords that pertain to your products or services. These are the "Seed" Keywords around which you will build your topics and sub-topics. These would be called Topic Clusters. 
For example, if you operate a nail salon, seed keywords might include nails, fingernails, toenails, manicure, pedicure, foot, feet, salon, spa, etc.
However, those keywords are pretty broad. Thousands of pages with those words exist, so the competition is fierce, and finding your page is like finding a needle in a haystack. 
Here's how you can drill down to keyword phrases and hyperlocal information that can make you stand out from the crowd.
Go to Google and type in one of your keywords or keyword phrases. When the SERP comes up, skim the titles and meta descriptions to see what people are actually searching for online. 
Additionally, Google shows you common questions that users have already asked. You can also add your city, such as "manicures in Las Vegas" or "Las Vegas Spa Pedicures."
My favorite topic research tool is SEMrush. There is a topic research tool that takes a seed keyword and suggests multiple subtopics. 
Answer The Public is another cool topic research tool that includes questions as well as this vs. that suggestions.
Create Long-Form Content Your Audience Needs
First and foremost, write for your following, not for the search engines. Although you'll need to optimize everything on your site, remember that you're publishing content for your viewers, not for Google.
From the list of keywords you made, create a list of at least ten topics to provide ample information about. 
Using that same nail salon as an example, article ideas could include:
How to Help Your Nails Grow
7 Tips to Stop Biting Your Fingernails
5 Best Nail Polish Colors for Fall
The Difference Between Nail Polish and Gel
How to Fix an Ingrown Toenail
How to Stop Foot Fungus
Long-form content is a blog post or article that's between 1,500 and 3,000 words. Within these articles, there are headings and subheadings that separate the main points.
Headlines are also a crucial part of on-page SEO. The headline, or your page's title, is what catches the reader's attention. The ideal headline is six words or between 60-70 characters. Your keyword phrase should appear in the headline.
Your keyword should also be in your meta description. 
Your meta description is the text below the headline that persuades the user to click on your link over your competition. 
A good meta description is around 155-160 words.
And the keyword should be in the URL for the page. An ideal URL is between 50-60 characters.
You don't have to be a wiz at writing to publish worthy content, so don't worry. There are ample resources such as content farms and freelance writers trained to write keyword-rich, search engine optimized content.
Publish weekly for best results. Google likes to see that you put out new material consistently, and so do your followers. Regular publishing creates trust.
It's also optimal to revisit your archives to update and enhance older articles.
Use Internal Links
Internal links are a way of directing a viewer from one article on your website to another. For example, the article "5 Best Nail Polish Colors for Fall" could link to "The Difference Between Nail Polish and Gel."
When you layout your master plan, your list of article topics, arrange them in such a way that you've got one post that serves as a table of contents with brief descriptions of each section and links to each of those pages.
The longer a person stays on your website, and the more they engage, such as clicking links or watching videos, the more search engine authority you gain. 
Google figures that the longer a viewer is on your site, the more valuable the information is, and the same is true with actions.
Make your web pages a great user experience. People get overwhelmed by too much text. The words start to blur together, and reading becomes a chore. 
Break up your text with images and videos so they're more visually appealing.
Track and measure the results of your on-page SEO strategy. Know which pieces are performing well and should be promoted and which aren't doing so hot and could use a good polishing.
Off-Page Search Engine Optimization
When other websites similar to yours and rank higly link back to your website, you score major points with Google. These are called backlinks, and each one gives you a boost.
There are several ways to earn backlinks from your respected peers. First, you could publish something of such value that it becomes a citable resource for students, writers, and reporters.
Next, consider guest-blogging for someone else and also having other guests blog for you. This is an excellent way to network and cross-promote your businesses.
Backlinks should be earned organically, not purchased, and not overdone. If you have too many outgoing links that don't look authentically obtained, or if they're to unrelated websites, it can damage your ranking with Google.
Technical SEO
One of the essential things to consider when applying technical SEO is whether your content is mobile-friendly. 
Google is now giving precedence to websites that are specifically designed for mobile. It's where most people consume their content.
Another aspect of technical SEO is how fast your page loads. Most users aren't willing to wait three seconds for a page to load, contributing to bounce rates and damages your search engine ranking.
One way to increase page speed is to minimalize all media files' size, as small as possible without affecting the quality.
The way your content is structured also impacts technical SEO. Not only must your content follow a "skyscraper" model of a table of contents with meaty articles, but also with your tags such as those used for titles, headings, and subheadings.
Harness the Power of YouTube
YouTube has earned its place as the second-largest search engine in the world, behind Google.
Video marketing is a powerful tool, and it's easy to optimize your YouTube channel much the same way you do your website.
Furthermore, embedding a video from YouTube onto your website increases your video views and keeps the user on your site longer, and encourages them to engage more.
YouTube recently announced its new Shorts, a category designed for mobile, that shows 60-seconds or less videos. 
You don't need to create chunky videos, and if you're camera-shy, you can use automation tools online to create a compelling video.
Share Your Articles, Blog Posts, and Videos on Social Media
Social media is the quickest, easiest, most effective way to get your content in front of a mass audience. 
Even better, social networks allow you to engage with your clients or customers, creating a personal connection, and building trust.
If you have high hopes of your content going viral, social media is the ticket. You can share your content on networks like:
Facebook Business Pages
Facebook Groups
Linked In Posts
Linked in Groups
Instagram
Snapchat
Hiring the Right Help for Your SEO Strategy
Some freelancers and companies specialize in search engine optimization and others in content marketing plans or social media marketing.
Determine which parts of your SEO strategy, if any, that you're able to implement yourself. But, because if it's many layers, it can easily be overwhelming and frustrating.
Don't be afraid to leverage out the search engine optimization and digital marketing strategies to the pros.
Conclusion
Search engine optimization is a complex, multi-faceted aspect of all the different types of digital marketing strategies. 
Whether you're creating your website's structure, creating share-worthy content, or making a video, SEO is at the core.
Pay attention to on-page SEO. Do keyword research. Know your audience and what phrases they're searching for. 
Create a list of relevant topics that you can create long-form content about, using longtail keyword phrases that relate to each other to create internal links. Use that list to establish a table of contents or a skyscraper post.
Use your keywords in your page's URL, title, and meta description.
Publish content consistently to build trust with search engines and your website viewers.
Ensure your content is visually appealing to enhance the user experience and that your multi-media files are as small as possible.
Off-site SEO should also focus on efforts to obtain backlinks from other websites and link out to sites of similar topics that are already ranking.
Use technical SEO to make sure your website is easily crawlable by spiders and that it gets appropriately indexed on the search engines through its organized format.
Take full advantage of YouTube as another part of your SEO strategy and optimize that the same way you would your website.
When the job seems too big, or you've not got the time or energy to invest, consider outsourcing your SEO strategy to an SEO specialist, content strategist, or digital marketer who can help you grow your business exponentially with organic search engine results.