This post contains affiliate links. As a partner with Amazon and various brands, I am compensated when qualifying purchases are made through my referral links.
Running A/B testing on a website is an essential step in the web development process. A/B testing, or split testing, is a research method used to determine which web design features perform better.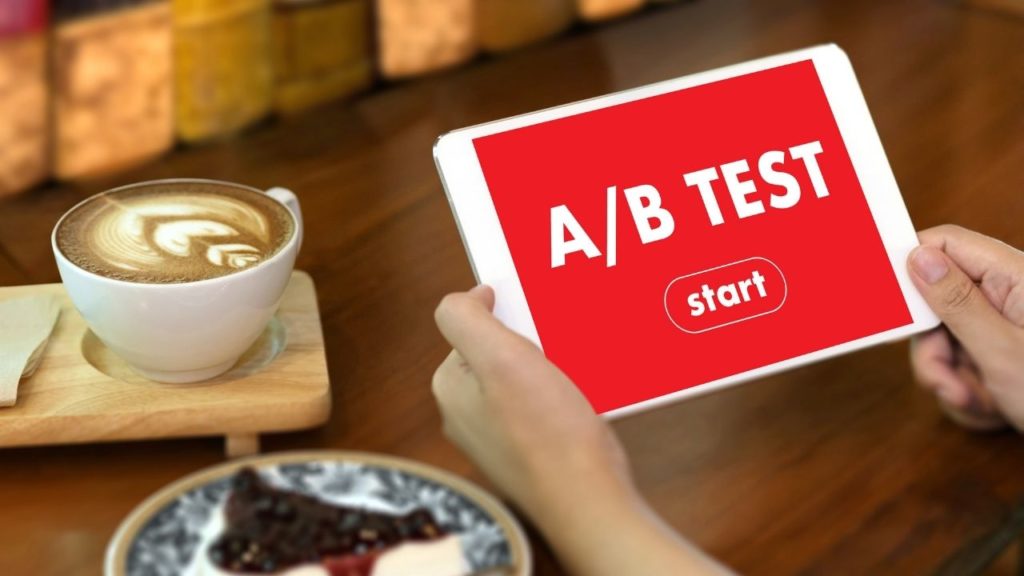 It's like a science experiment to test two different variables. A/B testing takes the guesswork out of predicting what web design users will prefer. A/B test data proves which web page designs attract the most engagement.
A/B tests are one of the best ways to optimize a website for conversions and sales.
How does A/B testing work?
Split testing requires setting up two forms of the same web page: design A and design B. Each design should be exactly the same except for one variable you're testing.
Use A/B testing software, such as Google Analytics, to randomly split your web traffic. Fifty percent of your website's users see the original design. The other half sees an alternative design.
Metrics for both of the website designs are compared.
Which variables are worth your time to test, though?
Here are 10 easy A/B testing ideas for a better website design that converts.
Testing the Call-to-Action Color
Calls-to-action are the web design features that urge visitors to click and engage.
Call-to-action buttons need to be big and bold enough to attract user attention. Otherwise, website conversion rates will be lagging.
Run an A/B test to see which call-to-action color works best. Create two web designs with the same CTA font, size, and position. Simply make the CTA buttons two different colors. Generally, the best CTA colors to try are red, green, blue, and orange.
Pick two for your A/B test to identify which colors pique your traffic's interest.
Body Text Font Test
You're writing quality web content that informs and persuades your online visitors.
Of course, you want people actually to read your insightful words.
Specific fonts aren't very legible, though. Picking a typeface that everyone, including people with visual impairments, can read is vital.
Start an A/B test to decipher which body text font works best for your site. Select two fonts with different letter shapes and character widths.
For instance, you could compare Times New Roman to Verdana. Another A/B test could be between 12 and 14 point font size.
Headline Phrasing Comparison
Writing awesome headlines that entice internet users to stop and read is your goal. Every page, especially the landing page, needs a killer headline to draw visitors' eyes.
How headlines are phrased can make or break the content readability. Don't merely mash together a bunch of incoherent keywords for search engine optimization (SEO).
Conduct an A/B test to find which headline words lead to the highest click-through rate. Make a minor change by adding or eliminating one word. For example, add a word like "affordable" or "exclusive."
Compare Website Images
Humans are visual creatures who usually respond more to pictures than straight text. Images can dramatically boost your website's conversion rate.
Which images are the most appealing? That's a question for an A/B test to answer. Experiment to find which visual elements convert more.
Run a split test with two different images. Perhaps test whether the image subject being a man or woman matters.
Maybe test a product photo against a person-centered demo photo. You could also keep the image subject the same with varying background colors.
Split Test Navigation Bar Placement
Navigation bars are the online compasses that guide visitors around your website. People need to know how to navigate from the landing page to your other pages. Navigation bars come in all shapes and sizes, though.
Some are simple one-level bars, while others are multi-level, drop-down bars. Where should this navigation bar go?
Launch an A/B test to find which navigation bar placement site boosts user engagement.
You may test a horizontal top versus a horizontal bottom bar. You could test right versus left vertical navigation bars too.
Test Your Free Trial Offers
Does your e-commerce website offer new customers a free trial? Free trials are good marketing tactics to capitalize on your leads. Free trials let people try out your product or service without risk.
Internet users typically love getting a sample without forking over their credit card. Finding out which free trial offer gets your website the most conversions is the trick. That's where A/B testing comes in.
Create an A/B test to see which free trial timeline people like best. Your two variables might be a seven-day or 14-day free trial.
Site Security Symbols Differences
Internet users are rightly worried about their personal information getting stolen online. Most visitors check for signs that a website can be trusted.
If you're smart, you already have an encrypted website and top-notch security to safeguard people's digital data. Thus, test how site security symbols should be displayed.
Results will show which web design builds the most brand confidence. Your A/B test may examine the right place to put your security credentials. A/B testing could also determine which size of the security symbol works best.
Subscription Signup Form Varieties
Are you asking online visitors to subscribe to your blog, emails, or newsletter? How you build the subscription signup form will affect your conversion rate.
A/B testing is an effective tool to measure subscriber metrics. Start by generating embedded signup form code. Next, play around with customizing the signup form settings.
One great A/B test would be seeing how many signup form fields work best. Test the types of fields, such as name, email address, and phone number.
Dropping the form fields from ten to five could be seen as less cumbersome.
Test Your Web Content-Length
It's a common assumption that internet users prefer brief blurbs of content. The short-form copy is often seen as superior because people's attention spans are short. You might imagine that a 400-word article does better than a 1,400-word article.
However, some websites benefit more from publishing long-form copy. Longer content could make users view your website as more knowledgeable and authoritative. The best content lengths vary by website and niche. Curious which is right for your site?
Use A/B testing to try out short-form and long-term content.
Measure Social Proof Type
Let's face it: many businesses use lies and gimmicks to earn a quick buck. That's why online consumers are more likely to trust other real people.
Putting social proof on your website can reassure users enough to sign up or purchase. Social proof takes many forms, including customer testimonials, product ratings, and influencer endorsements.
Which kind of social proof is best? It sounds like you need another A/B test. Utilize A/B testing to determine the right layout, placement, and size of social proof elements.
Try adding real pictures of client's faces next to reviews too.
Overall, there isn't one surefire strategy to make your website design succeed. Web development is all about testing your designs and making tweaks based on site performance metrics.
A/B testing is a practical way to observe how big or small design changes fare for your unique website. A/B tests work for comparing virtually any two variations of one variable.
Other popular A/B testing subjects include live chat widgets, demo videos, checkout processes, and pricing plans.
Starting with these ten easy A/B testing ideas for a better website design will help you optimize for conversions.