This post contains affiliate links. As a partner with Amazon and various brands, I am compensated when qualifying purchases are made through my referral links.
To attract more leads, you can use a lead magnet, an offer that will attract leads to your business, just like a magnet will attract anything else magnetic.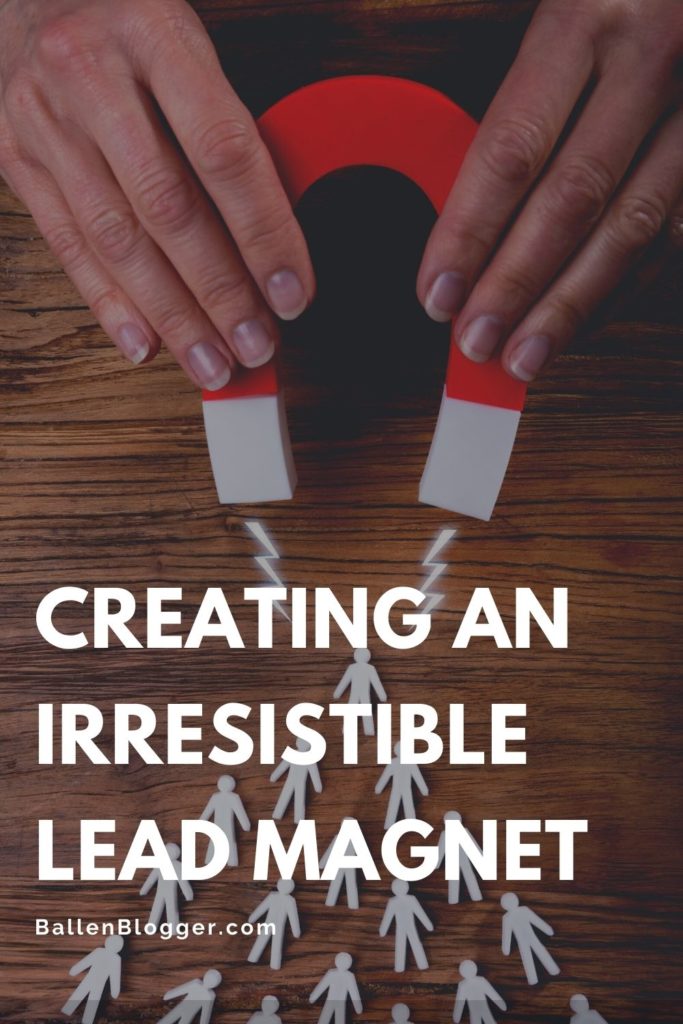 More specifically, a lead magnet is a term often used to refer to offers that are free to potential customers of your business.
You will usually ask for the new customer's email address in exchange for the lead magnet, and then you will have a way to contact them with more information about your business.
Ways to create strong lead magnets.
Lead magnets can come in all shapes and sizes and will include the following:
Free samples
Free newsletters or e-newsletters
Free consultations
Trial subscriptions
Free e-books
To create a strong lead magnet for your business, think about what would make the most sense for your customers. For example, trial subscriptions will usually work best for any business that requires a subscription.
If your target customer is a reader, then a free e-book might be the way to go, or if you are doing any coaching or consulting, then a free session is usually the way to go.
No matter what you decide to do, make sure that the offer will be valuable to your customer, even though you are giving it to them for free.
Lead magnets will not work if the target audience has no reason to pick up on them.
What are the best converting lead magnets being used right now?
1.) Free trials.
Free trials will always be one of the best converting lead magnets because it is a way for new customers to experience exactly while they will be getting if they sign up for a subscription.
Free trials are widespread for internet-based subscription businesses, as well as offline businesses like gyms. Most gyms will give you seven days for free to try it out and then have a new customer the following week.
For many companies now (especially online) the free trials don't even need to be trials anymore. Many software products and similar products will often offer a free version of their product that you can upgrade later on down the road.
Letting your customers in on the product or service without paying for it is a tried and true way to build trust and gain more loyal customers over the long term.
For example, if you had a course that you built on Teachable or Thinkfic, you could include a free mini course or trial period.
2.) Free content.
Another popular lead magnet being used today is free content of any variety. This can be e-books, email newsletters, or even personal podcasts.
Anything that the listener can get in exchange for just their email address.
Free content is popular because it is relatively low cost and easy to make for the business owner. It's also an excellent opportunity for their business to build their credibility and build trust with their potential customers before asking for any money.
Another side to the free content is that the content can often be used to promote the business, even more, when the customer gets into it.
This is common with using books as lead magnets.
Most of the time when a book is used as a lead magnet, the product or service being sold will be promoted within the book.
The same thing goes for all other forms of content.
I use KEAP as a CRM to delivery my lead magnets.
---
3.) Free training or webinars.
With online education is becoming more prominent, free training and free webinars have become powerful lead magnets for any businesses that are teaching new skills.
Search around the internet for about an hour, and you can probably find free training on just about anything that you want to learn how to do (and then be sold another program during that training).
Do you want to learn how to be a better magician? I'm sure you can find free training.
You want to learn more about film and cinematography? There is free training for that.
Do you want to learn how to be a better writer? Free training is available.
Do you want to know how to start your own bookkeeping business? Find some free training.
Like the free-content strategy, free training allows the business or company to sell the products or services to give potential customers a little taste of what they have to offer.
It builds credibility, it builds trust, and it also allows promoting the product or service within the training.
Free training lead magnets also provide the opportunity to do a little proof of concept for your idea and sharpen up your sales skills right there on the training calls.
Check out ecamm live = Restream.io for Livestreaming training. I use Zoom for webinars.
4.) Free consultations.
Another age-old lead magnet is free consultations.
This strategy can be used for any business or practice, where you are giving any coaching or advice.
Free consultations are very common for chiropractors, dentists, lawyers, business coaches, fitness experts, and gyms.
The reason that free consultations convert well is similar to that of everything else mentioned above.
They allow the new, potential customer to get a taste of the service without actually paying for it.
If the service is exceptional, the customer will trust the business more and feel much better about paying for their service.
What tools are out there to create lead magnets?
There is an endless supply of software and other available tools to create lead magnets.
Some of those tools will help you set up systems to present your lead magnet to potential customers, and other tools will help you create the lead magnet itself.
ClickFunnels, Builderall, etc.
Funnel building software will help you set up sales funnels, which your lead magnet will be a part of.
Without a funnel building software like ClickFunnels, Builderall, Samcart, or something similar, it will be harder to have your lead magnet turn a lead into a customer, which is what the goal is at the end of the day.
I use optinmonster to make the offer on my website and KEAP CRM automation to deliver it and start the conversion funnel.
Aweber, GetResponse, ActiveCampaign, etc.
These services are all email marketing services that will help you dominate your email marketing. Lead magnets will often be delivered through email, so having one of these services will make your life so much easier.
You can collect email addresses, tag them, segment them, and get into the nitty-gritty of email marketing to do the best targeting for your marketing.
Try ConvertKit
Share what you love to connect with your followers and grow your business.
Canva, Photoshop, and other Creative Softwares.
Lastly, you have tools like Canva that will allow you actually to create your lead magnet.
You can use these platforms to create e-books, images, checklists, guides, recipe books, and a whole list of other goodies that you might give away as your lead magnet.
The more creativity that you can pack into your lead magnets, the better off you will be.
I use Canva Pro to create my Lead Magnets. You can also purchase lead magnet templates for Canva from websites like Lady boss Studio and Creative Market.
Conclusion
So putting everything together from above, here are the steps to follow to start bringing in more leads today:
Determine what type of lead magnet would be a good fit for your product or service
Use the creative tools mentioned above to create your lead magnet.
Use the other tools discussed above to distribute your lead magnet and build out the rest of your funnel.
Continue to follow up with the leads you get, and see if you can maximize the profit from each one of them.
Lastly, don't think that anything stops you from having multiple lead magnets and multiple funnels set up to attract leads to your business.
Maybe you split test a funnel with an e-book as the lead magnet on one and a free consultation as the lead magnet on the other. See which one performs the best, and then go from there.