This post contains affiliate links. As a partner with Amazon and various brands, I am compensated when qualifying purchases are made through my referral links.
When it comes to getting your website more attention, few tools are as essential as a website traffic estimator.
These services allow you to analyze just how much traffic your competitors are reeling in and illuminate the tools and methods used to do so.
This information is not just to fuel your envy: it can also help you perfect your online presence and have you competing for clicks with your tightest competition.
But first, you will need to choose the best website traffic estimator in 2021. Several services are available at a couple of price points – ranging from $500 a month to absolutely free.
Here are the five best website traffic estimator tools for 2021: including those that are free, "freemium", and paid.
Starting with my favorite:
SEMrush: The best all-around SEO Suite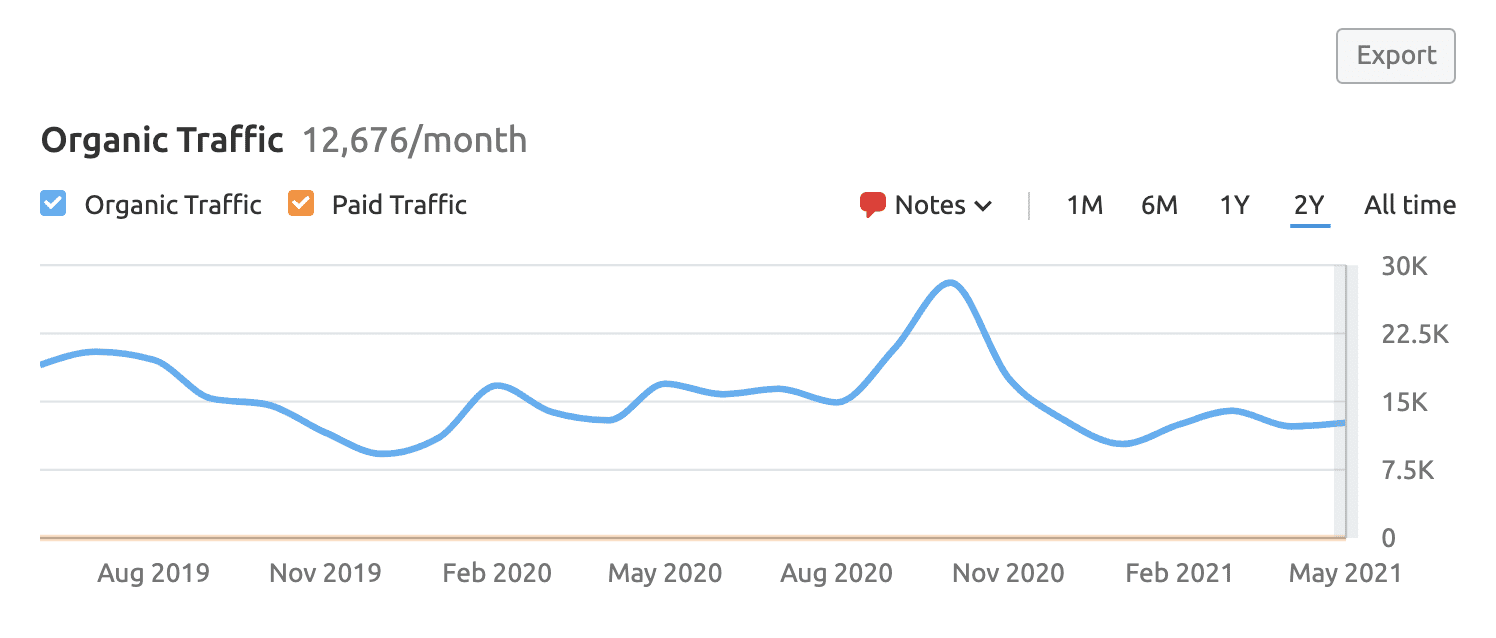 SEMRush allows limited use for free, including ten searches a day. Monthly plans start at $100.
Being the go-to comprehensive SEO toolkit for businesses large and small, SEMRush's traffic estimator tool is one of the most powerful out there.
Offering you intel on not only the volume of your competitor's organic search traffic but also the keywords they are using to court it.
SEMRush's Competitive Research tool is one of the most impressive on the list, breaking down both organic; paid traffic, user platforms, organic; paid keywords, date ranges, and much more.
However, for users not looking to fall down the Search Engine Optimization rabbit hole, webmasters are perhaps not well-advised to shell out for so many overkill features.
Although Pro plans start at $100 per month, Enterprise plans begin at $400 – making it perhaps the most expensive on this list, even with the annual plan savings.
SimilarWeb: The budget Ahrefs
There is a limited range of features available for free, with Enterprise plans available.

I have seen it argued that SimilarWeb is simply an inferior version of Ahrefs. But given that both Ahrefs and SimilarWeb are both user-friendly, powerful, and accurate, I'm not sure that's much of an insult.
Similarly, SimilarWeb is Ahrefs without many excess features you won't be too interested in if you only plan to chart website traffic.
SimilarWeb's Website Analysis tool offers an overview of search traffic with a specific focus on audience behavior analysis, offering insights that even its pricier competitors couldn't.
The tool breaks down the website's visits, what platforms are most popular, average visit duration, which pages are most popular, and much more.
Ahrefs: The Most Popular Website Estimator
Ahrefs features a 7-day trial for only $7. Plans then begin at $500 monthly.
Ahref's is one of the most famous names in the SEO industry and for a good reason. Specifically designed to make it as easy as possible to research competitors, Ahref's SEO tools can search ranking authority and traffic by either URL or keyword.
Enter a URL into the site explorer, and Ahref's will return a graph of estimated traffic for the selected domain and related keywords.
From here, you can refine your search for more specificity (date range, demographics, etc.) or delve into how your competitors are maximizing their success using specific search phrases.
By far, the biggest draw is the promise of accuracy and entirely up-to-date information: Ahrefs charts 150 million keywords in the US alone and updates its metrics using clickstream data once a month.
However, unlike other premium plans on this list, Ahrefs does not analyze paid traffic, which could be a powerful tool in your competitor's arsenal.
Traffic Estimate: The free, no-frills, online web traffic estimator.
Unlike the first two, Traffic Estimate isn't a premium suite of SEO features. Instead, it is a simple website that allows you to search for estimated website traffic.
Type in a domain, and you will be handed a line graph charting search traffic over the last 12 to 18 months.
The site will then give you a list of keywords it believes the site is targeting, how successful it is, and which other websites are competing, too.
Best of all, it is entirely free to use and does not even require a log-in. If you're looking for a simple and free website traffic estimator tool, here you have it.
But when it comes to SEO tools, you get what you pay for. Since Traffic Estimate is a free tool, expect it to be slightly less accurate than some of the more expensive plans on this list.
Conclusion
So, there we have it: The Best Website Traffic Estimator Tools for this year.
If you are willing to pay for it, Ahrefs and SEMrush (the one I ues) are, without a doubt, the best premium SEO services out there.
But if you are looking for something a little more affordable, there are plenty of other services on this list to match your budget, needs, and requirements.
So, what are you waiting for?
Get on out there, wage war against your fiercest competition, and gain the upper hand in the battle for domain authority!