Lori Ballen is a member of the Amazon Associates Program and earns money from qualifying purchases. Posts contain affiliate links that benefit Lori as well.
The SEMrush Keyword Difficulty Score can help you determine how hard it would be to rank on google for a particular keyword.
Keywords can be a phrase or multiple words used together rather than just a single keyword.
Video Tutorial
---
The Difficulty Score 1-100
The score uses a scale of 1 to 100. SEMrush explains the range as one being very easy to rank and 100 being virtually impossible to rank.
There are 3 General competitive ranges.
0-60: Easy
Below 60 are the most uncomplicated keywords, terms, or phrases to rank for on Google. A new blog or website should focus on creating content in this range to rank on Google faster. 
60-80: This is the medium difficulty range.
A website that has already earned rankings and authority with Google using the lower difficulty keywords might succeed with these.
80-100: These are the most difficult keywords for ranking. There is a lot of competition from websites with high authority.
Finding The Keyword Difficulty
The keyword difficulty score appears next to any keyword when reviewing your website, a competitor's website, or when searching using the Keyword overview or Keyword Magic Tool.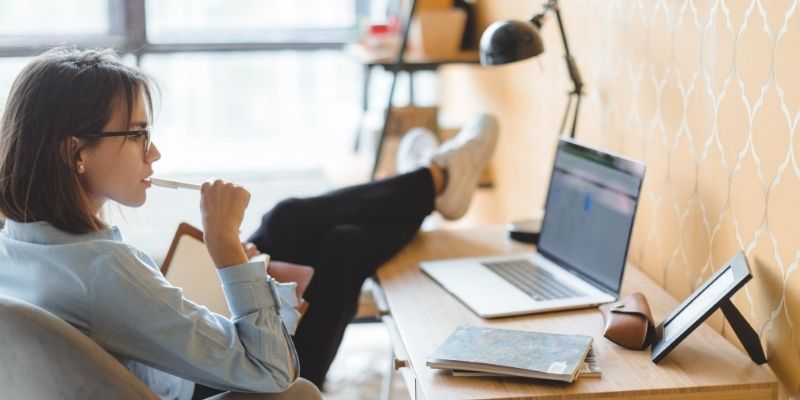 You might see the Keyword difficulty option as well in the left column menu depending on your version.
When you type in a keyword, you can explore more data by looking at the results. In this example, we can see that the keyword difficulty of the particular keyword I'm exploring is 69%.
I'm comfortable with targeting a keyword under 80%. If it's over 80%, I know I'm really going to have my work cut out for me!
Personally, I also look at the CPC figure. This is the average of how much is being spent on ads using that keyword.
Because I make money with ads on my blog, a higher CPC can be a a good sign that the post could be profitable.

This particular keyword phrase is searched 90 times each month in the united states. That being said, if I click through to related keyword, there are hundreds, sometimes thousands that I could also rank for even if I never mention that word on my page.
I don't let low search volume create a story that there won't be enough searches for it to be worth it.
On the right side, there is a Trend graph. This can be helpful in meeasuring a growing or declining trend on that keyword.
I use all of this analysis when I decide where to invest time, money, and energy into creating content.
Ranking for Keywords
Many factors are in play when Google determines which page to return in the SERP for a particular query.
The goal is to return the most relevant page, answer, product, video, etc. for that user assuming the user's intent.
Therefore, a few of the main. Considerations for ranking are:
EAT (Expertise of the Author, Authority of the Domain, Trust of the Website)
Topic: Is this website an authority on the subject? Is the author an expert on this topic?
Response: How well does this page respond to the user's intent?
Quality: Is the content well written? Does it have images, video, or any other valuable items?
Does the page reference other authoritative websites?
Google will test the positions on the search engine results page (SEO) using rank brain. This artificial intelligence measures what happens after a user performs a search and clicks on a response. 
If a significant number of users click back to Google and perform a new search (referred to as pogo-sticking), then Google assumes that the page is not a relative response to the query.
It will then begin to drop in positions.
SEO
While on-page SEO (Search Engine Optimization) can help, there are plenty of bloggers who never learn the "SEO Best Practices" and still rank because they are an authority on the topic and create quality content. 
Title Tags, Keyword Placement, Image optimization, and so forth are "best practices." They are not nearly as important as the website's authority and the quality of the content itself. 
SEO Plugins like SEOPress, Rank Math, All in One SEO, and Yoast help with best practices and schema markup. Schema markup can help enrich a snippet once a page is already ranking. 
It's about content first.
Back to the keyword difficulty score, however.
You can create the best content on the planet, and be an expert on the topic, and have decent web authority and trust, and still not make it to page one of google because you chose a keyword that was too competitive (difficult).
This principle is similar to websites like Youtube and Pinterest, which also have ranking algorithms.
The Keyword Explorer tool in Tubebuddy also has a scoring system that shows how difficult it would be to rank your video on Google and Youtube. 
The Best Strategy
I've been creating content designed to rank on search engines since AOL first said, "You've Got Mail."
In the beginning, the ranking was EASY. Write a 300-word "blurb" and stuff it full of your keyword as many times as possible.
Over time, search engines have gotten smart. Artificial intelligence (AI) allows algorithms to learn. They grow more intelligent with each search.
While it can take a while to earn rankings on platforms like Google, Bing, and Youtube, having the right strategy can help.
---
Start with Low Competition
While the search volume for lower difficulty keywords may be small, you'll earn more traffic ranking in a top position from a term with 30 searches per month than you will rank low on Google for a popular search term.
---
Focus on a Niche
The more your website can cover a specific niche, the better. Instead of creating a blog that is all about "pets," choose a particular pet, maybe a particular breed, or best pets for kids. 
You can niche up once you are doing well with the smaller niche.
A food blog is going to be very competitive, so maybe you start with something smaller like "Instant-Pot Dishes" or "One-Pot Meals" or Keto Recipes (niche down there too: Keto Fat Bombs).
A smaller focus can help you gain expertise and authority on your website, which can help your higher difficulty keywords rank.
---
Create Long-form Content
There is a correlation between long-form content and higher-ranking positions.
Longer content generally performs better on the search engines. The more competitive a term is, the longer content you will see.
By longer, I'm referring to words on the page.
While Google doesn't rank a page higher based on word count, it's the thoroughness of the content that does help it rank.
Typically, you'll find long-form content broken down into smaller sections identified most often by a heading. 
Using the SEMrush SEO Content Template, I can actually study how many words other top-ranking pages have for this keyword. The SEO Content Template will also show me the media they use and semantically related keywords.
This blog post uses multiple sections that can be identified by the heading (H2 tag).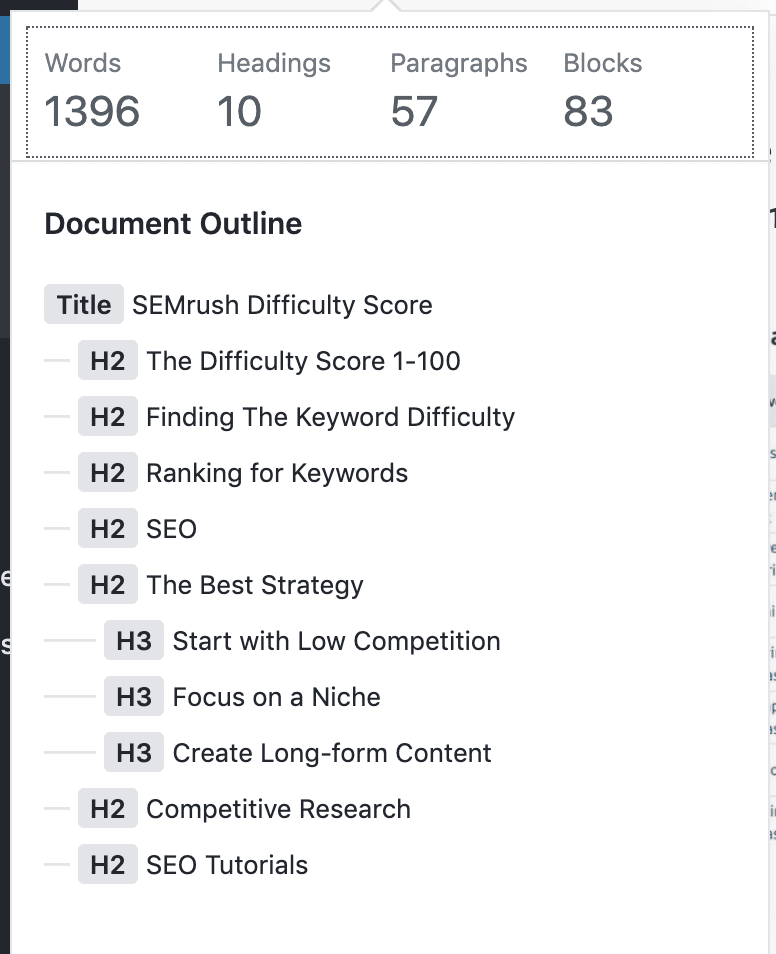 When I'm writing long-form content, which I would consider a 1200 + word article, I create these sections better to explain a portion of the topic more in-depth.
My WordPress Plugin also uses these H2 tags to formulate the table of contents to help the user find precisely the portion of the content they want to read.
Most people don't want to read a blog post that is thousands of words long.
---
Competitive Research
The Keyword difficulty score is useful when doing competitive research using the SEMrush tool.
In the search bar, you can type in the URL of a competitor's website.
SEMrush will then create a report that gives you all of the search traffic earned or bought by that website.
You can use these keywords and pages (click on pages tab) to get ideas for content for your blog. 
Keeping in mind that it's much harder to rank for higher difficulty keywords, you can sort the keywords by lowest difficulty first.
Furthermore, you can use the advanced search filters to include searches with multiple keywords in the phrase, keywords with a specific range of search volume, and so forth.
Remember, do your best to stay on topic within your website when reviewing these terms for a better advantage with Google.