Lori Ballen is a member of the Amazon Associates Program and earns money from qualifying purchases. Posts contain affiliate links that benefit Lori as well.
Yoast SEO is a WordPress Plugin that helps with on-page SEO and website SEO best practices.
My Opinion
I made a video on if Yoast Premium is worth it. I've used Yoast on and off for years, testing other plugins along the way.
While Yoast Premium is expensive for those of us with many websites, it offers popular features, growing year after year.
While I also like All In One SEO and SEOpress as SEO plugin options, this guide will compare Yoast SEO vs. Yoast SEO Premium to help you answer the question:
"Is Yoast Premium Worth It?"
For me, the clear answer when comparing Yoast free vs. Yoast Premium is yes, it's worth it to upgrade.
For me, the clear answer when comparing Yoast free vs. Premium is yes, it's worth it to upgrade.
Yoast SEO Premium Features List
Yoast SEO Premium Features
Internal Linking Suggestions: Yoast will make suggestions on each page or post of other pages on your website that could be valuable to the consumer for you to link to.
Internal Linking Blocks: Allows you to drag in suggested related links to create a related block. These are "suggested articles" or "people also read" suggestions.
Content Insights: Allows you to see your primary keywords used on the page and their volume. It gives you an idea of how well you used your goal keyword and LSI keywords to express the idea of the article.
Redirect Manager: A game-changer for anyone who doesn't think about technical SEO naturally. When you put a page in the trash or change the URL, the redirect manager will ask you which page you want to send the visitor to if they try to access that page. Redirects can also be imported from or exported to another SEO Plugin.
Focus Keyword Export: This feature allows you to set a featured keyword for each blog post or webpage and then export all to better manage your SEO projects.
1 Year with 24/7 Support
Ad-Free
Yoast Premium Features Explained
Internal Linking Suggestions
The plugin offers an internal linking tool that suggests other pages on your website in which to link.
Internal linking occurs when you link from one of your web pages to another one of your webpages.
This type of linking is different from external links, where you link out to another website.
For Example: Let's say you have a food blog. You add a new recipe to your WordPress website. That Recipe instructs someone to "fold in the cheese."
Assuming someone may not know how to "fold in the cheese', you have a post on your website with a video and step by step instructions.
Including the link to the instructional post is a benefit to the consumer. It can improve their experience.
In addition, Internal linking also helps Google see a relationship between the two pages, which can help with search engine rankings.
Furthermore, when you first upgrade to Yoast SEO Premium, you'll see a notification calling you to allow Yoast to analyze your content.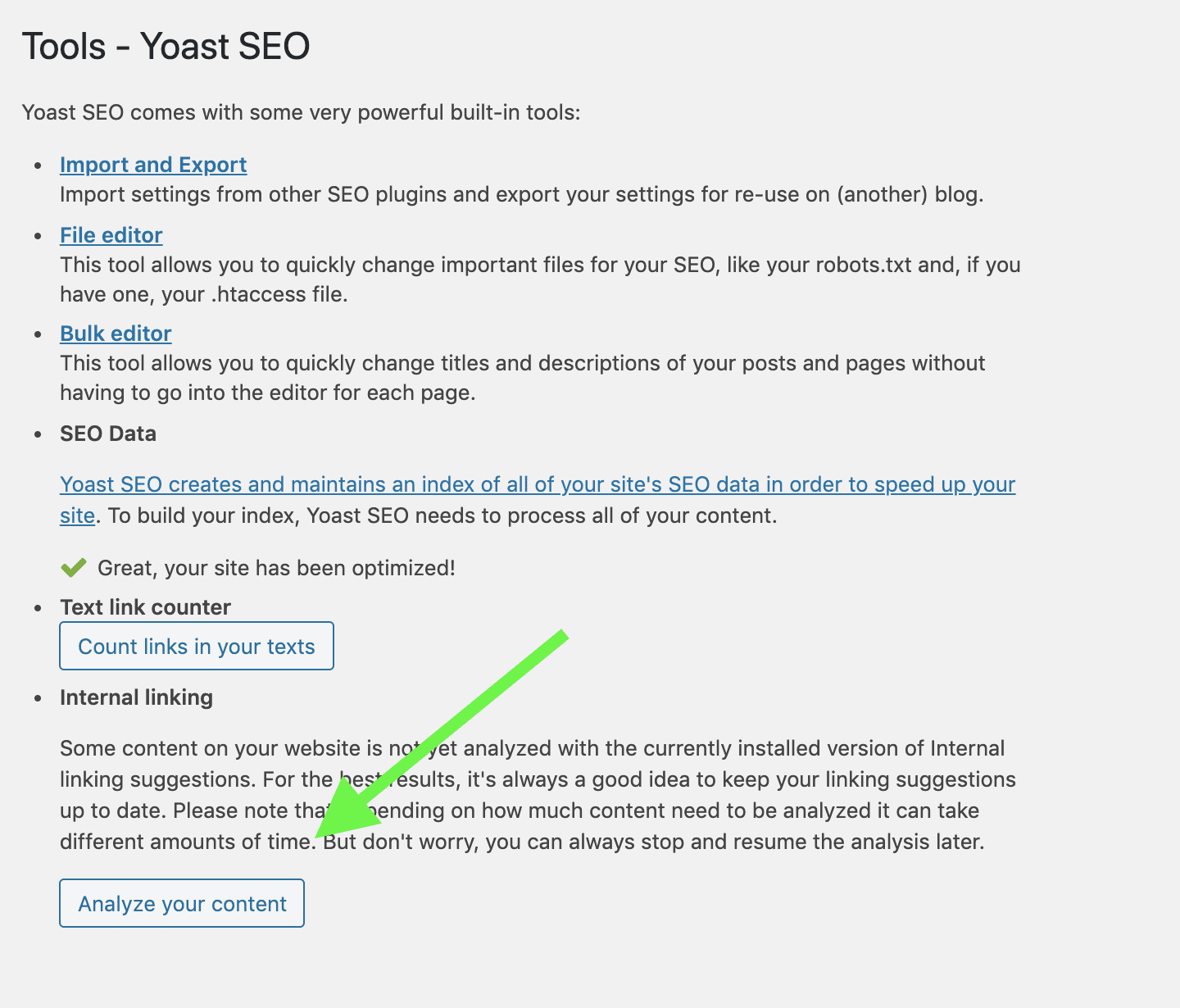 You can also go to the plugin and choose SEO -> Tools -> Analyze Content.
Run the analyzer so that Yoast can index your pages and best make suggestions.
Once the analyzer is complete, you'll notice that Yoast makes suggestions on your new pages of links you may want to add.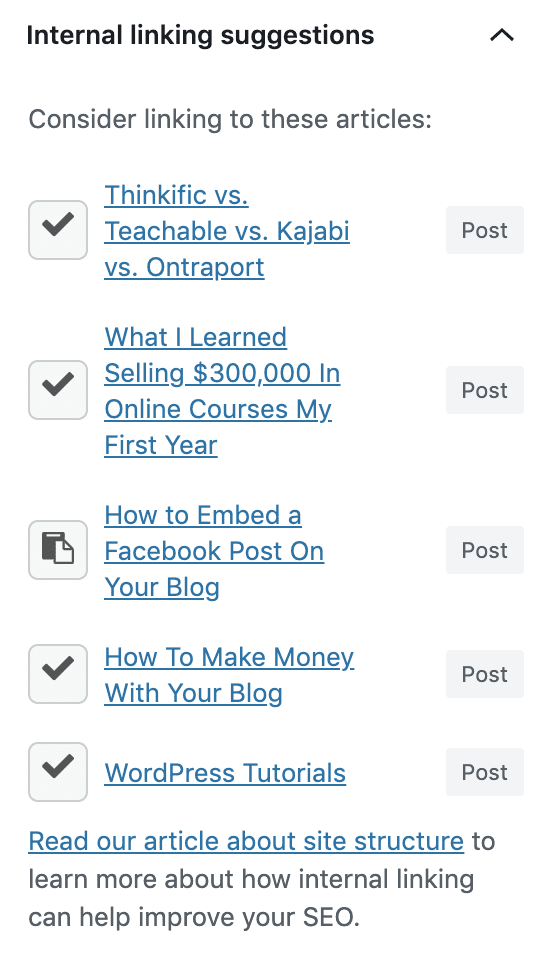 This one feature, for me, wouldn't make it worth paying for Yoast Premium. While it's a nice feature, I don't think it does a fantastic job of suggesting related links.
The Plugin Link Whisper, in my opinion, is a better tool for suggesting and placing internal links.
I also appreciate and use Thirsty Affiliates for automated internal linking. I can select a keyword or keyword phrase that I often use and set it up once to auto-link to the desired page.
For example, everytime I mention the word Canva on my blog, Thirsty Affiliates automatically adds my link to my main Canva Page (or affiliate link).
The Best Affiliate Link Cloaking Plugin for WordPress
Downloaded 443,521+ times by WordPress Sites Worldwide
Furthermore, WordPress Gutenberg now offers a related posts block that allows me to suggest other pages based on the blog category, which helps make better grouping and suggestions.
The bottom line, the internal linking tool by Yoast would not be worth upgrading to premium.
Content Insights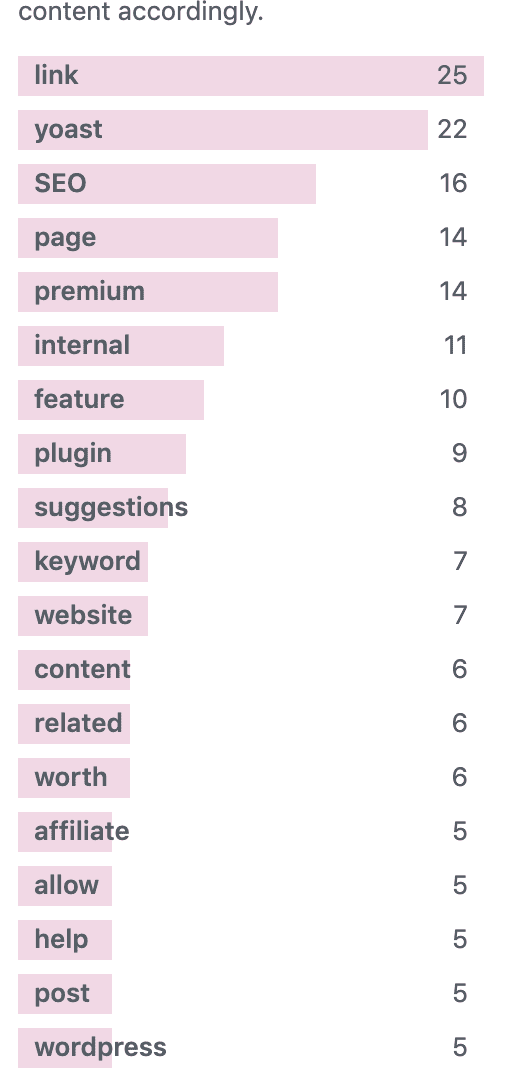 Yoast will show you the top words you used throughout your content. You'll want to take a look at the words used to see if they do a good job expressing what your content is about.
I also like using the SEO content template from SEMrush.
When I use the SEO Content Template, it will give me a list of LSI keywords that I might also want to make sure I have used on the page.
With Yoast premium content insights, I can compare.
While this is a nice feature, it wouldn't be enough for me personally to upgrade to Yoast Premium.
Yoast Redirect Manager
When you are considering if Yoast SEO Premium is worth it for you, consider the "protection" of the redirect manager.
For Example, When you change the URL of a page (the letters, words, and symbols that come after the slug (/), the page can no longer be found using the previous URL.

Example: loriballen.com/this-is-a-blog gets changed to loriballen.com/this-is-a-post. If you don't add a redirect, someone will land on a 404 ERROR page which we want to avoid.
Yoast Premium's redirect manager senses this change and automatically creates a redirect from the old URL to the new one seamlessly.
In addition, if you post a blog post or page in the trash, Yoast will ask you if you want to redirect the old content to a new page, in which you can then add another page URL to send the visitor too.
Redirects are stored in the redirect manager and can be added manually. They can also be exported to a spreadsheet if you decide to switch to another SEO plugin like SEOpress or All in One SEO
For me, the redirect manager alone makes Yoast SEO worth upgrading to Premium.
---
Focus Keyword Export
The Focus Keyword Export is a premium feature. It allows you to set a specific focus keyword or phrase for each page and then export it to a spreadsheet or CSV file.
With the export, you can also include the readability score and SEO score if desired.
This allows you and/or your team to create SEO projects.
I use SEMrush to track which keywords I rank for on Google, which position, and on what pages.
Using the focus keyword with Yoast, it's then great to compare your results using the two tools.
This is a strong feature for those that want to create a directory of pages and focus keywords without having to create a worksheet manually. I'm not sure I would upgrade to premium for this feature, however, as I've always kept a Google sheet with my pages and focus SEO keywords.
Yoast Cornerstone Content
With the Yoast SEO Premium plugin, you can choose whether an article is one of your pieces of cornerstone content or not. If you mark a piece of content as a cornerstone piece, the plugin will help you build a solid linking structure on your website.
Yoast will then take your marked cornerstone content and suggest you include an internal link on that page giving these links priority which can help you rank higher in the search engines.
Preview Page in Social Media
The Preview Page in Social Media feature from Yoast allows you to change the image, title, and description for Facebook, Google, and Twitter.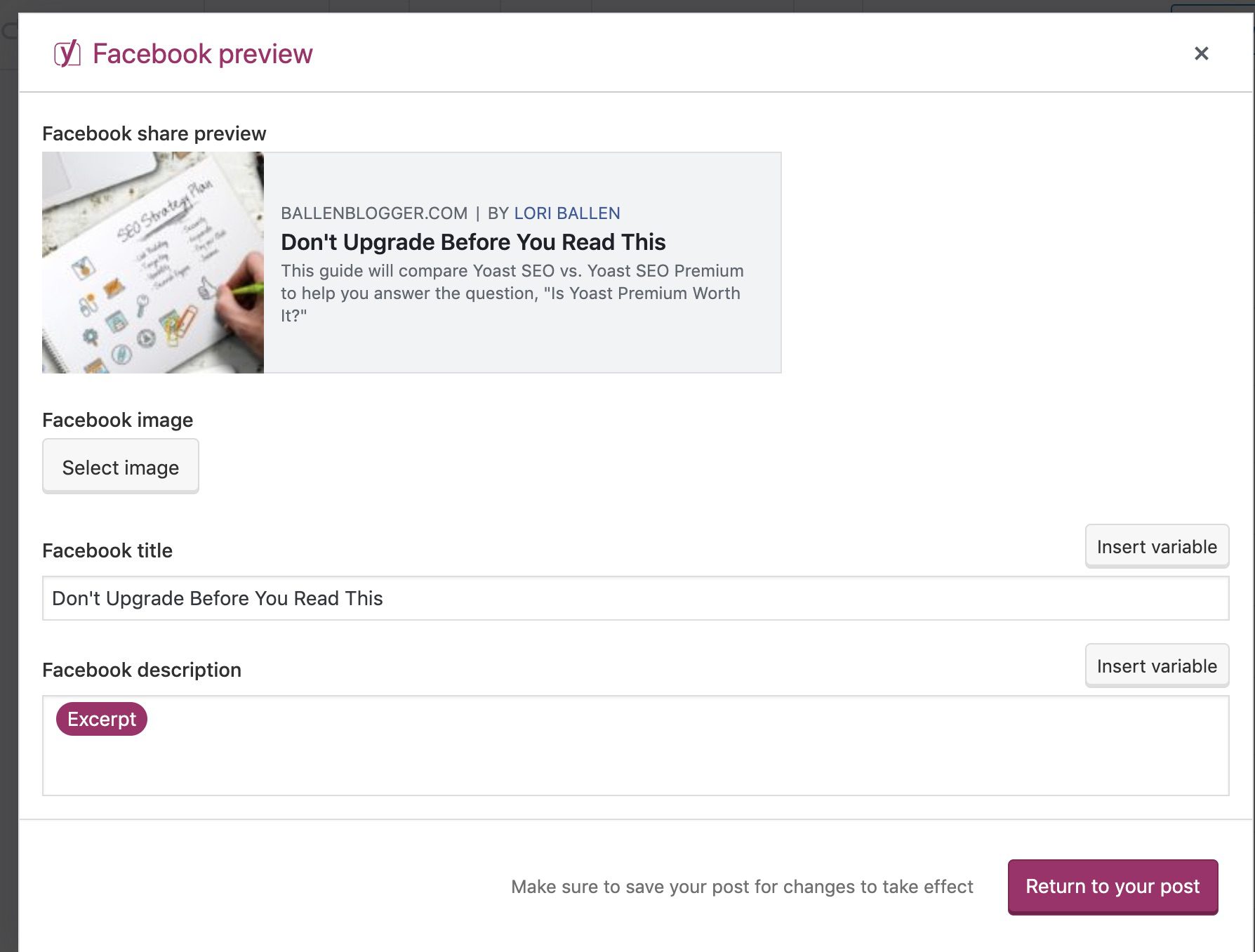 Combined with the many other features that Yoast Premium offers, this would be worth upgrading for. For me, it wouldn't be alone unless it allowed me to remove another social media plugin.
Yoast Table of Contents
Considered an internal linking block, the table of contents is one of my favorite features (new) offered with the Yoast SEO Premium subscription.
At the top of this blog post, you'll find the table of contents. It's a directory of what the page has to offer.
The user can then click the item they want to read more about and be taken right to that section without having to scroll through the long-form content.
This creates an improved quality experience for the visitor which in turn is a quality signal to Google.
While this one feature might not be worth upgrading too since plugins such as TOC + and Easy table of contents do the same thing for free, combined with the other features, it's worth considering the upgrade.
FAQ's
What Is Yoast SEO?
Yoast SEO is a tool that helps with optimizing content on a website to improve the odds of ranking on the search engines. There is a free plugin for WordPress as well as the Yoast Premium upgrade which adds more features.
What is a Focus Keyword in Yoast
Yoast SEO allows you to enter a focus keyword in order to measure how well your blog post or page is optimized for that keyword. The SEO score provided turns green when you have done a good job with your on-page SEO. When you open the Analysis results, Yoast gives you ideas on how to improve the page. With Yoast SEO Premium, you can add a 2nd Key Phrase.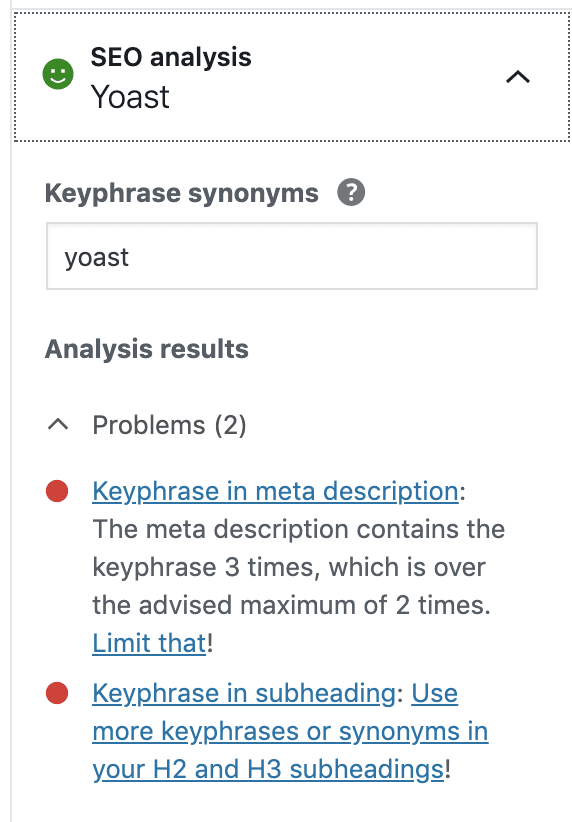 What is the Slug in Yoast SEO?
When optimizing a page using Yoast SEO or Yoast SEO Premium, it's suggested to add your keyword to the slug. The slug is part of the URL. It's the words that come after the top-level domain name. For Example, This Blog has the top-level domain BallenBlogger.com, and this page is ballenblogger.com/is-yoast-premium-worth-it. The slug then is this: is-Yoast-premium-worth-it.

Be careful about changing the slug after you publish your page or the old URL will no longer be found. When someone clicks on the original link with the first slug, they will land on a 404 ERROR page. You would need a redirect from the old URL to the new URL.

Upgrading to Yoast SEO Premium will give you access to the redirect manager which has built-in redirects to help with this issue.
Which is Better: All In One SEO or Yoast
Based on the information that has been published by WordPress.org (one of the most popular tools for building websites), All in One SEO Pack has a rating of 4.4 stars based on more than 400 reviews.

The good news is that there is a free version of All in One SEO Pack that will work for many sites; however, there is also a detailed Pro Version for those who need it.
This makes All in One SEO Pack one of the top SEO plugins on the market today.

Where Yoast SEO offers more features, All In One SEO is said to be less expensive and for some, easier to use.
How Much Does Yoast Premium Cost?
The WordPress Plugin Yoast SEO is Free. While occassional discounts apply, the upgrade to Yoast SEO Premium will cost you around $75-80 per year.
How Do You Install Yoast SEO?
1. In WordPress, open your Plugins dashboard.
2. Click Add New
3. Type Yoast SEO into the search bar
4. Find the Plugin and click Install
5. After Yoast SEO is installed, click Activate.
Does Yoast Create a Site Map?
Yes. Yoast SEO Creates a site Map that you can submit to Google Search Console.
1. Find 'SEO' on your left column of the WordPress Dashboard
2. Hover over SEO until you see the GENERAL OPTION. Click General Option
3. Choose the Features Tab
4. Scroll Down to XML Sitemaps
5. Make sure it is toggled on
6. Use the provided links to See the XML sitemap.
7. Using the sitemaps provided, submit to Google Search Console