If you are blogging on a regular basis, you might want to know how to make money with your blog. Many bloggers have figured out ways to monetize their blog as a supplemental income or as a full-time income. This article will give you ideas on how to make money with your blog.
Google Ads
When you have traffic on your blog, Google will actually pay you to allow them to run advertisers' ads on your blog. Google Adsense is available for anyone to apply. When your traffic reaches a significant level, you can then move to more premium advertisers.
While you aren't going to get wealthy from running Google Ads on your website, it can be a way to start earning money on a blog that has some traffic. You can use Google's Revenue calculator to get an idea of what your niche might generate in revenue.
Keep in mind, not all niches have the same advertiser spend.
For the sake of this blog, I looked up how much a website in the beauty and fitness niche would make if they had 50,000-page visits per month. That blog COULD earn as much as $6,000 per month in ad revenue although there are many variables that would affect that outcome.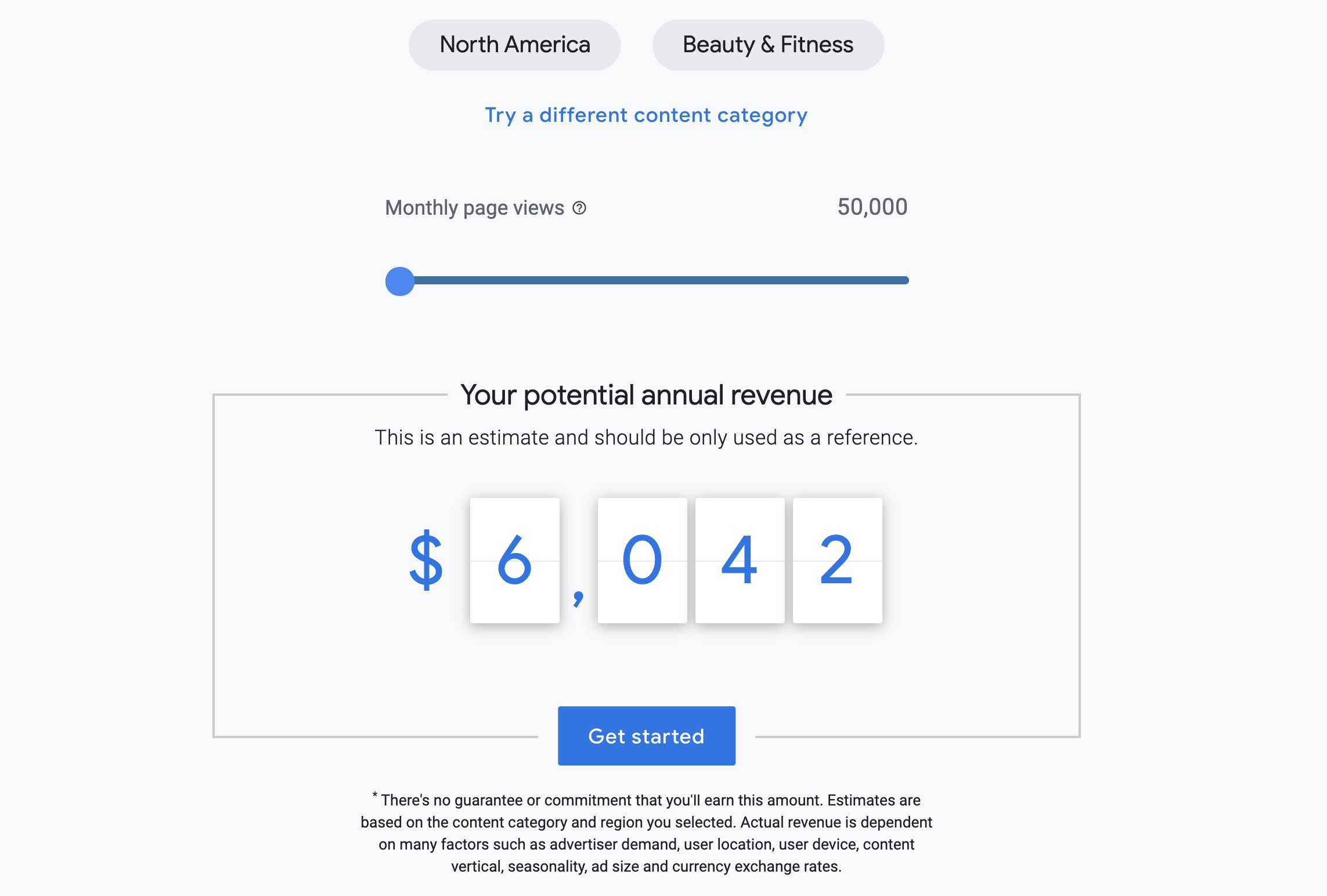 It's probable that you will need a decent amount of content on your blog first before Google will approve you for an account.
Accounts are only available for those that are aged 18 and up.
You will need to earn $10 to link your bank account.
A Gmail is required
You are the publisher and the person or company paying for ad space is the advertiser.
To apply, Visit https://www.google.com/adsense and start.
The easiest way to get started with Google Ads is by setting up auto ads. Google provides you with a code that you will place in your <head> tag on your website. If you are using WordPress, this can be done with a plugin or you can add a header/footer plugin that allows you to add these codes.
You can access the code implementation guide here.
You can choose global settings to apply to all of your websites and also change for each by setting up URL groups.
Affiliate Marketing
Affiliate marketing is when you promote another product or service using a link and get paid if that person makes a purchase within a particular time frame.
Here's How:
Courses
If you teach how to do something, you can build a course. Many bloggers wind up making money on their blogs by selling courses.
I created Ballen Academy on Teachable software. Others like Thinkific. Either can get you going with selling a course.
Products
It's easy to build a store with WordPress (start here with WPEngine) and WooCommerce. With WooCommerce, you can add products to your online store, and use the settings to establish tax, shipping and more.
WooCommerce
WooCommerce is an open-source, completely customizable eCommerce platform for entrepreneurs worldwide. Go beyond the confines of traditional eCommerce solutions, and be limited only by your own imagination.
Services
If you sell services, blogging can be a great way to generate business. You can make money with your blog by showcasing your services, creating a call to action for services, or by featuring your work in a portfolio.
Check out the Agency Pro Theme which is a studio press theme on Genesis Framework which uses the Genesis Portfolio plugin.
WP Engine offers WordPress Websites and hosting if you are want to build your own website.
Ballen Brands also builds WordPress Websites. (702) 917-0755.
Agency Pro Theme
This theme is part of the WP Engine WordPress and Hosting Services library. Set up WordPress with WP Engine and get the Academy Pro Theme.
Need someone to build this for you? Call Ballen Brands at 702-917-0755.
More Blogging Guides