This post contains affiliate links. As a partner with Amazon and various brands, I am compensated when qualifying purchases are made through my referral links.
Creating an eBook has become one of the most popular ways to generate passive income online. That's because there is very little investment required, other than your time and effort.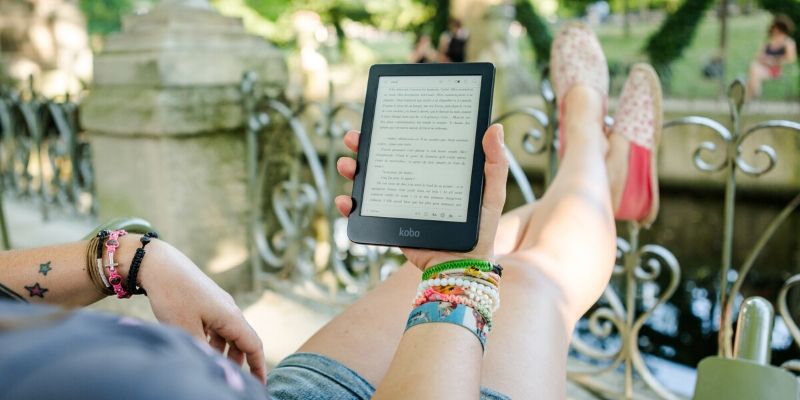 Furthermore, you can get self-published for free on platforms like Amazon Kindle Direct Publishing or Barnes and Nobel Press. The Internet offers a plethora of free resources that can help you edit as well as create images for your eBook.
Loading Preview…
Powered by Creative Market
However, before you think self-publishing is an easy way to make money online, you need to be aware of all the steps involved to create, self-publish, and promote your eBook.
1. Select Your Niche
Conventional wisdom would probably tell you to write an eBook on a topic that you already know a great deal about.
That might work if the topic turns out to be a really popular subject. However, a better strategy is to find a hot internet marketing niche that isn't already saturated with a lot of eBooks.
Then, your eBook can fill a void with a large online audience looking for information on the respective topic.
Loading Preview…
Powered by Creative Market
How do you find a hot internet marketing niche to write about?
Start by visiting Google Trends to find the most popular online search queries. You can also use the Google Keyword Planner to search for the popularity of specific keywords and phrases. Other tools for Keyword Research can be found here.
Check out online forums to find out the kind of topics that other users are seeking information about. After careful research, you will be ready to pick your niche.
2. Establish Your Credentials
As an author, your readers will want to know what qualifies you to write on your chosen topic.
While a college degree isn't required to self-publish an eBook, it definitely doesn't hurt! List any relevant experience that you have. However, your experience doesn't have to be directly related to your niche, as long as it can boost your credentials.
For example, let's say you work as an accountant. However, you are writing an eBook on personal finance.
Loading Preview…
Powered by Creative Market
Even though accounting and personal finance are two different topics, your experience working with money as an accountant will definitely give you some authority to write on personal finance topics.
3. Start with an Outline
Most writers don't start writing their eBook until they have an outline.
Think of an outline as a guide that can help you turn your thoughts into words that tell your audience a coherent, engaging story.
Start by creating a heading for each chapter in your eBook, Then, include a short description under each heading – similar to what you would find in a table of contents.
4. Creating Content for Your eBook
The process of actually writing – creating content for – an eBook is probably the hardest part for most people. Luckily, eBooks are much shorter in length than traditional books. For example, most eBooks are less than 50 pages.
However, instead of focusing on the length of your content, focus on its quality! If your eBook doesn't contain content that your audience finds valuable, it won't be very popular. Unfortunately, not everyone is a great writer who is skilled at creating engaging content.
Loading Preview…
Powered by Creative Market
Therefore, if you need help writing your eBook, check out Writer access.
Writer access has on-demand writers based on experience and skillset. Others have found ghostwriters at Fiverr.
Ebook Software:
Google Docs
Apple Pages
Microsoft Word
Kindle Create (Amazon)
5. Cite Experts in Your Niche
You can boost the credibility of content by referencing experts from your chosen topic.
Going back to the example of writing an eBook on personal finance: in that example, you could find someone like a financial advisor to interview for your eBook.
Loading Preview…
Powered by Creative Market
Then, include the interview in one or more of your chapters. Citing experts can especially help if you don't have a lot of experience on the topic you are writing about.
6. Include Quality Images
You have likely heard the old expression, "a picture is worth a thousand words." Well, one way to make your eBook more enjoyable for readers is to include engaging images.
Try to include one relevant image for each chapter. If your content contains lots of data, try to find relevant charts and infographics to use.
Don't worry if you aren't a graphic designer. You can find websites that sell (and sometimes offer free) stock images.
Loading Preview…
Powered by Creative Market
7. Proofread and Edit
After you have finished the first draft of your eBook, you need to proofread it. You will likely find some mistakes that need to be edited, as well as places to strengthen your content.

If you want professional help, you can hire a freelance editor to review your eBook. Most writing service websites offer editing services too.
8. Google is Your Friend
The number one rule when publishing an eBook – or any other online content – is to never plagiarize someone else's work. However, you can often use Google to verify that the information in your content is correct.
The Internet is also a great resource to find answers to questions that you will likely have about self-publishing.
Loading Preview…
Powered by Creative Market
9. Select a Self-Publishing Platform
Another big decision that you must make is deciding where to self-publish your book. A Google search will turn up many free self-publishing sites. However, the two most popular are Amazon Kindle Direct Publishing and Barnes and Nobel Press – with the former being by far the most popular.
The benefit of using Amazon or Barnes and Nobel is that your eBook has the potential of reaching a much large audience. Unfortunately, since those sites are so popular, that also means you will have a lot of competition from other writers.
Therefore, you should carefully research and choose the best place to self-publish your eBook.
Loading Preview…
Powered by Creative Market
10. Promote Your eBook
Last but not least, you will need to promote your eBook if you want anyone to buy it. If you self-publish on Amazon Kindle Direct, you can choose to pay a larger commission to have your eBook listed in Amazon ads.
You should definitely take advantage of social media promotion as well. Many writers even build a website to promote their eBook.
In short, when it comes to self-publishing your first eBook, there are a lot of unknowns. For example, you are likely wondering whether you will be able to write an entire eBook – and whether anyone will buy it?
However, careful research and planning, as well as putting in the time and effort, will help you successfully self-publish and (hopefully) sell your eBook.
Loading Preview…
Powered by Creative Market
If you run into questions that a simple Google search won't answer, don't be afraid to reach out for help on one of the many self-publishing communities and forums online. You will likely find someone who can answer your question.