This post contains affiliate links. As a partner with Amazon and various brands, I am compensated when qualifying purchases are made through my referral links.
With direct sales, you make the sales and the product is delivered directly to the customer. With Network Marketing, and Multi-level marketing (MLM) you build a team and earn on their sales as well.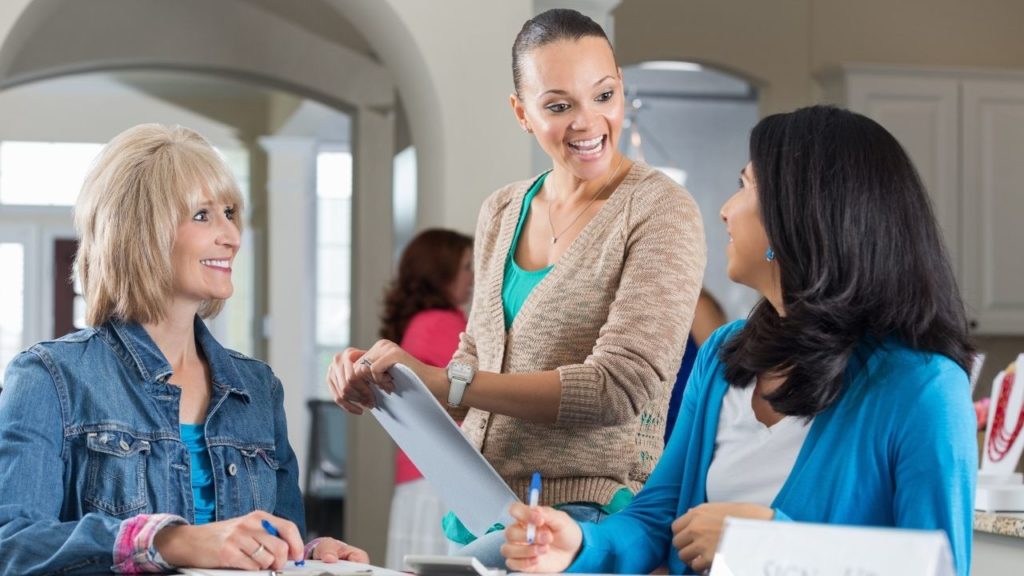 Generally, direct sales is a commission and bonus driven business with zero to low start-up costs. Most require a "starter kit".
Learn more about direct sales in this guide. Direct Selling and multi-level marketing, where direct sales are concerned with tangible products is not a "pyramid scheme".
Direct Sales have been very popular for the stay home Mom that has an entrepreneurial instinct. She can meet with friends and chat up her products on social media. When she sells products, she earns a commission.
Today, we see popular direct sales trends with LuLaRoe clothing, essential oils, beauty products such as Rodan+Fields and Monat, lipsense, stick-on nail polish, weight loss products, and so on.
In some of these companies, the work at home mom would build a team, influence her team, and earn profits when they do. That's where the more "passive" income comes in. It's work in the front, but then can be passive as the successful team members flourish and don't require time from the leader anymore.
The real money is most of these businesses is in recruiting and growing a large organization. The turnover is massive so recruiting will be required full time. If you don't like recruiting and growing teams, be careful with the network marketing business.
How Much Money Can I Make in Direct Sales?
Some will report millions of dollars worth of earnings. Some claim to earn 6 figures every month and others per year. Some are happy making $100 or more in a month, And others will boast that the direct sales business basically pays for their products, and some will lose money.
You can assume somewhere between a 10-30% commission with the average sitting at around 25%. It's very common in both affiliate marketing and direct sales to see tiered commissions. The more you sell, or the more your team sells, the higher your commission percentage is.
Companies like Monat, for example, offer higher commissions as you rank up. Each rank has a certain requirement of your own direct sales and your teams' direct sales. Some ranks require your team members to rank up. And the more of these things that happen, the higher your commission is and/or bonuses are.
What's the Difference Between Direct Sales and Affiliate Marketing
An affiliate marketer is someone promoting a brand or a service most often with a web to web link.
The affiliate marketer is more of a promoter than a salesperson. Most often, the affiliate marketer generates interest in the brand and then sends the visitor to the brand where sales will take place. The affiliate is then out of the loop.
Affiliate marketing can be a pay per click, a one time "bonus" called a bounty, a one time commission, or a recurring commission on subscription based products.
An affiliate marketer is generally not building a team or getting paid on sales made under them, although there are a few companies that offer that incentive.
Affluent Affiliate Marketing Tracking
Aggregates data from all of the affiliate platforms you work with into one unified dashboard so you can save time and focus on growing your business.
Am I Right For Direct Sales?
Generally speaking, direct sales is great for social butterflies, outgoing personalities, influencers, and those with a large network.
The more successful direct sales representatives build a tribe of loyal followers who buy their products because they trust them.
Direct Sales requires people to people activity, or strong social media connections and intense follow up.
There will be outliers that do great without being social, but they will be among the rare.
The Direct Selling Association
The Direct Selling Association or DSA (website) was created to protect the industry and help direct sales teams and reps become successful. It has nearly 200 direct sales company members.
The work with consumer protection organizations, Congress, and government agencies to provide educational opportunities to direct sales professionals.
DSA provides educational opportunities for direct selling professionals and works with Congress, government agencies, consumer protection organizations, and others on behalf of its nearly 200 member companies.
The DSA's mission is to ensure the highest level of business ethics and service to consumers and to protect, promote and serve the effectiveness of its member companies and their independent salespeople
Direct Sales Companies
Hear Dave Ramsey's take on Multi-level Marketing
The following is a list of direct sales companies you can explore. This list is provided as courtesy info only. Please note that we have not done a comprehensive study on each so the diligence belongs to you.
Beauty
Communication Services
Fashion
Gifts and Home
Cutco
JewelScent
Thirty-One Gifts
Health, Supplements, Oils
Kids and Toys