This post contains affiliate links. As a partner with Amazon and various brands, I am compensated when qualifying purchases are made through my referral links.
A travel blog is not unlike any other blog where you create content around a particular niche. A Travel blog can be a hobby, something that helps earn you free travel and supports your lifestyle, or a blog that actually earns you an income. Here's how to start a Travel Blog.
1. Set Up Your Website
Not everyone will create a travel blog on a website. There are some bloggers that have taken purely to social media channels like Instagram and Youtube.
If you are going to blog on a website, it's not very complicated to set up one up.
WP Engine has a platform where you can get a WordPress Website, Web Hosting, and Your Theme (design) all in one low monthly or annual subscription.
You'll also find a suite of themes included at WP Engine and you can also browse Studiopress for child themes of the Genesis Framework. There are many different theme makers, this is one option.
If you need a website built for you, check out our website shop or connect with Jeff and Paul Helvin at Ballen Brands 702-917-0755.
---
2. Choose a Theme
Travel Pro theme
When you are ready to build your travel blog and favor a feminine theme, you'll love Blossom Travel from Blossom Themes. It's elegant, beautiful, and clean.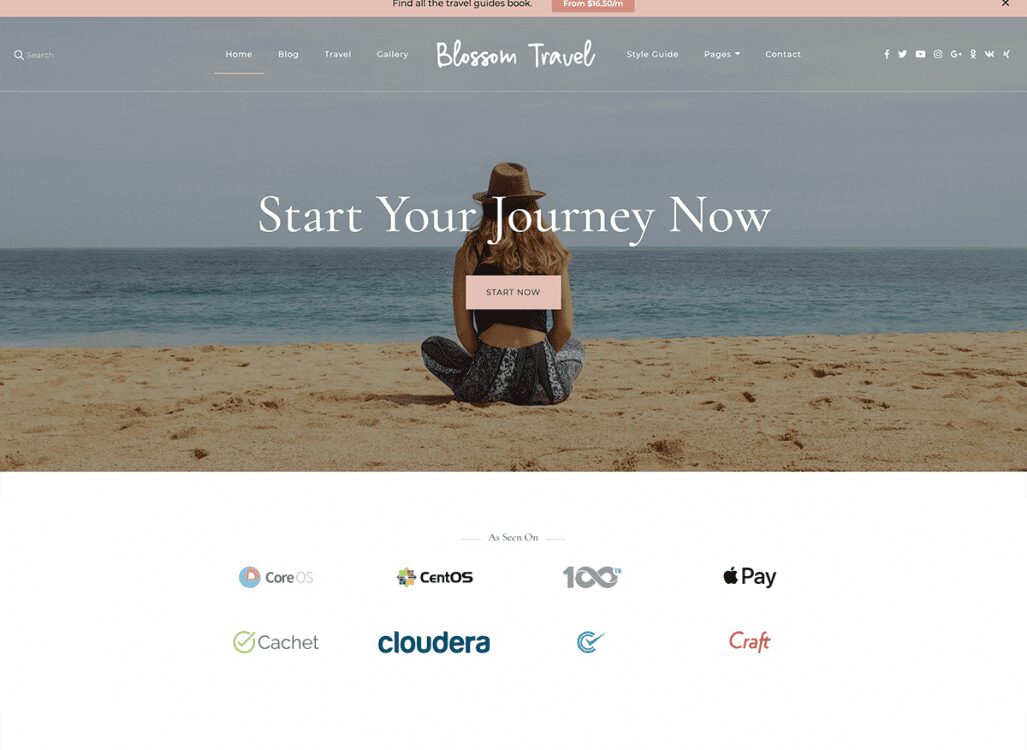 Navigation Pro Theme
The Navigation Pro WordPress Theme is stunning and perfectly designed for the travel blogger.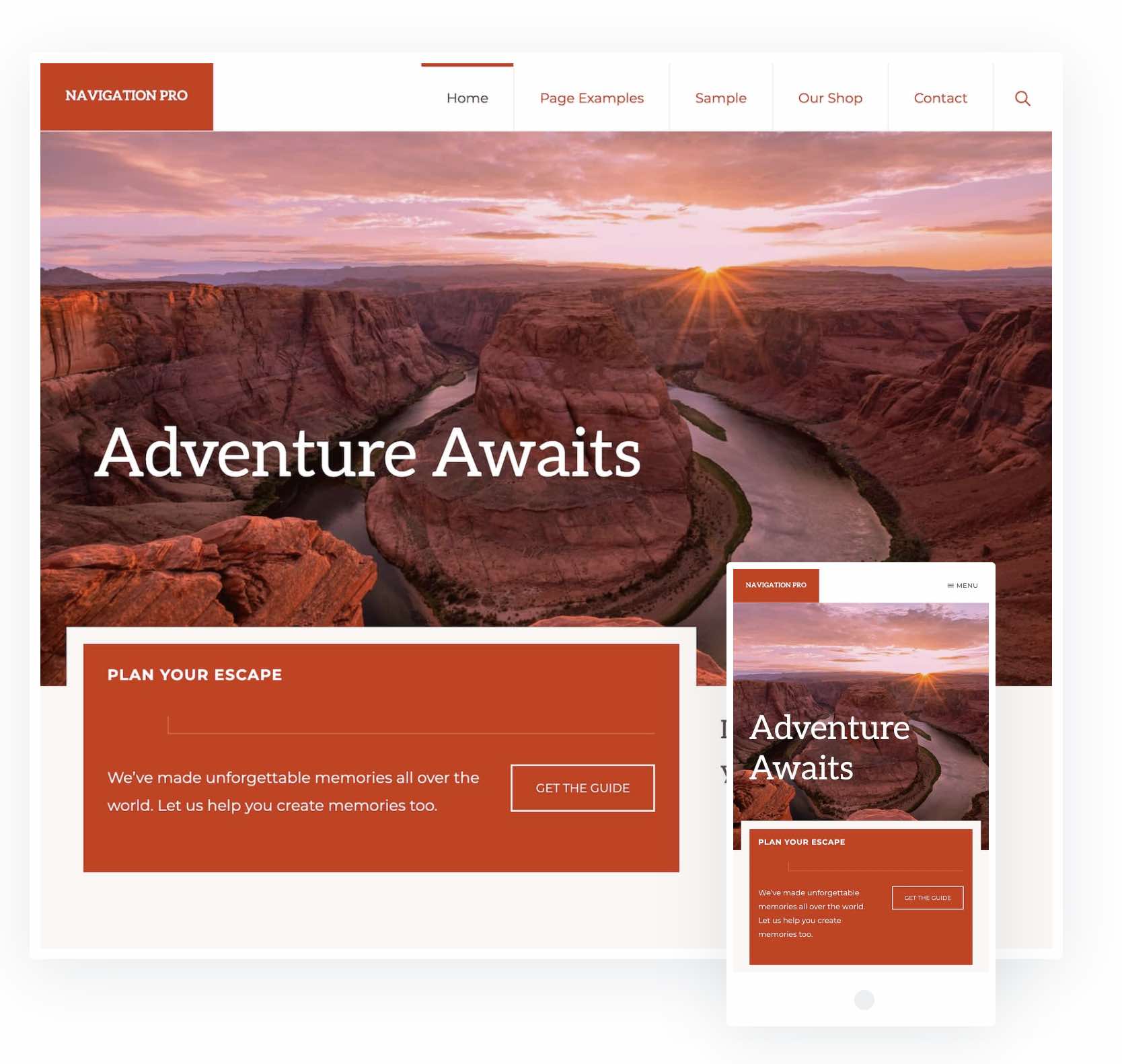 ---
3. Connect your Social Channels
You'll want to decide early which social channels you want to use to build followers on your travel blog.
While omnichannel marketing is certainly effective, you'll want to specialize and focus on the channels where you know you'll be most active and "speak the language".
Social Integrations
If you do choose WordPress, these plugins are popular for social connections.
---
4. Create Content (Examples)
Duh. OK, I get that content is obvious. But knowing what content to create is going to be key.
Keep in mind that we most often attract who we are.
Be yourself. Tell great stories. And above all, INFORM.
Most travel bloggers do well because they are creating guides about the areas they are traveling to.
Let's take a look at some popular travel blogger and see where we might be able to pick up some ideas.
Dan Flying Solo
Dan Flying Solo is a travel blog written by a guy who is very passionate about travel and photography.
He considers himself a professional blogger. His profile tells us that he was on the road for 1467 days between 2014 – 2018 sharing his story through his travel blog.
His blog is monetized with ads so he clearly seized the opportunity to make money with his blog. He also has affiliate links sprinkled throughout his blog.
Overall, his blog is made of his own personal stories about his life and adventures along with "best of" type lists or "Listicles". These types of lists do really well on search and social channels.
His blogs are also long-form content averaging about 2500 words on his top-ranking pages.
Based on my research (I use SEMrush), his top 3 pages on his website based on web visitors are:
Ultimate Bali Guide + Where to stay in Bali 2020
Things to do in Puglia, Italy: a photo guide to Italy's dazzling heel
Best Places to Visit in Europe this Autumn & Winter
His top page, Where to Stay in Bali earns 20% of his traffic that comes from search engines!
Together, his top 3 visited pages make up around 40% of the traffic to his website earned from Google.
His top traffic earners on Google are keyword phrases that all have high search volume and the rankings on page one of Google.
Where to stay in Bali
Puglia Italy
Slovenia Capital
Dan also has 28 featured snippets on Google linking to his domain. They are for lower volume searches yet can still be very valuable.
A featured snippet also referred to as "the zero position" is a featured list, image, video, map, or answer (among other things) displayed at the top of the search engine page.
Because it's predominatly displayed, it earns many of the clicks on the page. It's generally earned after it first performs well as a page result on the search engine for that particular query (keyword/phrase) search.
It often is a list or table and is often created even if the website didn't have a bulleted list, but rather headings of some sort of which Google made a list.
Dan's Travel blog also has 76 positions in the people also ask box.
People Also Ask or PAA is Google's "Answer Box" where it lists frequently asked questions and then displays answers from a particular website.
This is another great opportunity for displaying your expertise as well as earning traffic through these links.
Search Engine Land published an article about PAA and earning into the answer box.
Danflyingsolo.com also has 507 keywords resulting in images displayed in Google's Image Pack with links back to the website. Clearly, and obviously, images are key for a travel blog.
Dan Flying Solo is also on Youtube
You can find Dan Flying Solo on Instagram [danflyingsolo] as well as on Pinterest.
Adventurous Kate
Since Kate McCulley started Adventurous Kate in early 2010, the website has become one of the internet's most popular travel blogs all about traveling solo and independent travel for women.
Based on my research, This website would have to have $50,000 per month in ad spend to earn the same amount of traffic it is earning organically (which means unpaid and earned in) on Google.
That's some seriously good traffic!
This travel blog is monetized by ad placements, affiliate income, sponsorship, personal appearances, etc. and is on a WordPress Platform.
with
SEMrush
I'm able to see that Kate's top 3 pages from Google traffic are:
Things No One Tells You About the Blue Lagoon, Iceland
Where to Stay in Boston — Best Neighborhoods and Accommodation
Where to Stay in Rome — Best Neighborhoods and Accommodation
These 3 pages make up about 25% of her visits from google. Her top keyword phrases (searches/queries) are:
Blue Lagoon
Where to stay in Boston (#1 on Google)
Blue Lagoon Iceland
She produces long-form content (pages that are 5000 thousand words long) and uses a lot of images.
She also uses Pins on her blog posts and has an active Pinterest Account as well as Instagram [adventurouskate].
AdventurousKate.com has 119 Keywords earning featured snippets. Her top traffic earner is from the keyword phrase "Best Neighborhood to Stay in Rome"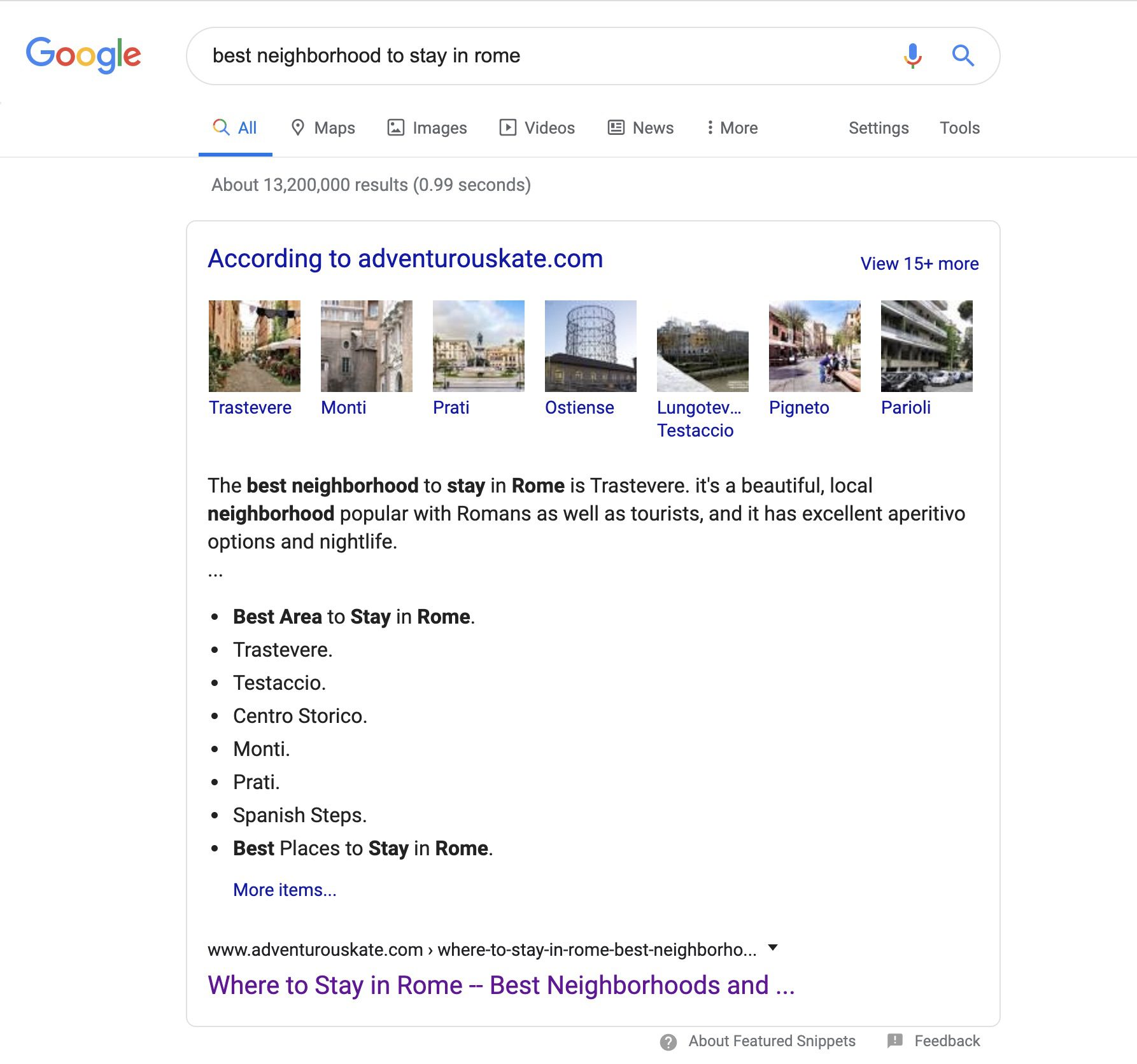 She also has earned on Google:
497 Keywords resulting in Site Links
1700 Keywords resulting in the People Also Ask Box with Links to her website
46 Keywords resulting in FAQs
1100 Keywords resulting in the Image Pack
Blog SEO Tools
Blog Database Tools
ConvertKit (Build subscribers and Set up easy, automated email campaigns)
Blog Design Tools
More Blog Tools