This post contains affiliate links. As a partner with Amazon and various brands, I am compensated when qualifying purchases are made through my referral links.
If your food blog is looking a bit tired or outdated, you may be in the market for a new design. Recipe Blogger Theme for WordPress might be a solution for you. This guide will teach you how to set up the Food Blogger WordPress Theme. If you want it all built for you, consider our Food Blogger System or Foodie Website system.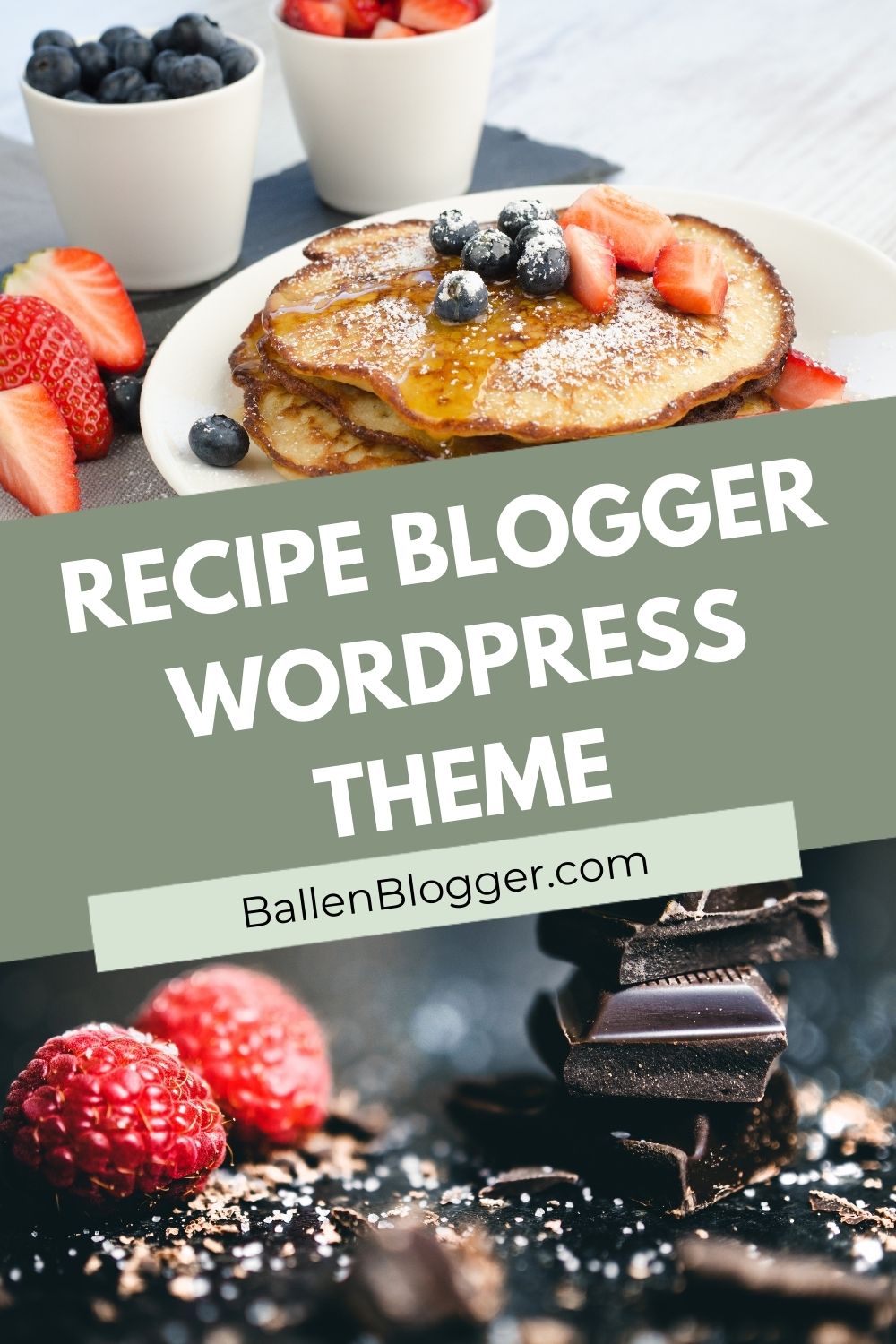 Video Tutorial
Get WordPress
If you are building your website from the ground up and need to get your WordPress set up first, I suggest WP Engine for your WordPress platform and host.
You can learn how to do that on this How To Blog article.
Paul and Jeff at Ballen Brands can also build this for you.
Get the best WordPress hosting for your site.
WP Engine is a WordPress platform backed by a team of experts who are available 24/7 to make things easy for you.
Theme Installation
Recipe Blogger is a child theme of the Genesis Framework. Many of the themes I demonstrate can be found at studio press and are child themes of Genesis, although sometimes built by a 3rd party.
Studiopress offers a comprehensive suite of themes that you can buy in one bundle and use later. This is what I chose for my business since I build many niche websites.
In most cases, when you buy the child theme, you get the Genesis framework as well.
Make sure your WordPress Genesis is updated to 3.0 or newer.
steps to Install The Recipe Blogger Theme
Purchase the Recipe Blogger Theme
Access both the Genesis and theme .zip files from the confirmation page or email
Do not unzip the files
Upload the genesis framework [Appearance, Themes, Add New, Upload Theme, Activate
Next, follow the same steps with the Recipe Blogger file.
Starter Pack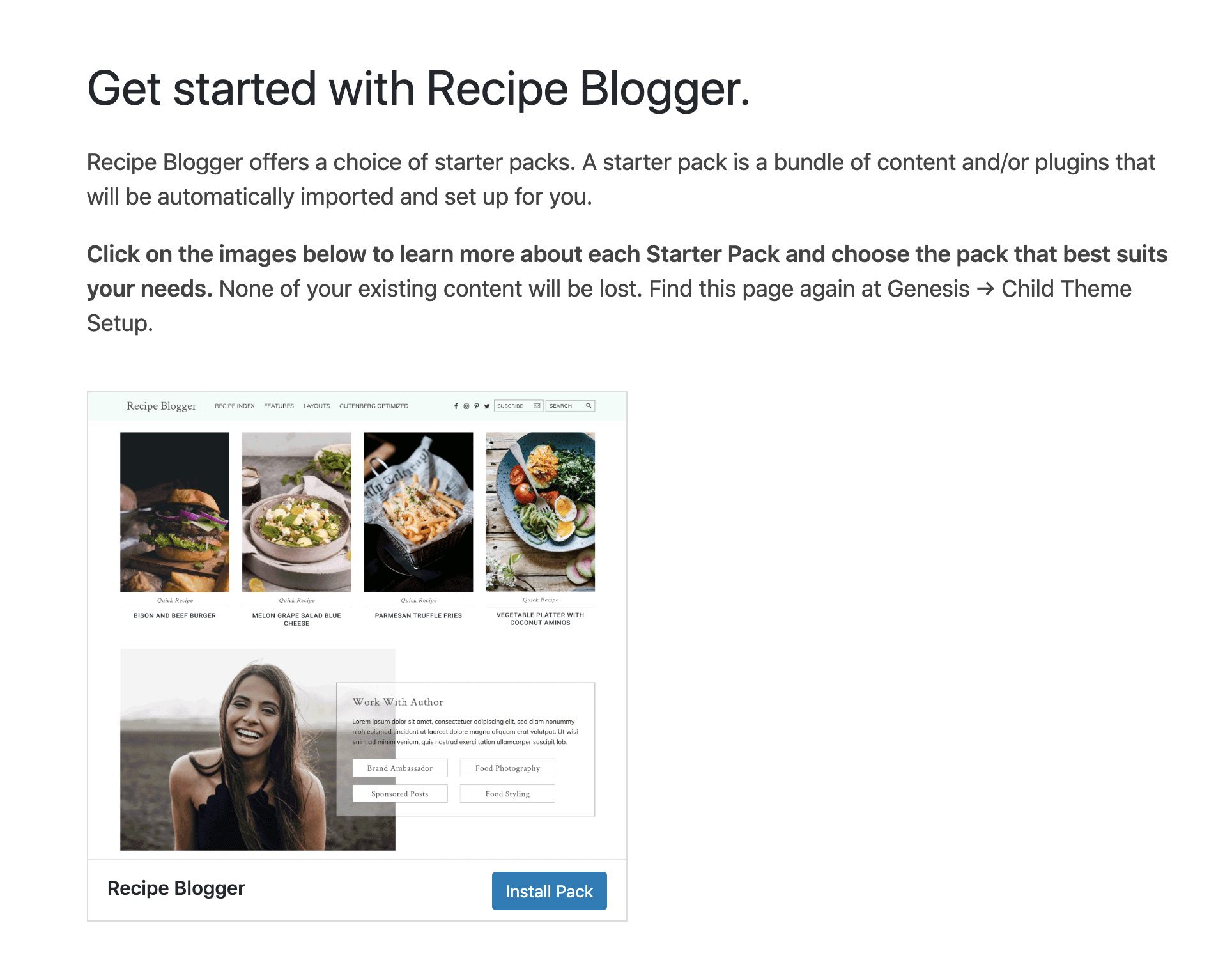 One Click Install
The One-Click Install is popular with website builders using child themes of Genesis. It's exactly how it sounds, one click and it's all installed.
This works best on a brand new website. Keep in mind that you'll have to edit content, menus, widgets, etc. to fit your food blog once you install it all using the one-click install.
After you install the theme, you should see the button that allows you to choose a one-click install. You might alternatively see "Starter Pack".
This install or starter pack will install all demo content, Plugins, widgets, pages, posts, categories, and menu items.
All of this can be customized after the installation.
Plugins
WordPress Plugins add functionality to a website. Many themes use WordPress Plugins that they didn't create.
This is fine as long as they are tested with the theme and are kept updated. Some are "fremium" meaning free to a certain level and they you would need to pay to upgradee.
Here are the themes suggested by the makers of Recipe Blogger. They are not required to use your them, but they will be used in the demo.
One Click Install with add them, and you can activate them or remove theme.
Also suggested:
Regenerate Thumbnails [This will help create proper sized images for your blog]
Additional Plugins I Use
---
Genesis Enews Extended
Pages Installed
Along with 10 sample blog posts and a few categories, there are 6 pages included in the one click install. You'll need to edit these or remove them as desired.
Homepage
Recipe Index
landing page
Gutenberg Optimized Page
About
Contact
---
Footer copyright
On most blog websites, you'll see a copyright message at the bottom. This area is called the footer. By default, this theme will show [current year][link to recipe blogger theme][privacy policy link][link to genesis framework][WordPress.org link][logout].
To edit this, go to appearance -> Customize -> Header and Footer. You can enter simple text for your copyright or add html. Here's a Video that will show you how to create the WordPress footer with links using html from a post.
Site Identity
This area is for your website title and logo.
You have the choice of using styled text for your website title with a tagline or you can upload a logo image. The suggested size of a logo is 600 x 160 pixels.
You'll have the ability to crap your image after loading, yet you could lose important areas of the logo if it isn't sized correctly.
To create a logo, I like to use Canva. Click Create a Design -> Custom Dimensions -> 600 x 160. Drop-in an image placeholder or begin designing from scratch.
I also really like the brand kits from Ladyboss Studios that include site logos where you can simply change the text and retain the image.
---
Genesis eNews Extended
Blog Guides