This post contains affiliate links. As a partner with Amazon and various brands, I am compensated when qualifying purchases are made through my referral links.
If you want to become a professional proofreader, you can take the course Proofread Anywhere. In this article, we review the Proofread Anywhere course.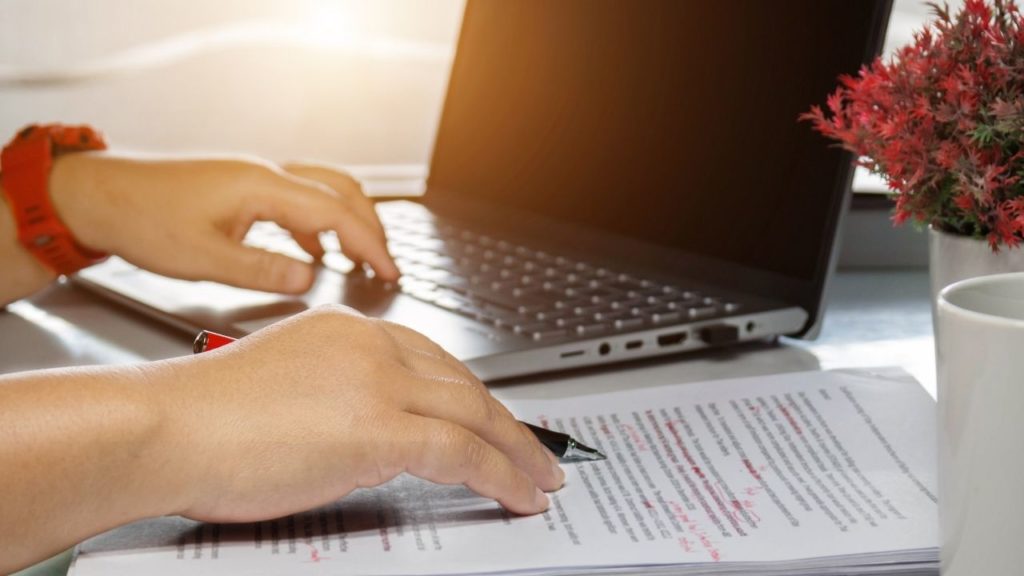 There is a vast number of people who wish to have a career as a freelance proofreader. Proofreading is all about reading a publication to find any grammatical errors or mistakes in the text, formatting or structural issues, and correcting them, consequentially improving the work.
Transform Your Passion for Words & Reading
into a Thriving Proofreading Business
in as little as 30 Days…
This is a job of significance as it is the final step before a publication proceeds to get published.
A proofreader has a significant role and requires many skills. Some of the necessary criteria include knowledge, accuracy, consistency, spelling, punctuation, and style.
Even someone who has excellent reading, writing skills, and grammar would need to have proper know-how for correct proofreading.
An intensive course on this subject can benefit any aspiring proofreader in taking their skills to another level and finding clients.
'Proofread Anywhere' is one such course, and it is getting increasingly popular. What is 'Proofread Anywhere'? How does it work? We will be answering all of the questions regarding the course.
What is Proofread Anywhere?
Proofread Anywhere is essentially a blog owned by master entrepreneur and professional proofreader Caitlin Pyle.
She is also the author of the first-ever multimedia training program focusing on transcript proofreading called Transcript Proofreading Theory and Practice™.
Caitlyn has a passion and flair for proofreading that goes back to when she was studying in Germany. She would regularly help other students in proofreading college essays.
According to Caitlyn, "I loved using my grammar talent to catch errors and help others turn their writing into masterpieces."
With time, she became more and more passionate about the subject. Her proofreading skills soon reached another level when she started proofreading the transcripts while working with court reporters professionally in 2012.
Caitlyn Pyle was so talented in the proofreading department that she earned the title "Eagle Eyes". This profession became her sole income source from 2012 up to 2014. By 2014, she also started her blog ProofreadAnywhere.com, and it was an instant success.
Transform Your Passion for Words & Reading
into a Thriving Proofreading Business
in as little as 30 Days…
How 'Proofread Anywhere' Works
Signing up is an easy process because all you have to do is visit their website. A 7-day free workshop course complete with videos, printable, studies, and templates is also offered to help potential students decide to go ahead with the full Proofread Anywhere course.
You can opt for any of the two leading online courses being offered at ProofreadAnywhere, 'General Proofreading, and the second one being Transcript Proofreading'.
Depending on which course you opt for, it will take most people one to four months to complete the work.
There are two options available.
A simple Ignite version that gives you a lifetime of access to the proofreading course.
The second, more advanced version is Ignite Plus, a graded exam, certificate of completion, and an exclusive membership to a private graduate marketing mastermind Facebook group.
General Proofreading course
With the General Proofreading Anywhere: Theory and Practice™ (GPTP) course, students are taught how to spot errors in writing.
The course does not require any prior experience, and anyone can take it to learn basic proofreading. It is incredibly beneficial for stay at home moms or dads, millennials, college students, gig workers, and retirees.
What does the Proofread Anywhere course consist of?
It is a comprehensive and in-depth course consisting of 9 modules and more than 40 lessons.
Students are also given 8 grammar-specific worksheets to practice on, and bonus resource guides are also given.
What's more?
Caitlin also shares pep-talk videos to help her students. To enhance proofreading skills, 8 module quizzes and 100-question vocabulary quizzes are provided.
To complete the learning process, 3 case studies will also be shared.
The best part is that all the modules work together to go from basics to learning how to create their own business and build a resume and website.
Even the way to approach clients is taught along with project management systems.
There is also an Ignite Plus exam for Ignite Plus students, which evaluates their skills and aptitude related to general proofreading.
Transform Your Passion for Words & Reading
into a Thriving Proofreading Business
in as little as 30 Days…
Transcript Proofreading
The Proofreading Anywhere Transcript Proofreading: Theory and Practice™ course more specialized. It teaches students how to proofread court documents and transcripts.
This course consists of 9 modules and 60 units, which can be purchased by students separately as they learn.
You can generally expect to complete this course in about four months, but this varies from student to student.
This is a rigorous course designed to train students for a serious profession. With worksheets, video tutorials, and over 3000 pages of transcripts to practice on, plus a hand-grated final exam, students will learn the A-Z of this type of proofreading.
Students are taught how to recognize the most common errors in transcripts. They are also made familiar with the specific vocabulary used in court proceedings, hearings, and trials, as well as the relevant punctuation used.
FAQ
Is Proofread Anywhere A Scam?
Many people are hesitant to register and pay for online courses as one never knows if they are genuine. A commonly asked question is if
Proofread Anywhere
is a scam. 
It is actually completely legitimate and genuine proofreading course. 
Is Proofread Anywhere Worth It?
Based on the reviews and experiences of '
Proofread Anywhere
' students, the courses have been worth the effort and money for most people. 
Many of the students report finding their first client within months of finishing the course. Furthermore, it also provided opportunities for part-time as well as full-time jobs with quite a good salary, up to $1500 a month. Other students have earned even more. Another benefit is that the proofreading course allows students to work from home. 
Is the course worth it for out of US students?
The course is actually focused on teaching students how to work for U.S court reporters. But students are still able to enroll from all over the world and benefit from it. 
Still, the course does not prepare you to work for court reporters not based in U.S.
We hope this article was helpful and informative and you now know everything you need to about the online courses offered by '
Proofread Anywhere
'.
Transform Your Passion for Words & Reading
into a Thriving Proofreading Business
in as little as 30 Days…