This post contains affiliate links. As a partner with Amazon and various brands, I am compensated when qualifying purchases are made through my referral links.
Microsoft 365 Versus Google G Suite: Which Office Productivity Product Should Your Business Use?
Until a few years ago, if you wanted to equip your business with an office productivity suite, Microsoft Office was about your only realistic choice.
Ever since the year 2006, however, Google has competed with Office, with its own take on productivity software – in the form of the package of online apps named G Suite.
Google's online productivity suite did take time to gain traction with business users, but it now has more than 5 million paying subscribers.
Meanwhile, Microsoft has turned to a subscription-based service model, itself, and it now calls its office productivity product Microsoft 365 (it was formerly Office 365).
Choosing an office suite is no longer just about going with whatever Microsoft offers. You have a serious reason to consider Google's online product as well.
Which productivity suite should you choose for your small business — Microsoft 365 or G Suite? Both offer online and offline document creation.
Both work with a wide range of device platforms, from Windows and macOS to iOS and Android. What follows is a simple comparison and guide to help you understand which way to go.
---
Starting with pricin
Individuals can use online versions of both Microsoft 365 and G Suite for free.
For instance, Microsoft 365 has the Microsoft Word Online service that gives you a free, stripped-down version of the desktop Word app for your browser.
However, if you're a business, the paid versions of these suites are a better idea because they offer better security and management features.
Nonprofits can use G Suite Basic, the entry-level offering, for free.
Regular businesses need to choose a plan that costs $6, $12, or $25 per user. Microsoft 365 costs companies between $5 and $12.50 a user, depending on whether they want to work on desktop computers or mobile devices, and whether they use extra tools like OneNote, Access, and Exchange Online Protection.
---
Comparing Google Docs with Microsoft Word
Deciding between Google Docs and Microsoft Word for your business is relatively straightforward: if collaboration with remote team members is primary to the way you use word processing at your company, Google Docs is your best option.
If a superior feature set is your main concern, Microsoft Word is where you head.
For example, when you need to create a resume, write a report, or design a brochure, Word comes ready with dozens of ready-made templates that help you push out polished documents with professional design.
For report writing, for instance, Word offers an array of 50 templates to choose from; on Google Docs, on the other hand, you only get five templates.
Word's range of choice is generous when it comes to the types of charts that you get to embed in your documents, as well.
Google Docs, however, proves superior to Word when you need to collaborate with other members of your team on a document that you need to prepare.
Live collaboration in Google Docs is seamless and is a part of its design from the ground up.
In Word, live collaboration tends to be clumsy and is an afterthought.
Non-live collaboration features are better on Word; however – you get to edit documents, mark them up, and make your comments easy for other collaborators to view and understand.
Google Docs is much better in this area than it used to be, but it still isn't on the same level as Word.
When it comes to editing documents, both apps are neck and neck — Word offers finer control to a degree, but Google Docs is nearly as good.
---
Comparing Microsoft Excel with Google Sheets
Do individual employees at your organization work on spreadsheets by themselves, or do they often collaborate with other employees?
This question is one you need to ask yourself to determine which program is likely to serve you better.
As with Word, Excel comes with a better feature set than Sheets; meanwhile, Sheets offers a better experience for collaborators.
Just as with Word, Excel comes with a massive selection of templates for different purposes.
If you want to create a new business budget or another specialized budget, for example, Excel offers more than 50 choices, and you'll likely find something that works well for you, with little effort.
Sheets, on the other hand, comes with just three budget templates.
Excel also comes with more than a dozen chart types, both basic and advanced. You get your basic line, bar and pie chart types, among others, and even box- and whisker-type charts for use by data professionals.
Whatever chart type you may choose to work with, you get many sub-types and variations to choose from, as well. Google Sheets only has about a half-dozen chart types, and they are somewhat more challenging to work with than Excel.
Collaboration is where Sheets outpaces Excel.
Collaboration is designed into the very fabric of Sheets; it comes with powerful and natural tools and easy to use.
Making comments and editing are tasks that are much more easily achieved with Sheets, as well.
---
Comparing Microsoft PowerPoint with Google Slides
Google shines with collaborative tools as you create presentations.
If employees at your company don't work together to create presentations, however — if they work by themselves, PowerPoint is the clear leader.
For example, PowerPoint comes with a QuickStarter feature that allows you to make short work of getting started with a presentation.
You pick the topic you want to go with and leave it to QuickStarter to walk you through every step you need to pay attention to forming an outline, putting together starter slides, and choosing themes and templates.
Google Slides doesn't have an easy way to get you started with your presentations.
PowerPoint makes it easier to import graphics, multimedia, and animations, as well – and offers plenty of chart and table types, and gives you all kinds of novel capabilities.
For instance, it comes with a Rehearse Timings feature that helps you keep track of how long you take on individual slides in your presentation not to spend too much time on any one part. Slides has no equivalent feature.
Slides excels at collaboration, however, and dramatically outdoes whatever features PowerPoint offers in this area.
Also, since Slides is a more straightforward app with fewer features overall, it can be easier to work with.
---
Comparing Microsoft Outlook with Gmail
If simplicity and a neat, easy-to-use interface are your top priorities, you will prefer Gmail's minimalist user interface to the somewhat cluttered Outlook experience.
Outlook, however, is making progress in the ease-of-use department, with its Ribbon interface.
When it comes to composing new messages, answering emails, or managing your email, Gmail has a more intuitive layout and the easier tools to work with.
For instance, it uses AI to suggest words as you type and has a feature that reminds you to pay attention to old messages that you may have forgotten.
Outlook is the clear winner when it comes to advanced power features, however.
For example, Outlook has a Focused Inbox feature that brings your most important emails to the surface so that you can focus on them.
The Cleanup feature makes long, convoluted email threads more comfortable to follow.
The Calendar and Contacts features are well-integrated (they are separate apps on Gmail, and can be awkward to navigate).
When it comes to a rich feature set, Outlook wins. For quick and easy workflow, Gmail is far more preferable.
Finally, Microsoft's office productivity suite comes with extra tools, like Access, that help you build business applications from templates.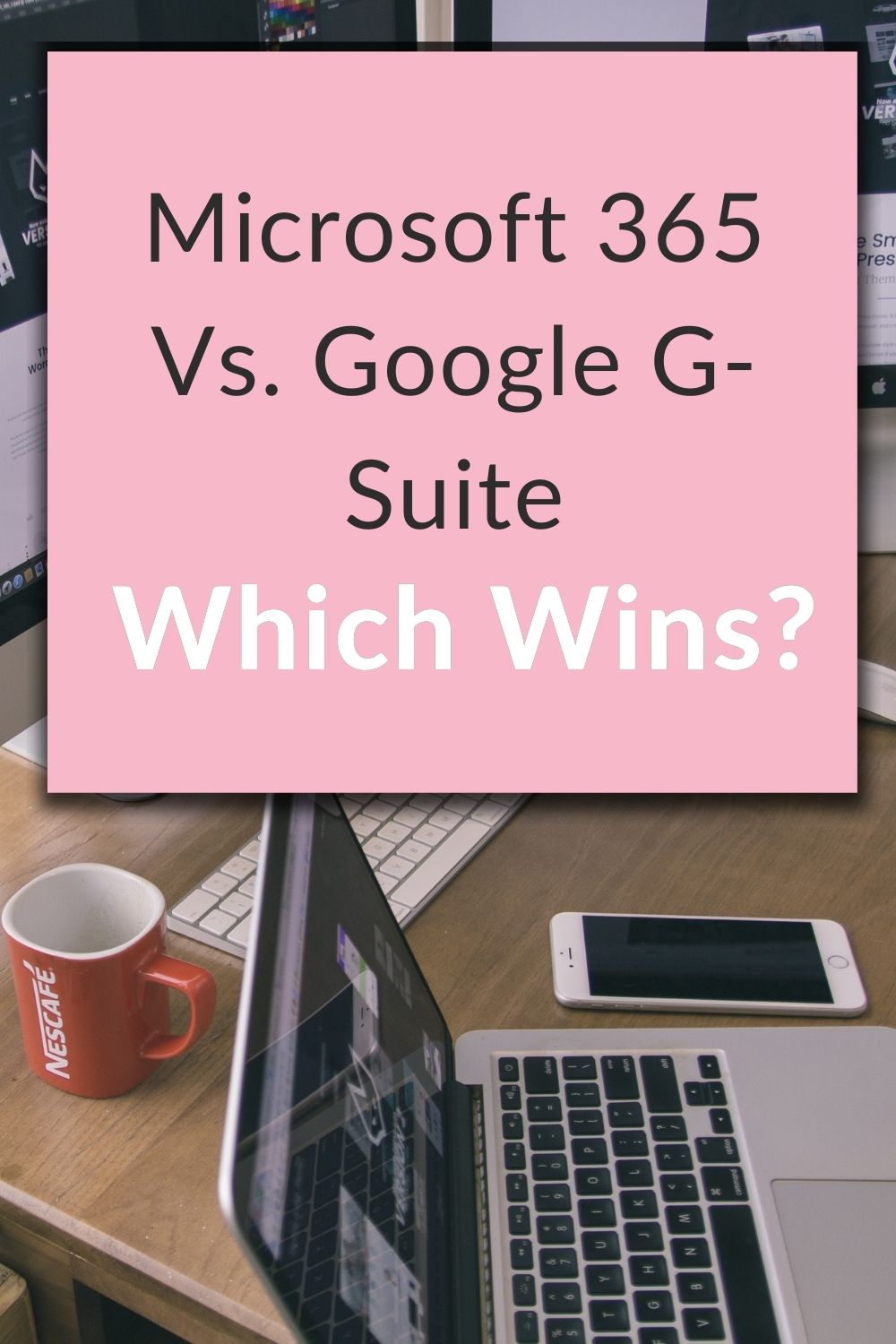 Publisher helps with desktop publishing, Forms help you create online quizzes and surveys, Planner enables you to draw up plans, and Power Automate (formerly called Flow), helps you automate tasks that you need to repeat.
These are absent from G Suite.
Microsoft's office productivity suite offers the fullest feature set and comes with collaborative functions, even if those functions aren't as easy to use as on G Suite.
If multiple employees work on documents, it is hands-down the most essential feature to you, you should go with Google.
If you don't mind giving up ease of collaboration, however, Microsoft wins.