This post contains affiliate links. As a partner with Amazon and various brands, I am compensated when qualifying purchases are made through my referral links.
If you are blogging on a regular basis, you might want to know how to make money with your blog. Many bloggers have figured out ways to monetize their blog as a supplemental income or as a full-time income. This article will give you ideas on how to make money with your blog.
Ads
When you have traffic on your blog, Google will actually pay you to allow them to run advertisers' ads on your blog. Google Adsense is available for anyone to apply.
When your traffic reaches a significant level, you can then move to more premium advertisers.
While you aren't going to get wealthy from running Google Ads on your website, it can be a way to start earning money on a blog that has some traffic. You can use Google's Revenue calculator to get an idea of what your niche might generate in revenue.
Keep in mind, not all niches have the same advertiser spend.
For the sake of this blog, I looked up how much a website in the beauty and fitness niche would make if they had 50,000-page visits per month.
That blog COULD earn as much as $6,000 per month in ad revenue although there are many variables that would affect that outcome.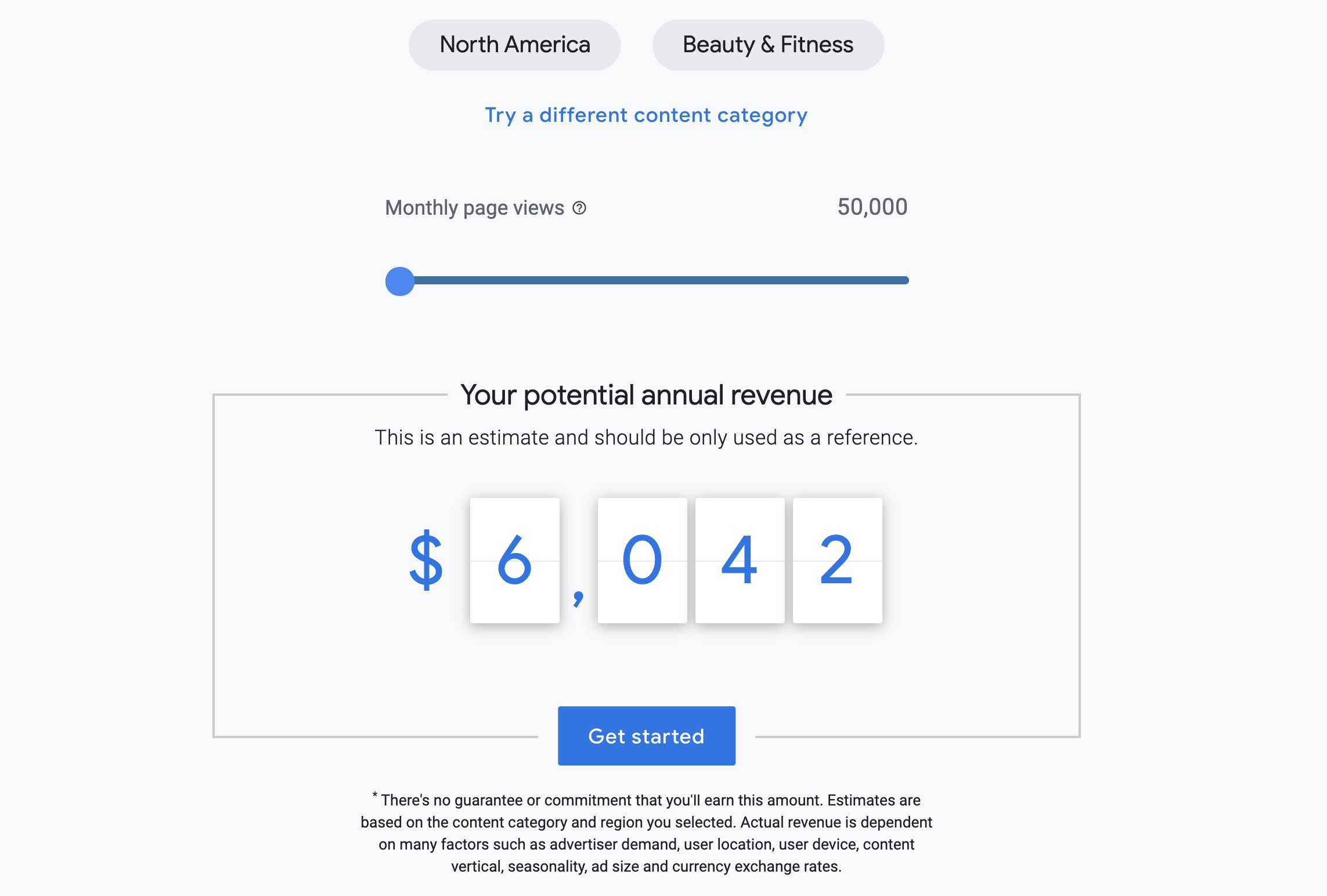 It's probable that you will need a decent amount of content on your blog first before Google will approve you for an account.
Accounts are only available for those that are aged 18 and up.
You will need to earn $10 to link your bank account.
A Gmail is required
You are the publisher and the person or company paying for ad space is the advertiser.
To apply, Visit https://www.google.com/adsense and start.
The easiest way to get started with Google Ads is by setting up auto ads. Google provides you with a code that you will place in your <head> tag on your website.
If you are using WordPress, this can be done with a plugin or you can add a header/footer plugin that allows you to add these codes.
You can access the code implementation guide here.
You can choose global settings to apply to all of your websites and also change for each by setting up URL groups.
If you would like to earn income from premium advertisers, get started with Ezoic.
MACHINE LEARNING FOR PUBLISHERS
Whatever your goals are—increase revenue, balance UX, improve site speed, streamline growth—accomplish them with Ezoic. 
Affiliate Marketing
Affiliate marketing is when you promote another product or service using a link and get paid if that person makes a purchase within a particular time frame.
Here's How:
Create a Website
You can create a WordPress Website in many ways.
You can install WordPress easily with WPengine, Godaddy, Bluehost, Hostgator, Wealthy Affiliate, etc. or call a WordPress website company such as Ballen Brands at 702-917-0755.
You might also like Wix or Squarespace although WordPress is more popular.
Get the best WordPress hosting for your site.
WP Engine is a WordPress platform backed by a team of experts who are available 24/7 to make things easy for you.
---
Determine your Niche
You'll want to know exactly what kind of audience you want to create content for. Your website should be niche focused and on topic.
Some topic niche websites for affiliate marketing are: online dating, making money at home, finance, pets, health, and fitness, and so forth. In one case, Lori Ballen has a niche for real estate agents who want to get more leads for their business.
Her blog LoriBallen.com focuses on the real estate agent, coach, or entrepreneur that wants to generate more leads online.
---
Identify Your Audience and Their Problems
Next, do some research on the audience that would be visiting your blog and research what kind of questions they would have, problems they need to be solved, and so forth. Lori uses SEMrush for topic research.
Write a Blog Post
This is the most important piece of the entire strategy.
You must cover topics in depth. If you are really covering a how-to topic in its entirety, a blog post would be thousands of words long.
I use SEMrush (content template) to research what articles are ranking in the top 10 results of Google Already. Then I know how competitive the topic is and what kind of content Google is ranking.
SEMrush also shows her the semantically related keywords most used by the top 10 ranking blogs so she can be sure to include them in her guide as well.
Here's an article on How To Write A Blog.
---
Choose An Affiliate Product to Promote
Find a product that your audience for your niche website is going to appreciate. Set up an affiliate relationship with them if they have an affiliate program. Once you have your assets (banners, links, videos, guides, etc), you can include them in your blog post.
---
Generate Traffic To Your Blog
You'll need to submit your blog to Google using google webmaster tools. Having a sitemap with Google also helps. Your website may rank on Google's Search Engine Results Page (SERP) or bing, yahoo, or another search engine.
You may also want to drive traffic by sending your blog out to your email list, creating a video about it on youtube, sharing in the right social groups and channels, and possibly running paid advertisements such as google pay per click, Facebook ads and so forth.
---
Add-In Offers and Lead Magnets
Consider using software like convert kit or optinmonster to create a pop-up or slide-in offer for specific affiliate programs you are promoting.
Build an Email List
When you build an email list, you can update your subscribers of new affiliate programs, informational blogs, how-to videos, and so on.
Building an email list with phone numbers and social channels will allow you to set up text funnels and social media connections.
Try ConvertKit
Share what you love to connect with your followers and grow your business.
---
Use Chatbots
Grow your Business with Messenger Marketing using Manychat chatbot software. Free Trial. for Free. Manychat is a leading Chatbot Platform offering unlimited Broadcasts. Manychat has an affiliate program.
Courses
If you teach how to do something, you can build a course. Many bloggers wind up making money on their blogs by selling courses.
Loading Preview…
Powered by Creative Market
Check out Thinkific or Teachable for your course.
Products
It's easy to build a store with WordPress (start here with WPEngine) and WooCommerce. With WooCommerce, you can add products to your online store, and use the settings to establish tax, shipping, and more.
Services
If you sell services, blogging can be a great way to generate business. You can make money with your blog by showcasing your services, creating a call to action for services, or by featuring your work in a portfolio.
WP Engine offers WordPress Websites and hosting if you are want to build your own website.