This post contains affiliate links. As a partner with Amazon and various brands, I am compensated when qualifying purchases are made through my referral links.
For many bloggers, knowing what to create, and how to create it, stops them from moving forward. Blog post templates can be implemented to solve this challenge. This list of blog templates will change the way you build your content calendar. Save time while creating a user-friendly, proven method to blogging.
I've been blogging since the 90's and everything has changed. Today, we see less "day in the life of" style blogs and more blogs that are focused on generating buyer intent traffic.
This guide consists of the many types of blogs that are published primarily today. Each section will explain the blog post type and offer a blog post template.
Listicle
A popular blog post type is a list-style blog post, or "listicle," as bloggers call it. The blog post consists of a list of items, their description and often includes external links.
Listicles are popular with bloggers that make money with affiliate marketing. They focus their top blog posts on "best X for y" style lists that are buyer-intention-focused.
Listicle blog posts that are search engine optimized often have as many as 100 + items on the List to create long-form content.
One example of this would be a Las Vegas real estate website featuring 100 things to do in Las Vegas.
More often, the List will be between 7 and 20 items.
The Blog Template includes:
The Title
An Intro
The List with subheadings (H2 or H3 usually)
A Conclusion
Examples:
In this article, 7 alternative ways to preserve food, the writer started the listicle with a number, included their target keyword (preserve food), and clearly stated what the List was about.
In the intro, they include a problem and a benefit. The blog post contains the List (subheadings with a description) and finishes with a close and call to action.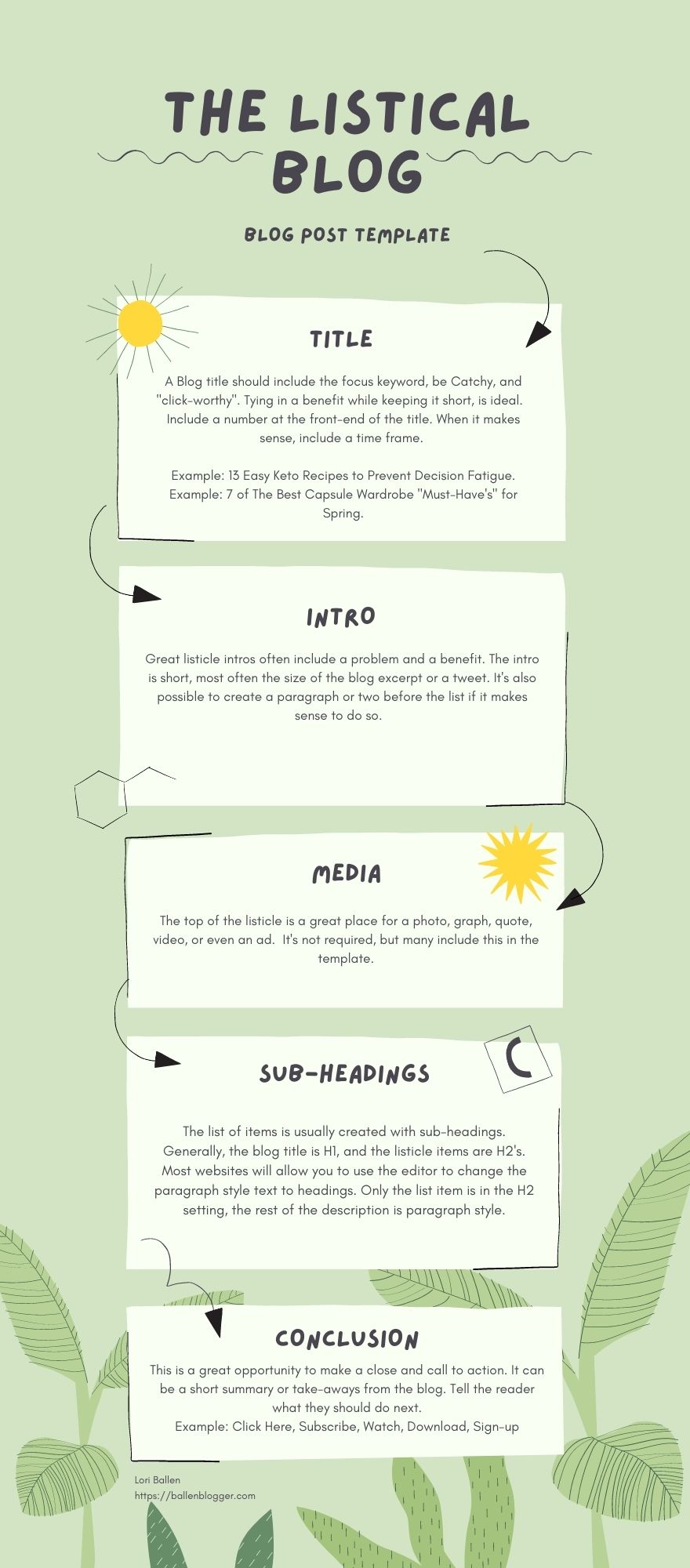 The Case Study
Case studies, when done well, can be an almost unfair advantage for savvy marketers – particularly in crowded and cluttered niches or industries.
A great way to "sneak under the defenses" of your perfect prospects – marketing to them without overtly marketing to them – case studies not only work to persuade prospects but also helped to position authors and producers of these materials as authorities, too.
Not only are you able to use case studies as a marketing piece, but you're also able to use it as a credibility poster and piece of social proof too.
Win-win across the board!
Of course, at the same, case studies are only going to handle some serious heavy lifting for your business when they are carefully (and intelligently) crafted.
That's why we built this quick guide.
Below we cover the ins and outs of what you need to know to build better case studies.
Use the inside information contained within as a template to generate case studies that can be tangible assets for your business instead of "general white papers" that get ignored almost immediately.
Let's jump right in!
Get Crystal Clear About Your Goals
Straight out of the gate, you need to get crystal clear with what your goals are, not only surrounding the case study you are generating (what you want to convey) but also what you hope this case study will do for you, too.
Many people flail around blindly when creating case studies because they aren't sure of what they want to say with this kind of material and aren't sure of what they want the case study to do for their business, either.
First, start by thinking about what you want this case study to say.
What are you trying to put out into the market, what do you want your prospects and readers to take away, and how can you create that conversation through this white paper?
Those are questions you'll need to answer before you get started.
Secondly, you'll need to think about where this case study fits in your business as an asset, too.
Is this case study going to be offered as a lead generation piece?
Is it going to be at the front or back of your sales funnel?
Is it going to be explicitly released to targeted prospects or released more broadly?
Answer these kinds of questions before you get started, and you'll be in a much better position to succeed.
Identify Your Audience to Build a Hook
Secondly, you need to identify the kind of audience you're looking to attract and reach with your case study.
Some people are creating case studies to attract new prospects, new customers, and new clients to their business.
Those kinds of case studies need to include unique hooks distinctly different from case studies and hooks used to attract new partners, investors, and mentors.
The most important takeaway you should adhere to is that there's no such thing as a "one-size-fits-all" case study.
These are supposed to be laser-targeted reports that focus on particular things with concrete takeaways generated to produce precise results – for you and your readers.
Follow Successful Case Study Blueprints to Shortcut the Process
Successful case studies almost always follow a similar blueprint that breaks down like this:
General Introduction – Introduce what this case study is all about, the kind of information you're going to share (tease it, but don't reveal it), and – maybe most importantly – why people should trust you and this case study in the first place.
Inciting Incident – The whole reason that the case study was created, the problem that needed to be solved, and the general "set up" for the rest of the case study to unfold
Rising Tension – This is the part of the case study that you want to highlight the way things were going wrong, what was attempted and didn't work, and how traditional approaches are always going to come up short.
This section is where you build in the "this is what you've tried, and here's why it'll never work" part of the case study before you unveil your ultimate solution.
Climax – This is where you get to the real meat and potatoes of the case study, highlighting the solution to generate the results of the case study itself.
Again, you want to sort of show what worked without explaining in-depth (particularly if you're looking to attract new customers).
Resolution – Finally, you want to resolve the case study with a bit of "after-action" reporting. Tell the visitor about how effective the solution has been, how transformative the results are, and what they can expect for themselves if they use the solutions described.
It's hugely important to follow this kind of architecture, the kind of architecture that every successful novel, TV show, and movie follows as well.
Remember that you're trying to tell a story here, engaging people and getting them to think more deeply about the solutions you have to offer.
Cut and dry isn't going to cut it at all.
Hard Data is Key, Too
Simultaneously, you need to flood the zone with key data points – real numbers, the more specific and concrete, the better – at every opportunity.
Not only do you want to tell an engaging story with your case study, but you also want to provide a lot of "brain food" for people to chew on logically while their emotions are being led along a roller coaster through the case study itself.
The worst thing you can do is produce a case study that is 100% narrative or 100% data-driven. It'll fall flat faster than you ever could have imagined.
At the same time, a 50-50 split between narrative and data probably isn't the way to go, either.
Instead, something closer to 80% narrative and 20% data is probably the "sweet spot" for most case studies. You'll get your story across, but you also reinforce key points with hard data, pulling levers for persuasion quite effectively.
Solve Something Specific
Your case study readers should be able to come away from the experience with a handful of actionable notes that they can use to put into play straight away, solutions for problems that they are struggling with right now – or at least an idea about those solutions.
Nothing will rack your credibility or your influence faster than a case study that isn't all that useful at all, something that comes across as a transparent marketing ploy, or something that comes off as a cash grab.
No, you want your case studies to be useful, something that they will remember, and something that your audience is ideally going to be compelled to share with other people because of how valuable it is.
The easiest way to do this is to solve something specific at the top of mind with your primary audience.
Reinforce this point over and over again, really taking the time to hammer home why this case study was created, the solution put forward, and how solutions like this can benefit your readers, too.
Personal Stories and Testimonials Matter
At the end of the day, everything you say about your business or your results will be seen as a bit disingenuous – no matter how subtle you try and make it.
People today are (understandably) more than a little bit skeptical and see a flood of marketing case studies on a day-to-day basis.
They have fine-tuned antennas for BS and certainly know the difference between an excellent case study designed to help and a sales letter that's been doctored a little bit to sort of look like a case study.
At the same time, by bringing other voices into your case study – making the subject of your case study the star of the show, rather than your business or your services – you are immediately able to sort of bring down those shields and influence more effectively.
Weave these personal stories and testimonials into your case study as much as possible.
Make the study's subject the star and trust that your audience will recognize that the heavy lifting that made these transformative results possible were provided by you, your business, or your products and services.
Use the inside information provided throughout this guide to build case studies from now on, and you'll find there are a whole lot more effective than they would have been otherwise!